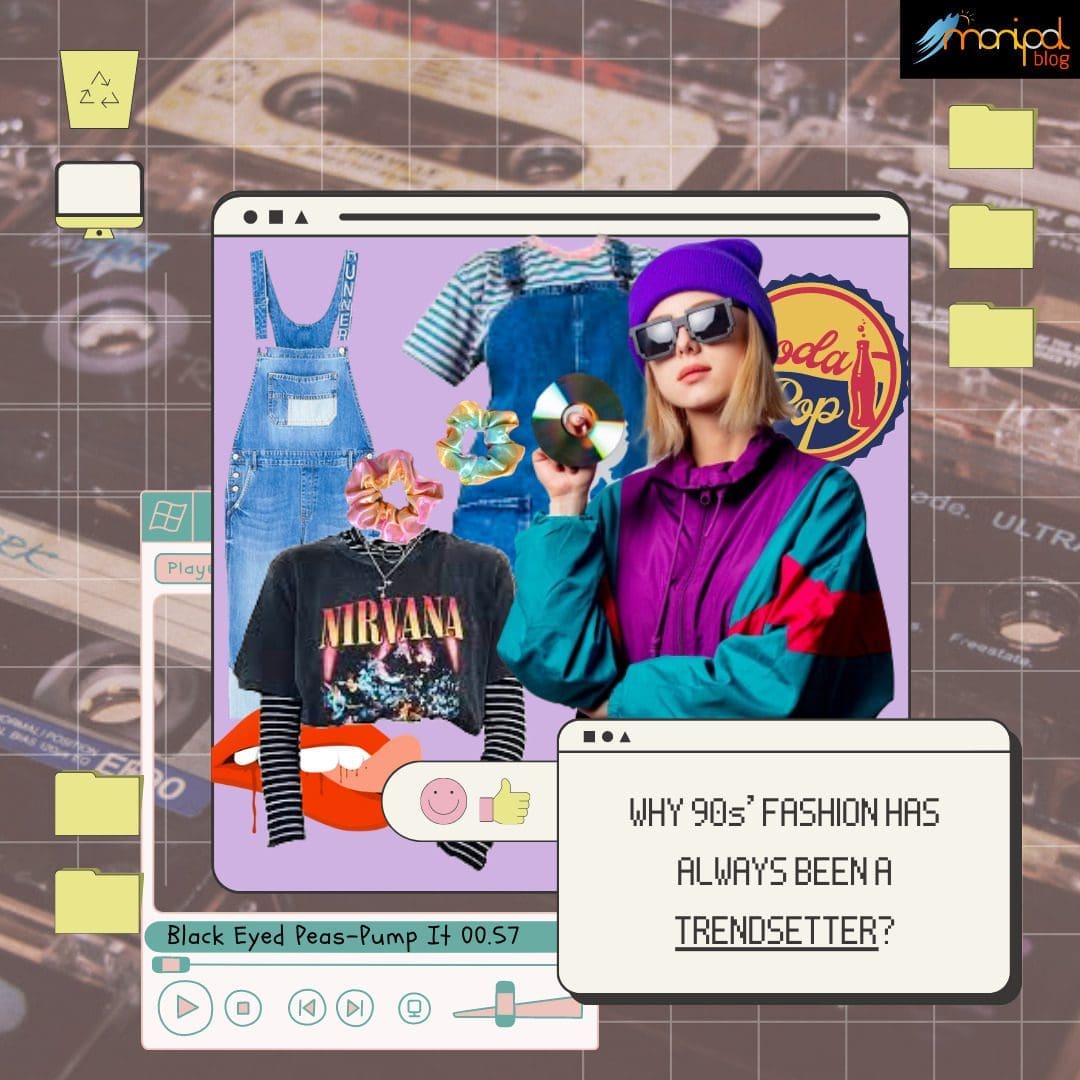 We've all seen this, and it's pretty accurate: nostalgia ultimately sells. Back in 1991, economic liberalization of the Indian economy occurred, which boosted the emerging fashion industry. In the present, the youth want to experience nostalgia as they borrow trends that were either popular in their parents' times or in the generation before them: the dazzling decade of the 90s. Nineties trends have indeed made a comeback and are here to stay.
Are you looking to spice up your wardrobe with some trendy 90s inspired apparel? Here's a brief glance at some of the '90s Fashion' trends wholly influenced by Bollywood cinema and prevailing Western culture at the time.
Colorful T-shirts Knotted at the Front in Style
Bright, solid-colored tees were a notable feature in 90s Bollywood movies. The shirts were knotted at the front (nowadays, it's a common practice followed by many teens) to make them look ultra-casual and stylish. It gave the impression that you put effort into dressing up, but at the same time, you didn't have to try much as it was quite easy. It's superb when paired with leggings or skinny jeans these days.
High-waisted Jeans were Chic and All the Rage
T-shirts were tucked into ankle-length high-waisted jeans, which was the craze back then (and still is now!) High-waisted jeans give you the illusion of appearing taller than you are, as it makes the legs look elongated. If you're petite, then this type of jeans is ideal as it elevates your figure and makes you look pretty flattering, no matter your body shape. As jeans were often accompanied with belts back in the 90s, you could go for that accessory to complete the smart outfit.
Fashionable Dungarees and Jumpsuits Ruled the Decade
You'll find the actors donning either colorful or denim dungarees in many Bollywood films and song numbers. One great instance is Kajol wearing a solid red dungaree in Kuch Kuch Hota Hai. No sooner than the introduction of dungarees did jumpsuits become a popular wardrobe staple for several celebrities. The trend caught on, and voila! Jumpsuits have been worn for parties and casual affairs by kids, teenagers, and adults alike.
Charming Skater Dresses and Stylish Sun Hats
Skater dresses were initially inspired by figure skaters who typically wore a fitted dress top and a flared skirt at the bottom. An adorable and feminine ensemble, it's perfect when paired with sneakers or heels for either a laidback look or a splendid night-out occasion. Add a classy Panama hat to top it off, and you've got a lovely summer getup! Suppose you've watched many Bollywood films of the 90s. In that case, you'd have noticed various actresses wearing exquisite skater dresses that never go out of style and will never do even in the future.
Athleisure and Sportswear for Everyday Attire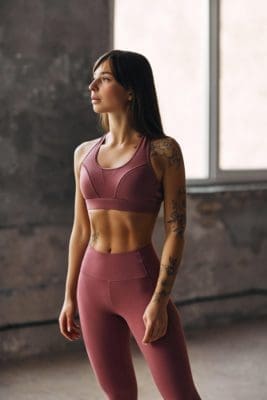 Bollywood actresses like Karishma Kapoor flaunted outfits inspired by activewear in movies like Dil Toh Pagal Hai. Thus, it became cool to sport them as daily wear regardless of whether you're hitting the gym or not. Nowadays, leisurewear and sportswear have become classic wardrobe staples. It's close to unimaginable not to own a pair of comfy sweatpants, a fine running shirt, or a snug pair of yoga pants.
Classic, Sensual, and Solid-Colored Chiffon Sarees
The chiffon saree found its traction and evolution in the 90s. Virtually every heroine in Bollywood cinema was dressed in elegant bold-colored sarees made out of translucent chiffon fabric. And to this day, still in vogue, the iconic chiffon saree hasn't lost its sheer popularity. They look wonderful for any occasion, be it a formal event or an informal get-together during the summer months.
Snazzy Crop Tops and Off-the-Shoulder Tops
Wonder when did crop tops and Bardot tops take off? In the 90s era, of course, back when most of the Bollywood actresses were dressed in that fashion. Crop tops and off-the-shoulder outfits in various colors, materials, and designs have become iconic pieces of clothing in everyday fashion. They look cool and breezy and are best when worn casually or befittingly to up your game on a spring or summer night out.
Trendy and Casual Denim Apparel for the Win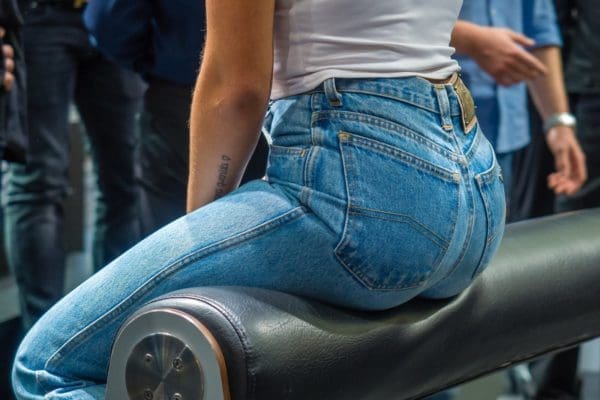 Jean shirts and jackets became popular in India in the 90s. You'd see film stars sporting all-out denim attire that embraced tops, bottoms, and sometimes overalls. Denim jackets can be paired with anything as they never go out of fashion. Be it a plain white or a graphic tee is worn underneath the jacket and a smart pair of slim-fit jeans, you're good to go in style. You could keep a denim shirt or skirt handy to make for a clever, occasional outfit.
Extravagant Lehangas in Pastel Colors for Wedding Season
If there's one thing you've seen in numerous 90s films, it's that lavish, over-the-top weddings are a common running theme in most of them. However, instead of sticking to the classic red and gold combination for the trousseau, they switched up the colors to light pastel shades instead. Gorgeous and pleasing to the eyes, those pastel tones are perfect if you wish to skip the red-and-gold combo for wedding attire.
Oversized Jacket with Boots to Complete the Retro Look
Jackets and coats became more casual and fashionable as the 90s went by. They were no longer restricted to only professional wear as oversized jackets complemented simple and patterned dresses. Whether you want to look stunning at a party or just enjoy an autumn evening or a winter day-out, watch out for this style. An attractive longline jacket paired with a lovely mini or midi dress and heeled or combat boots would look fabulous!
Classy Accessories Like Chokers and Tiny Sunglasses
The fame of chokers surged in the 90s, whether they were chunky for a rock-and-roll style or more ornate with strings of pearls for ceremonial occasions. They look terrific with any kind of ensemble. On the other hand, tiny sunglasses were a swanky street-style accessory sported by international supermodels and Bollywood stars of the era. And now American supermodel Bella Hadid has been rockin' it all the time on the streets of NYC.
It feels as though the 90s era is back and is here to live on – indeed it is, but in a reimagined fashion to suit the contemporary trends. We hope you reminisce and experiment with these timeless 90s fashion style ideas to bring about some fantastic go-to outfits for any occasion!