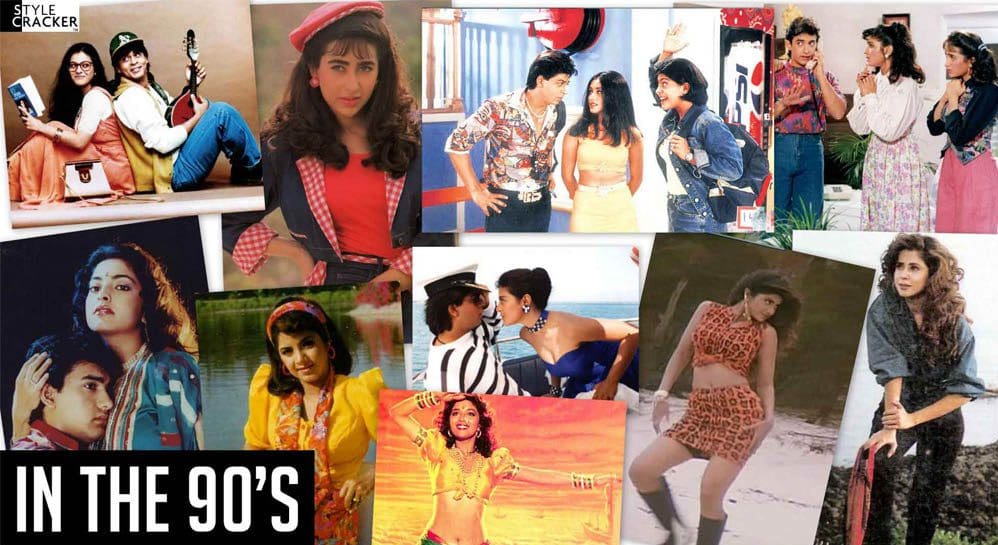 Remember the times when every time a SRK movie hit the theatres, so many girls would swoon and be giddy for months together? Or when songs like "Made in India" were all the rage? Or when singing in the rain was actually ahem… hot? (Tip Tip Barsa Paani!) It all seems too distant but jumping back a decade now, the 90s were actually a glorious period for Indian entertainment.
After a hilariously long period of disco tracks, too much melodrama and crap dialogues, Indian entertainment actually saw what can be described as "sea change". As the country was progressing tremendously in terms of economy, the Bollywood and Indi-pop scene also flourished massively and gained the cult world over that it has now. While we saw some real masterpieces on the celluloid, there were also times which made you cringe in your seat. And here are some of the reasons why I think the 90s were "sassy"-
1) The New "Romantic Era"
Whichever era it may be, for our Bollywood, romance has always been the central theme (even if it doesn't make sense to the plot-line). However, what separates the 90s from others is that it brought the young urban romance to life with all its grandeur – a foreign location, students doing whatever in college (doesn't matter if you have to attend classes or not, teachers still love you!), every random person on the street singing and dancing in the rain with the hero to woo the heroine with same choreography (flash mob – WOW!) and chasing her to the ends of the earth till she gives in (isn't that called "STALKING"?), an over the top lead hero with a plush car but a soft heart who will do anything for his girl, a heroine who is apparently in love but behaves as if she is doped, a father in-law with some bad-ass moves accumulated over the years etc. So if someone scolds you for doing any of the above, give them a "piece" of any 90s movie.
2) Stereotypes
Even though Bollywood movies have been majorly stereotypical (all are musicals, 80% of them have a romance angle), in the 90s, we saw another type of "Casting Stereotype". The Romantic lead hero will be Rahul ("Naam to suna hoga?") which will be SRK or Prem which will be Salman Khan. The Villain would mostly be Amrish Puri. The heroine's name would be Pooja, Anjali etc. (basically anything that comes to your mind when you think of pooja-paath); a Mother in law who will always be nice and accepting of the heroine-mostly it was a choice between Farida Jalal and others, Anupam Kher would be in a "nice/bad old man" role etc. Basically, you would know the cast or character name before you even knew the story.
3) SRK 
If there is one person who was all over the 90s it is undeniably Shah Rukh Khan alias SRK. (Mind you, I am NOT an SRK fan!) Like how Amitabh Bachchan was for the 70s, SRK became the Superman of Hindi movies for the 90s. Initially taking on challenging roles of anti-heroes (remember K…K..K…Kiran! from Darr!), he actually captivated the Indian audiences first with DDLJ and then following roles in Kuch Kuch Hota hai and Dil to Pagal Hai where he cemented his status as nation's romantic hero and ideal son "Rahul". (If you were born in 90s and your name is Rahul, you should "thank" SRK for drilling that idea into your family's mind.) Also memorable is his pairing with Kajol which turned each of their movies into a super hit. Needless to say, he still continues to rule the box office with all his releases – like a boss!
4) Memorable Songs
One memory that we all have from the 90s are the songs from the movies and the Indi-pop. It was a time when the pair of Udit Narayan and Alka Yagnik became synonymous with the lead pair's voices (and all award nominations at the yearend!). Lyrics would be mostly by Salim or Javed Akhtar. A.R.Rehman became a major star after his OST for movie Roja, Bombay, Dil Se and later his album Vande Matram. The genesis of modern bollywood mantra: hit songs = hit movie came from this decade. Also, it was a time when Indian pop singers like Alisha Chinai, Baba Sehgal, Remo D'Souza, Sukhbir etc. became a rage with their songs and "sassy" music videos. It was also the time when bands like Euphoria, Aryan and even Pakistani bands like Junoon were slowly seeping into our radios. Basically, it was a golden period for the now defunct cassette shops and A.I.R. FM!
5) Foreign locations and the NRI
One thing that you probably can't miss out is how prominently European cities are featured in the movies of this decade. Even though it has been done before in movies like Silsila, what separated these movies from the others is the existence of an NRI lead (hero/heroine) who will be mostly rolling in money, ridiculously speaking English in the same accent as resident Indians – basically someone who has done and loves to do everything that "goras" do but still has an undying love for HINDUSTAN and everything HINDUSTANI. Salute sir! (So much of patriotism could have just saved the nation.)
6) The Origin of "The Khans" and The Modern Superstars
It was a time when the present superstar quartet of Shah Rukh Khan, Salman Khan, Aamir Khan and Saif Ali Khan became active and made an indelible mark on the audiences' mind which forced people not to look elsewhere. It was also the début decade for the original "Khiladi" Akshay Kumar who along with Deol brothers brought back action with a swagger, and for the finest roster of modern actresses including Kajol, Rani Mukherjee, Manisha Koirala and Preity Zinta. It also brought talented directors like Karan Johar and Aditya Chopra to limelight who would later become the "dadas" of Bollywood.
7) Salman Khan and His "Abs"
Unlike present times when having a carved body is a pre-requisite to be a Bollywood actor, in the 90s, a hot body with 6 pack abs and chiselled facial features was equal only to Salman Khan. If you were lucky enough, you could see him strip down to his pants and goof around for an entire 15-20 min sequence. (*swoon!*)
8) Return of Slapstick Comedy
There was a time when comedy in Hindi movies was equal to Govinda and other actors like Johnny Lever, Shakti Kapoor etc. Every time a Govinda movie comes on TV, it still makes you laugh just by its raucous humour, raunchy songs and dance moves (Main Laila Laila Chilaaunga, Kurta Phaadke!) and clothes directly hoarded from an Asian Paints colour palate. I bet you might not have seen as many "shades" and patterns as you saw on Govinda' body alone!
9) "Pathbreaking" fashion trends
With the movies, we saw a glimpse of a westernized India which reflected in the attire of the movie leads as well. Some of them were so phenomenal especially in men's fashion that well, they were not repeated ever again. Things like dungarees, police hats, high waist jeans, muscle tees etc., while they all looked so cool in those days, now only causes goosebumps! Check out this article to know more.
That's all folks! If you feel why 90s were/were not the sassiest decade ever for Bollywood, please feel free to share your thoughts below. 😀