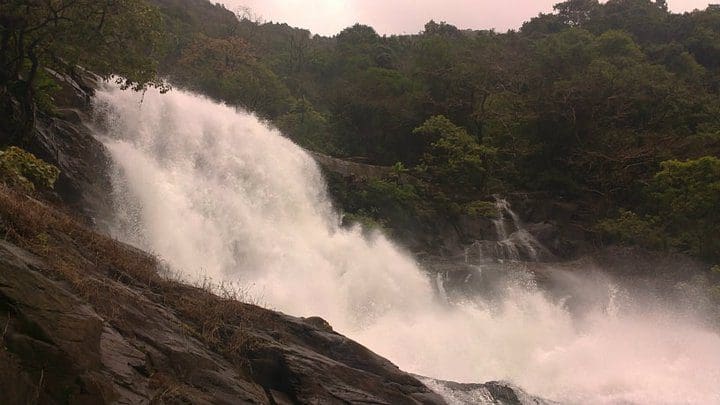 There are waterfalls all over the world. The world's largest waterfall is the Victoria Falls in Africa. It is more than a mile long. Another large waterfall is the Niagara Falls, in North America. The Angel Falls is the world's highest waterfall and the Iguazu Waterfall is one of the tallest and widest waterfalls. They are both in South America. Here we list the 12 best waterfalls in the coastal districts of Dakshina Kannada, Udupi and Uttara Kannada that you can visit on weekend trips from Manipal and Mangalore.
1. Hanuman Gundi Waterfalls
Hanuman Gundi waterfalls is one of the main attractions near Kudremukh in Chickmaglur district. Hanumangundi falls also called as Suthanabbi falls is located in the hilly region between Karkala and Lakya dam which is surrounded by Kudremukh National Park.
The water falling down from a height of above 100 feet falling on the natural rocks majestically is exciting view.
You can have body rejuvenating and energizing bath at this place and enjoy the beauty of calm and marvel of the waterfall.
October to May is the best time to visit Hanuman Gundi Waterfalls.
You need to trek for some distance to reach Hanumangundi waterfalls. The forest department has constructed nice and safe steps to get down into the waterfalls and collects a small fee from the visitors.
It is one of the most amazing places for tourists in Karnataka State India. This place is filled with tourists in time of October to February. So if you want to go to Kudremukh hill station then the perfect time is around October to February. This place is a great travel destination which is filled with natural beauty. If you want to enjoy your holidays then this place is a great option with its forests and the rivers. You will really enjoy here with the great green environment all around.
2. Alekan Falls
Alekan is one of the attractive waterfalls in Dakshina Kannada District of Karnataka. This is immensely beautiful place is blessed by nature. It is noted for its picturesque locale. "Bale Kallu Gudda" – one of the highest hills in Dakshina Kannada District is nearby attraction.
A winding scenic journey from Charmadi, 18 km away, takes to Alekan Waterfalls. Alekan falls is situated on the way to Kottigehara from Charmadi. This place is just next to the road before 4 km from Kottigehara. This water fall is just near to 'Alekhan Horatti' bus stop.
Since being both easily accessible and beautiful, it attracts people of all minds both aware of the nature and pollution creating nature.
The beauty of these falls blooms with the onset of season of natural showers. During monsoon water fall runs with incredible speed and vigour and time from August till early December is best to visit the place.
Distance from Bangalore is 350 kms. A state transport or private bus/jeep from Charmadi (18kms) will take you to this place.
3. Bandaje Arbi Falls
Bandaje Arbi Falls, one of the breathtaking waterfalls in the Western Ghats, is located near Mundaaje, in Dakshina Kannada District of Karnataka. It cascades down from a height of 200 ft. Ballalarayana Durga is visible from the topmost point of the hill about an hour's walk up from arbi. This waterfall can also be reached by Sunkasaale and Ballalarayana Durga.
Bandaje Falls has a very nice view, and it is believed to be 700 Metres above the sea level (though no one has officially measured it). It flows as a single stream, and falls from approximately 400+ metres in between the valleys of Western Ghat. This flows further and joins the river Netravathi as a tributary.
Bandaje Arbi falls is 350 km from Bangalore and takes almost 7 hours to reach there. Bandaje Arbi falls is about 25 Kms from Dharmasthala in South Kanara district. A state transport or private bus from Dharmasthala to Mundaaje (16kms) or to Sunkasaale (83kms) can be the starting point of the route.
Bandaje Falls has become a hot tourist destination in the Western Ghats. It is a nice trekking spot too. To visit Bandaje Falls, there are actually two different routes. If you are travelling via Mangalore – Ujire, it is located 25 km from Ujire. Travel 6 km from Ujire towards Charmadi Ghat, take left at Somanthadka, travel for another 6 km, then take a right turn, and travel for 2 km to find a village named kadirudyavara, from where you can have the remote view of the Falls. However, you have to trek for 10 more km from Kadirudyavara to reach the falls. Locally this falls is called as Bandaje Arbi, where Arbi means falls.
4. Devaragundi Falls
Devaragundi, meaning 'Rockhole of God', is a waterfall created by one of the mountain streams at Thodikana. It can be reached by going further for about 1.5 kilometres from Sri Mallikarjuna Temple towards the Patti Hills. One must cross two streams, climb uphill, and walk through a private arecanut farm to view this magnificent waterfall. It is cautioned that no one should step into the water in the surrounding of the waterfall, as its depth is unknown.
The Devaragundi waterfalls, near Sri Mallikarjuna temple, Thodikana, is a destination for nature enthusiasts, trekkers, and the devout who want a slice of the Western Ghats. Reaching the waterfalls is a welcome relief after the half-an-hour uphill climb through dense forests, dripping with rainwater and slippery mulch on the floor. Another attraction is the temple with its devarameenu meaning sacred fish. And the best of all is the lack of humans.
Devaragundi falls is situated in Thodikana village in Sullia tq. edge of D.K district. Aranthodu is a place which comes in Mangalore-Mysore state highway which is 18km from Sullia 30+km from Madikeri. From Aranthodu buses are there till Thodikana Mallikarjuna Temple which is 15km far. From temple, falls is about 1 and half km far where jeep goes near the falls in summer and winter only otherwise 750 mtr atleast you have to walk
Driving from Mangalore, one can see various shades of green during the rains, in the landscape of this region straddling Dakshina Kannada and Kodagu. Orchards of areca and jackfruit trees flit by. Wild flowers in varied colours, from pale violet to the orange-red of the foot-long Rasapushpaare seen along the road.
Vehicles can go till the temple. Then you need to walk uphill and be greeted by the sight and sound of the waterfalls that join the Matsya Theertha River.
The walk is a moderate trek for the unfit, and an easy stroll for seasoned trekkers. At least twice, you have to cross streams with calf-deep water, of the Matsya Theertha that originates about 4 km away and which joins the Payaswini near Aranthod. The river is called Chandragiri in Kasaragod, where it joins the Arabian Sea.
5. Dondole Falls
 Dondole Waterfalls is a beautiful waterfall in Belthangady taluk of Dakshina Kannada district.
The Dondole Falls is located at a distance of 20 km from a place called Kakkinje, which is just 3 Km before Charmadi on Ujire-Charmadi road.
Part of this 20 Km distance can be covered by jeep and rest you need to walk for about 1 hour. Dondole jumps from the height of 50 feet to create a wonderful waterfall. On the way to Dondole Falls after departing Kakkinje you can view a the Bandaje arbi and Ballala Rayana Durga.
The neighboring areas of the waterfalls are residence to rare species of birds and flowers. You may also get an opportunity to see a Bison or two.
Though these places are very near to roadheads one must carry their food and other necessities.
6. Arasina Gundi
Arasina Gundi, near Dali village off Kollur, is a beautiful waterfall within the forest. Arasina Gundi waterfalls situated at about 5 km away in deep forest is a place worth visiting for adventure enthusiastic nature lovers. Here water leaps from a height of about 50 meters into a naturally created pond.
At a distance of 67 Kms from Murudeshwar, 83 kms from Udupi & 10 Kms from Kollur Temple, Arasina Gundi Falls (also called as Arasina Makki Falls) is a famous waterfall located in thick forest inside the Mookambika Wildlife Sanctuary. It is also an ideal place for trekking.
These falls are deep inside the forests close to Kodachadri hills and demands 1-2 Kms trek from the nearest approach road. The road can be reached by hiring Jeep from Kollur Temple. The trekking starts after 8 Kms drive through thick forest. There are signs showing way to the waterfalls on trek route. Entry permission can be obtained at the check post while entering into the forest.
The falls is huge and water drop into a big pool. Swimming in the pool below the falls is very dangerous due to the sharp rocks. However, there are smaller streams near the falls where swimming is possible.
You can also trek all the way from Kollur Temple. However, it's highly recommended to hire a guide. Oct – Dec is best time.
7. Belkal Theertha Falls
Belkal Theertha is one of the wonderful waterfalls of Karnataka state. It is about 50 km North-East of Udupi and from Kundapura. Cascading waterfalls, located deep in the Western Ghats. This falls is about 400 feet and there will be no water during Feb-May.
The Belkal Theertha Waterfall lies near Kollur and Madur and it is situated in the lush green forests of Mookambika Wildlife Sanctuary. The waterfall is also called as Govinda Theertha. The water is falling 300 feet down from a mountain called Korshi Betta, which is an extension of Kodachadri. It is believed that the water of this waterfall is sacred and people come here to take a holy dip.
From NH-17 one can go towards the Kundapur – Kollur Road, take a diversion towards Madur near a place called Jadkal, from Madur you can drive for about 3 Km till a shop in Belkal village, from here a trek of about 2 hours will take you to the Belkal Theertha waterfall.
8. Jomlu Theertha
Jomlu Theertha is a peaceful weekend getaway located on Brahmavar – Hebri Road in Udupi district. Near Belve village about 35 km from Udupi, small water fall about 20 feet height created by River Seethanadi. This is second water fall of this river, first one being Kudlu Theertha. Theertha literally means holy water in Kannada language.
This is an idle picnic spot and weekend getaway because of natural beauty of the place and river. One can also take a nice bath from a small waterfall. There are several places to swim near the falls which are absolutely safe.
However, once the water fills up in Jomlu Theertha do not try diving into the water… as you can see it's very dangerous.. It is best to visit this place after the monsoon season.
9. Koosalli Falls
The fabulous picnic spot, Koosalli waterfalls is located near Koosalli village in Kundapura. A series of six falls, one above the other, in splendid surroundings makes it one of the best waterfalls in the state. The combined height of all six falls is about 380 ft. The foliage around the spot is attractive. The best time to visit is from September to November. This virgin and unspoiled spot is near Shirooru, which is 76 km from Udupi on NH 17 towards Karwar. Kundapura is about 36 km from Udupi.
At a distance of 45 Kms from Murudeshwar & 20 Kms from Shiroor (on Udupi – Karwar road), Koosalli Waterfalls is a magnificent waterfall located in deep forest near Koosalli village. The waterfall is 20 Kms from Shiroor via Toodalli (also known as Soodalli) and 5 Kms from Koosalli village.
One has to trek for 5 Kms from Koosalli through dense forest which also includes difficult rock climbing in order to reach the falls (2 Hrs trek from Koosalli village one-way). This place is highly dangerous during monsoons when the rocks become slippery.
Nov – Dec is the best time to trek this place. Koosalli can be reached from Shiroor by Auto.
10. Kudlu Theertha Falls
It is about 42 km from Udupi. A waterfall located deep in the jungles of Western Ghats, close to Hebri town. This is a beautiful water fall by any standards, and may become very weak during Feb-May. With a height of about 300 feet, it falls directly into a pond which is considered holy by local people, because, sages meditated here thousands of years ago. There is one more water fall above Kudlu theertha, called Manga theertha (monkey theertha) named so because, only monkeys can reach it as the path is very steep inside the forest.
It is recognized as the first water fall of river Sita.
Hebri is located on Udupi – Agumbe Road (State Highway – SH65)
To trek to Kudlu Theertha Falls one has to take a left deviation before 6 km to Hebri, another left after another 3-4 km. The road will end at the banks of river Sita. There is a Burma bridge on the right side to cross the river. After that one has to walk for 4 km inside the jungle. There will be a small stream which has to be crossed to reach the foothills and from here a 3-4 km of trekking will take you to the beautiful Kudlu Theertha.
11. Kudumari Falls or Belligundi Falls or Chaktikal Falls
At a distance of 43 Kms from Murudeshwar, 93 Kms from Udupi & 17 Kms from Shiroor (on Udupi – Karwar road), Kudumari Waterfalls (also known as Chaktikal Falls) is a magnificent waterfall located in deep forest near Chaktikal village.
The waterfall is 17 Kms from Shiroor via Toodalli (also known as Soodalli) and 3 Kms from Chaktikal village. Chaktikal is about 5 Kms from Koosalli and can be reached by driving 2-3 Kms from Toodalli towards Koosalli and taking diversion into Chaktikal village.
Kudumari Waterfalls is a magnificent waterfall dropping from a height of 300 feet through a single step. One has to trek for about 3 Kms from Chaktikal through dense forest. The trek route is considered to be very dangerous and not usually recommended for regular visitors (about 2 Hrs trek two-way). Nov – Dec is the best time to trek this place. Chaktikal can be reached from Shiroor by Auto.
12. Apsara Konda
Apsara konda is a small village near Honnavar, town in Uttara Kannada district. 8 kms from Honnavar are the "Apsara Konda Falls" (Pond of the Celestial Nymphs) set in a picturesque setting and a fine beach that offers glorious sunsets. Apsara Konda pond is a divine beauty and the beach near to that offers beautiful sunset view. Legend says that the Apsaras (Heavenly fairies) used to come here to bathe and relax. The place truly exudes heavenly beauty. There is Devi temple and a branch of Ramachandra mutt. There are several big caves on the hillock called "Pandavas caves".
With a view of the river, the sea, the islands, the lush green fields and coconut groves, the Apsarakonda hillock verily offers a feast to the eyes that see. Other places to visit are Honnavar beach and Kasaragodu beach.
Apsara Konda falls is just before you get to the hillock, from here you can get a glorious view of sunset which is one of the best you can get to watch.