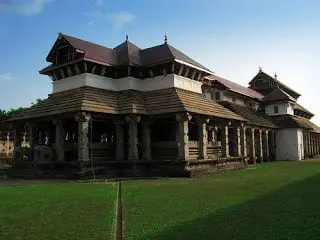 Moodabidri (also called Mudbidri), is a small town 37 km northeast of the Dakshina Kannada district headquarters, Mangalore, in Karnataka, India. Because of widely grown bamboo in ancient days, this place got named as Moodabidri. Moodabidri comes from two words: Moodu and Bidiru. Moodu means East and… Bidiru means bamboo. Moodbidri is also known as Jain Kashi. The Thousand Pillars Temple is one of the most famous and holy shrine of Jains across the country. It also has Guru Basadi which houses the treasured Dhavala text. There are other Basadis, namely Ammanvara Basadi. Leppada Basadi, etc. There are several Jain temples in Moodbidri
There are number of Hindu temples in Moodbidri. Among them Sri Hanuman Temple, Sri Venkataramana Temple, Mahalasa Narayani Temple (Mahamaye Temple), Sri Gowri Temple, Doddamane Road, Sri Eshwara Temple, Doddamane Road, Ponnechari Venkatramana Temple, Shiva Temple, Alangaar, Old Maari Gudi at Swaraj Maidan, New Maari Gudi at Swaraj Maidan and Maari Gudi near Sri Mahaveera College.

A sizable number in Moodbidri practise Roman Catholicism. They are also known as Mangalorean Catholics. There are around 11 churches in and around Moodbidri Varado. Among them, the 16th century old Portuguese-built church Igreja da Santa Cruz Hospet or Hospet Church is very famous.
HOW TO REACH–
Moodbidri is on National Highway 13. It is accessible from Mangalore (31 km away) by bus. Mangalore Airport is 40 from Moodbidri. It is an hour from Udupi and near Karkala. Other nearby places are Venur and Kudremukh. The local and long distance transport includes the buses which ply regularly. Shuttle and express buses to Mangalore, Udupi, Karkala, Shimoga, Kudrmukha, Sringeri, Dharmastala, Bantwal Bethalgady, Naravi and Mulki run every 5–10 minutes.