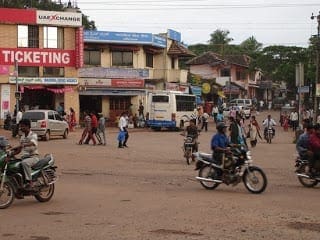 Bustling with students from around the world, Manipal has become a cosmopolitan town from what used to be a barren hill. You might already be familiar with the more popular places, but here's a short list of the hidden treasures in Manipal that you may have missed!
The Manipal Museum of Anatomy and Pathology:
Albeit being extremely popular among the locals, the Manipal Museum of Anatomy and Pathology is unheard of by the vastly non residential student crowd of Manipal. The museum was begun by Dr. SS Godbole, the first Anatomy professor of Kasturba Medical College(KMC), in 1954. It boasts a large number of specimens, with over 650 specimens from his own collection.
(No, they didn't let us take pictures of the interior. sorry!)
According to the official KMC website, "The sprawling Anatomy section houses well-preserved specimens of the human body from head to toe, and everything in between."
An interesting personal experience from the anatomy section would definitely be the huge skeleton, smack dab in the middle of the museum. The Pathology section of the museum is more digital based, but it showcases numerous diseased body parts and organs, as well as their impact on the human body.
The museum is open from 8 am to 6 pm on all days except public holidays. If you are a student or faculty of Manipal Academy of Higher Education, just flash your combo/access card and you'll be let in free of cost. If not, worry not! The museum only charges a small fee. You'll be fine.
The Arbi Falls, Manipal
Breathtakingly beautiful, these falls are located near the Vaishnavi Durga Devi Temple in Dasharath Nagar. If you're tired of being stuck in your campus library all the time and want to go somewhere peaceful and study without spending your money (in a cafe), Arbi Falls sounds just like the place for you.
These falls are visually stunning, so if you're a budding photographer and want to build your portfolio, why not give these underrated falls a visit?
Safety should be every visitor's priority, (especially in the rains!) however, these falls aren't extremely dangerous. As long as you don't go too close to the water and keep a responsible distance, you'll be perfectly fine.
Hasta Shilpa Heritage Village Museum, Manipal
Culture is extremely neglected by our heavily western influenced minds, which is why I would personally recommend the Heritage Village Museum. It was built in 1997, by Vijayanath Shenoy, who began organisations such as Sangeeth Sabha in Udupi (1961) and Yaksha Mandal in Manipal (1981).
Almost everything in this heritage museum is taken from old, dismembered homes, making it a collection of, quite literally, the history of Karnataka. The museum displays a period-specific setting, transporting you to the 1990s in the most wonderful way.
Currently, there are four tours daily at the Heritage Village. In the mornings at 10 AM, and 11:30 AM and in the afternoon at 2:30 PM and 4:00 PM. The museum is open from Tuesday to Sunday. (Mondays are a holiday) Sadly, the current season does not offer student or senior citizen concessions, and the charge is ₹200 per person.
Snack Shack, Tiger Circle, Manipal
Snack Shack is one of Manipal's oldest food joints. The place houses Chinese, Indian and Continenal Cuisine and the ambience it offers feels like you're eating at home. The food is mouth-watering and the prices are not going to make your pocket feel empty. Regular customers swear by the quality and the quantity of the food this restaurant offers.
My friend and I visited this joint recently and had the most amazing bowls of dumpling soup. It was not only heart-warming, it made us feel less cold in these unpredictable Manipal rains. Highly recommend dumpling soups. You can't go wrong with those.
It is located near the Tiger Circle in Manipal, (if you're a student, you must be familiar with this name) inside the Manipal Store Building. It is open on all 7 days of the week, from 11 AM to 11PM. But if you're lazy (like me) and don't want to go out to eat, you can order from them on Zomato or Swiggy.
So, that's the end! There are hundreds of places in Manipal that are still not talked about but they will be covered soon. If you get a break from studying or working, do make sure to visit these places! They're all worth your time, I promise.