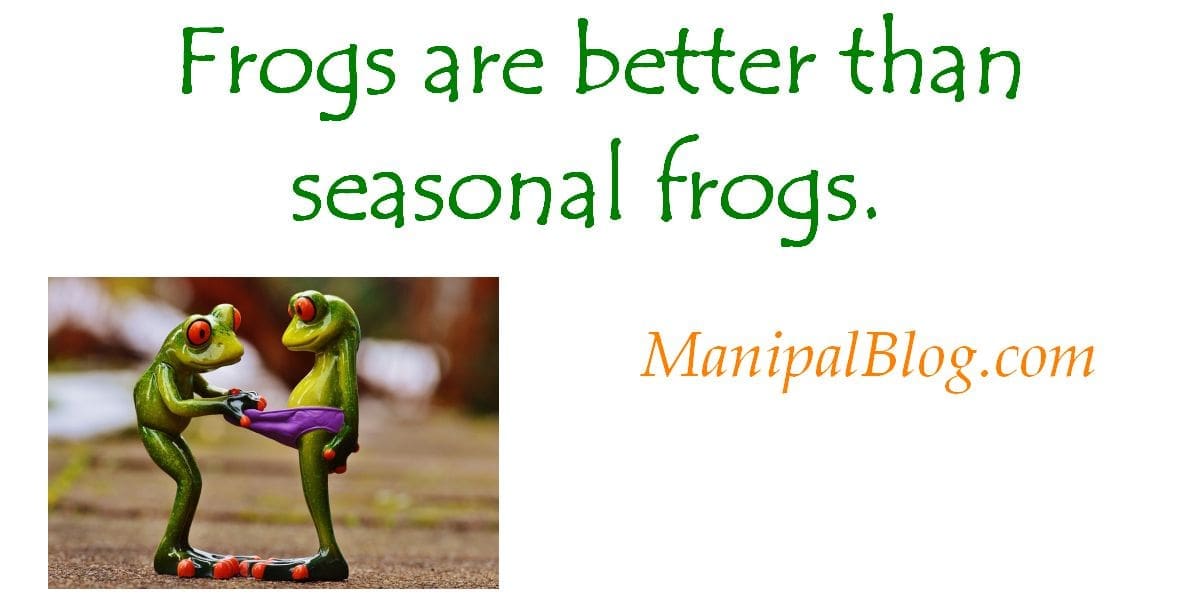 Monsoon is knocking at the doorsteps of Manipal and now we are going to witness some croakers of all sizes and in the most unexpected places. But for all those who go 'eewww' on the mention of the frog prince, there is a good news! This post is not about the poor frogs who try to sing us lullabies but end up irritating us. This post is about a very irritating, cynic and equally stupid breed of human beings, which when compared to the real amphibian, makes a frog look like an angel in disguise.
10 remarkable characteristics/facts of 'Seasonal frogs':
1. The first and foremost requirement to qualify for this category is to complement the title. People who recognize you only in a specific 'season' i.e. either when they are broke or when they need you during the exams or maybe at the times of utmost despair when their free advice is completely useless.
2.Though it is not officially stated in any book of records I believe they are the second people to be blamed for increasing suicidal tendencies in the modern world. (First place is and always will be held by Sir Justin Bieber).
3. Every seasonal frog thinks that he/she is a psychological genius who can play with the minds of people.
4. They are wrong.
5. They are very good in buttering people and they equally fail when it comes to sarcasm.
6. They show that they have a lot of friends and have a very happening life but in reality, they party with themselves in their own shacks. (No prizes for guessing that they are their own DJ and bartender).
7.Frogs are more hygienic than 'seasonal frogs'.
8. Once their season ends you don't exist. One or two cases have been reported to give the cheapest sweets or unused antique pieces as a gesture of 'thanks'.
9. Highly incapable and excellent in identifying the other frogs, leading to 'groupism'. (That is the reason that they are dependent on others goodwill at all times).
10. They suck to the core
So beware of people having even half of these traits because who knows you may be their next target of buttering, pathetic sarcasm, free advice and God knows what else.
PS: Seasonal or real. I hate frogs.