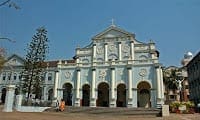 The bulding from the outside,
looks like any ordinary chapel
St. Aloysius Chapel, or the chapel of St. Aloysius College, is a Christian chapel in Mangalore . The St. Aloysius Chapel in Mangalore was built by the Italian Jesuit Antonio Moscheni in 1884, during the Mangalore Mission in 1878. St. Aloysius College Chapel is an architectural marvel that could stand comparison with the chapels of Rome.
The Roof of the St.Aloysius Chapel
What makes this chapel unique compared to the other chapels in the country is the beautiful paintings that virtually cover every inch of the walls. Bro. Moscheni from Italy is the creator of such a master piece. One portion of the chapel paintings depicts the life of Aloysius Gonzaga to whom Aloysius College and chapel are dedicated. Saint Aloysius gave his life in the service of others.
There is an amazing sense of belonging and peace inside the chapel. The interiors are well decorated. The paintings of this chapel is preserved by a recognized board of the nation which maintains and restores all historic artifacts.
The Awesome Frescoes inside the chapel
How to get there- St. Aloysius College Chapel is situated in the heart of the city on the lighthouse hill about a kilometer away from Nehru Maidan Bus stand. It is well connected by all kinds of surface transport. This architectural gem is a 'must see' for anybody visiting Mangalore.