If you have not visited kodaikanal or planning to go to kodaikanal then this is the right place. If you have already been there this article will cherish your memory. According to me it takes a lifetime to see each and every place of kodai with utmost detail. In each detail the satisfaction you feel is what cannot be explained.
We took train from Mangalore to coimbatore. When we reached there at the station, first thing you well be attacked by the taxi drivers. A taxi driver approached me and said that you cannot go by bus because there is a land slide, taxi is the only way. You would have end up taking expensive taxi if you would not have inquired further. I got to know that there is bus which goes to palani hills from there we can take another bus to kodai. Kodai is about 180 Km from coimbatore and 60 Km from palani.
Now kodai was 30 Km more, but what suprised me was there was no ghat section. I wondered when the ghat (mountain) is going to start then the bus took a steep road. In this 30 Kms, bus traveled a height of 7200 feet- amazing.
We arranged a local travel bus which will show the places in kodai for three days. Now I would like to show you the important places:
The old fat tree: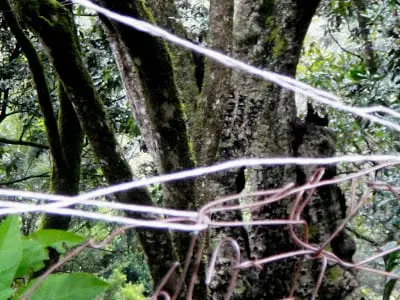 The oldest tree of Kodai
When I saw this first I thought what is there in this tree. It was same as any other old tree but I was amazed to know that it was one of the oldest tree in kodaikanal aging more than 10,000 years. Amazing right! Hence it is named as '10,000 years old tree'.
The bicycle ride: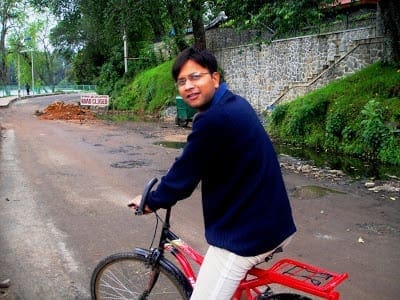 Interesting ride
There are three types of rides you can enjoy in Kodai apart from your four wheelers. One is bicycle ride and 2nd is Horse ride. These you can find at the kodai lake which is the central point of kodai. Hotel stay near kodai lake is always better. There was series of endless bicycles seen which gave the appearance barricade. 3rd ride which you can get if you are lucky is bike. Bike ride is excellent of all.
The church: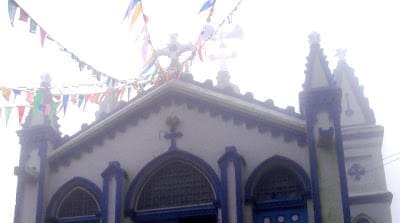 highest church
There's always some specialty in places of kodai. There lies this church which was quiet old built by the french people. When I went inside, I could find all the peacefulness in nook and corner. A giant idol of Jesus, as if he is real, was right in front of us.
Flowers: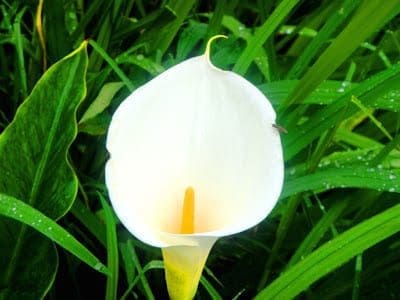 A white flower and a insect seeking nectar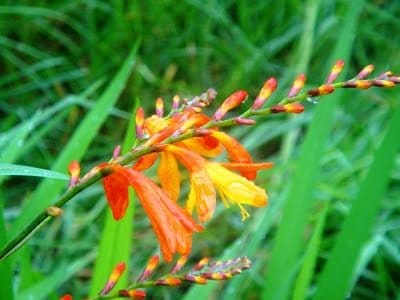 Shades of Oranges and goodness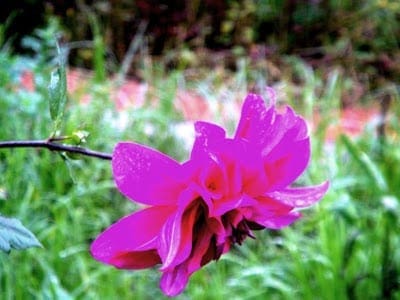 Pink bloom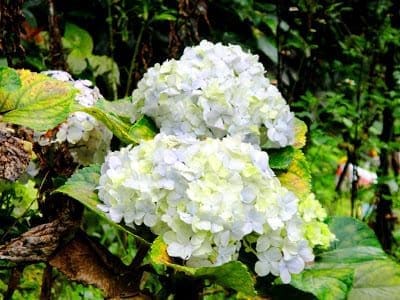 Bunch of white flowers
If one is totally lured towards flower, then this is the right place for, esp. in the month of April and May. During these months there will be flower exhibition. Each flower has diverse appearance, shades of color, fragrance and state of blooming.
– Never dry flowers and leaves: The picture below showing the yellow, green, purple and red flowers is one of the best attraction. The importance of these flowers are they stay as it for over 5 years. If you are going to Kodai, never forget to get these flowers for your loved ones.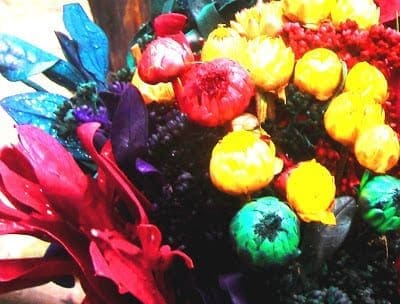 Never dry flowers and leaves
Landscapes:
The landscapes are the best spots you can see in Kodaikanal. You need to go for trekking in the deep forests of Kodai where we enter a point of suicide, I mean " suicide point" (Green Valley view). From this point you can feel that you are in heaven. There is a blankets of clouds lying below us, as if they are telling "Don't worry if you fall, we are there to catch you". In such case do not believe the clouds, believe yourself. Here you can find few of the amazing spots.
Pillar rocks: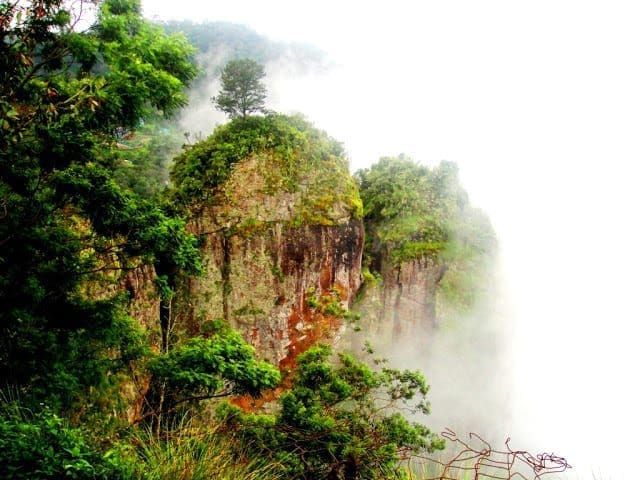 Pillar rocks
These are called as pillar rocks because you can find three huge stones or boulders, side by side, in the shape of pillars. You feel as if they are God's courtyards and they are having conversations in whispers. In the picture you can see two pillars clearly and the third one is hiding in trees. Only trained mountaineers climb those rocks.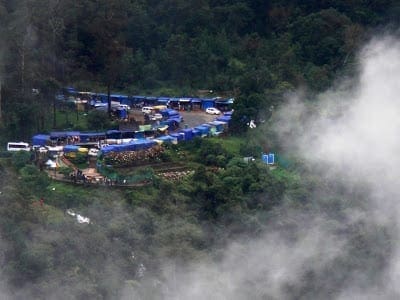 View from suicide point
Another picture shows the landscape view from the suicide point. You can see there are series of shops, streets and vehicles. There are also many caves in the forests. One of the well known caves or ravine is verticle one which is around 500 feet deep. Few of the mountaneers who went inside never came back. Now they have restricted the enrty to this cave. This ravine is known as Devil's Kitchen.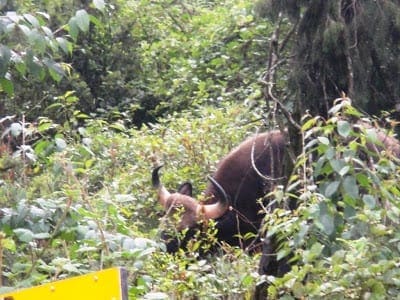 Dangerous wild Bison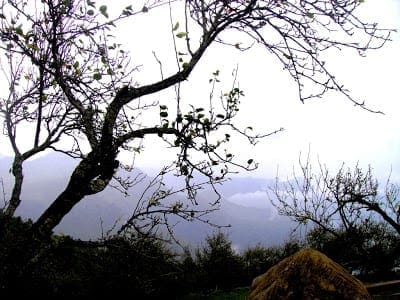 Lovely evening view
Dolphine's Nose: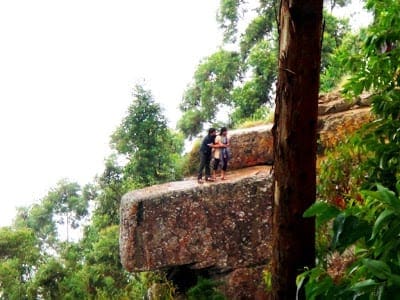 Dolphin's nose- brave couple
Another good spot you can see is the dolphin's nose. It is just a rock at the end of the cliff which is 7000 feet deep. This resembles the nose of the dolphin.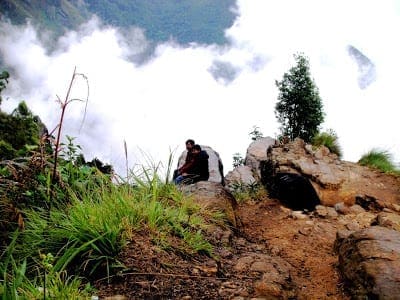 Another view of Dolphin's nose
Serpentine roots: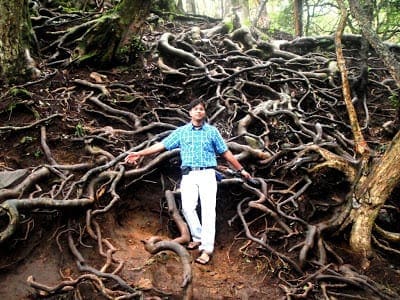 welcome to the serpents kingdom
At places in the forest you can find the serpentine roots of the tree. It feels as if you landed in the kingdom of serpents.
Water falls:
You can find inumerable waterfalls in Kodai viz. bear shola falls, Silver Cascade Falls and others. It is comlete satisfaction to the eyes. These falls are usually located in the dense forests.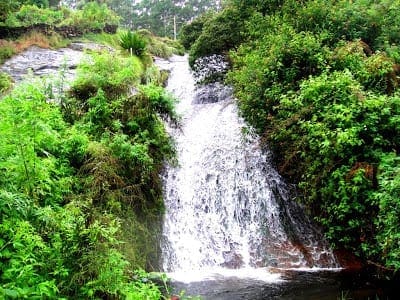 Waterfalls at kodai
Shops:
You can find 100% pure eucalyptus Oil, various other herbal drugs, rose water, dry fruits, idols, gifts and wind chime.
All in all, kodai is a never ending adventure land.