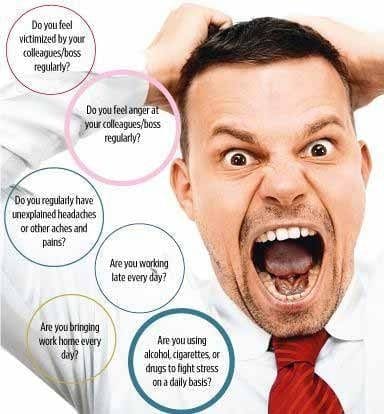 There are many skills and techniques that can be used to keep stress under control. Some skills fall into an action-oriented reference i.e where you look to face the problem and change it. Emotionally oriented skills relate to us changing how we feel and responding to a situation that we cannot change. Other skills are more acceptance-oriented, where we must handle the stress because the situation cannot be changed and there is little control emotionally, such as a death.
The following are five essential tips on how to handle stress
First tip for managing stress is to learn some deep breathing techniques. An easy one is to sit up straight and place the tip of your tongue against the top of your mouth. Exhale through your mouth for eight seconds and then inhale through your nose for four seconds. Hold for seven seconds then exhale again. Do these steps three or four times.
Second tip is to improve some of your habits. Eating healthy, decreasing caffeine and exercising will help your body in handling stressful situations. Get as close to eight hours of sleep a night as possible.
Third tip is to change the situation that is causing the stress. Before doing this, you may have to do some detective work to figure out what the exact situation is. A change in your job, family life, conflicts with a co-worker are a few examples that can be the cause of this stress.
Fourth tip is to change how you think. Being positive about life can help you to see a problem as an opportunity to change for the better. Keeping a sense of humour and refusing to let negativity weigh you down can help you keep stress under control. Do not fall into the 'what if' scenario. It can only cause unnecessary stress.
Fifth tip is to create and maintain an emotional reserve. Having friends who you can turn to for support is a great stress reliever. Know that the best relationships work both ways.