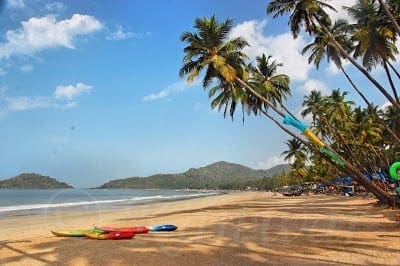 What's better then a nice calm relaxing beach only about 5 hours away from Manipal? Not much actually.
Now if I added that this place has by far one of the BEST Italian food you'll ever get around to in India (yes I've tried some of the awesome places in Delhi / Bangalore / ..Manipal…Mangalore / an Magic Italy with it's authentic Italian Fare made by an Italian Family who makes Goa their home from August to April every year..is just well you have to try it. Wood Oven Pizza and Home Made level's of food.
Ham Pizza with Authentic Italian Salami
Magic Italy Magic Mix! Slice of Lasagna and Ravioli
Something more? How about possibly one of the BEST sunset's you'll see anywhere around town.
Sunset @ Palolem Beach
Another view of the beach?
If I might point out..this was during the long weekend when most of Manipal was in Goa on holiday. There is barely anyone there. It's the most perfect place for just relaxing and tanning at the beach, grab a couple drinks and enjoy the views..(many many MANY views).
Keep in mind it's not exactly a place to party. There is a club or two around on certain days of the week but that is just about it.
How to get there?
Train: Manipal – Canacona: Get off and take an auto (50 – 60 Rs) to Palolem.
Car: Straight Highway down there. My buddy drove there, I got a ride back which was awesome. The roads currently are bloody awesome.
Bus: Manipal – Canacona
Where to stay?
I ALWAYS stay in the Coco Huts ON the beach. Cheap, clean and I save the cash for food.
Where to eat?
Magic Italy : Italian Food
Smuggler's Inn: Old British Fare, awesome steaks and Cottage Pie and an awesome Banoffee Pie
Casa Fiesta: Breakfast
Cuba: Awesome Food
Camp San Fransisco: Awesome barbecue sea food every evening.
Dropadi: Their Goan Papad's are awesome.
Cafe Del Mar: DON"T GO THERE. Useless.
I'll put up a complete food review later on.
This should be about it for now!
K.S.