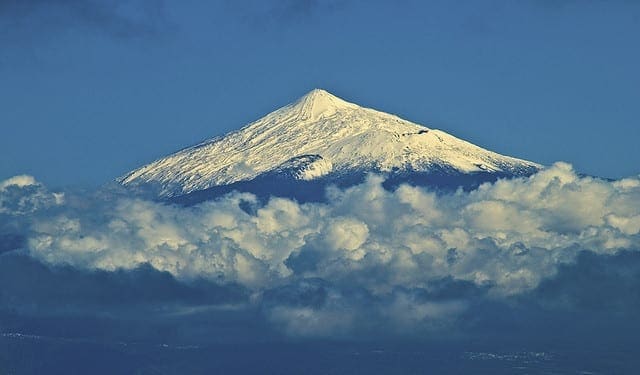 Living on the north west coast of Tenerife, it's impossible to ignore Mount Teide. Its vast presence looms over the La Orotava Valley like a monolithic Guardian Angel; reassuring me with its presence and a constant reminder that, unlike the thousands of visitors who every week take the cable car to within 500 metres of its summit, I had yet to get further than the crater. Last year's increase in seismic activity had sent ripples of anticipation through the vulcanological world; "an imminent eruption" they had said. If the whole thing was going to blow, I wanted to see it before it did and hoped that my timing and their predictions wouldn't coincide.
Mount Teide is Europe's highest volcano and Spain's highest mountain, situated at 3718 metres above sea level in a crater 16 kilometres wide and three million years old. The climb to its summit begins at the base of Montaña Blanca, a good hour's walk from where you park the car and ample time to discover that walking at altitude is a lot harder than you ever realised. Altitude sickness can kick in from 2400 metres, the climb begins at 2200 metres; it's essential to drink plenty of water and take frequent rests. Despite fervently following my own advice, by the time the roof of the Refuge came into sight, I could barely put one foot in front of the other.
In June 1799 the famous German naturalist and explorer, Alexander Van Humboldt, stopped off at Tenerife on his way to South America and climbed the volcano. An account of his journey tells that, despite it being mid summer, the party complained bitterly of the cold as they spent the night on the mountain, "having no tent or blanket". It was November now, still hot on the beaches at the coast, but a very different story at this height. As the sun went down, the temperature at the Refuge plummeted from 13°C to -1°C in under an hour; I hadn't been this cold since I left the UK over two years ago.
Through clenched teeth I asked the Refuge worker what time he intended lighting the fire. He looked at the thermometer and replied: "It's not cold enough for a fire tonight." I laughed, certain that his statement had been intended as a joke. It wasn't. "We don't light the fire unless it gets to -7°C "he said. I stared at the thermometer, willing it to drop further, but it faltered at -4°C and stayed there. It was 'lights out' at 9 pm in the shared dormitory but exhaustion and a couple of glasses of icy red wine failed to induce sleep; I thought of Humboldt, exposed to the elements; it didn't help me to sleep but it passed the time.
I had used the term 'pitch dark' a thousand times in my life but never had it been so appropriate as when I stepped out of the Refuge at 4.30 am to start the final ascent to the summit. My torch lit a paltry puddle of light in the mass of lava and pumice that gave a confusing uniformity to the ground. I stumbled around on the loose stones before the 'path' finally took shape in front of my slowly adjusting eyes and I began to climb. My legs were still exhausted from the climb the day before, it was freezing cold, my fingers were numb despite the thermal gloves, my face and ears were stinging and my lungs were snatching at oxygen in the thin air.
Squinting through the torch light for the next few steps, I stopped frequently to allow my lungs to recover and to gape, open mouthed at the vast expanse of star-saturated sky above me. I had never seen so many stars, all the constellations I could name and dozens more besides. Every few minutes a flash of light streaked a small section of the night's canvas as a shooting star showed its path fleetingly. Only 300 kilometres off the coast of Morocco, this is an African sky; a jewelled, black velvet cloak, hypnotic; luring me to stand and stare, but I had to keep moving if I wanted to make the summit before sunrise.
The 500 metre ascent took two hours, every step a mental and physical test of stamina. As the peak came within reach in the grey half light of dawn's beginning, clouds of yellow sulphur rose from fumeroles in the rock's surface and clogged my mouth and throat, the heavy gaseous smell impregnating my hair, my skin. I pushed off a rock to reach the summit and my hand scorched through my glove; I pulled away quickly, suddenly reminded that I was on top of a volcano.
On the summit, I let my rucksack fall to the ground and climbed up onto a boulder; the world at my feet, above me only sky.
Cloud floated all around like a halo of foaming sea and the horizon burned pink, then orange as the sun rose. The lower peaks floated in the cloud like a school of hump back whales riding the white surf; beyond the circle of cloud, the lights of the south coast and the neighbouring island of La Gomera burned like diamond shoes at the feet of the giant volcano. And silence…complete, engulfing silence, as the sun rose blood red and cast its dye over the rocks surrounding me.
I bit into my last piece of chocolate, a reward to myself for making it to the summit, it nearly broke my teeth it was so cold. When I'd swallowed it I needed a drink but the water in my flask had frozen to ice; I had a six hour, 9 kilometre descent ahead of me, my fingers were numb and my feet and legs were screaming. But just for now, none of that mattered; I was standing with the Gods on the top of the world.
It was one of the most incredible experiences of my life, but next time, I'm taking the cable car like everyone else.
Taking Refuge
The Alta Vista Refuge sits at a height of 3270 metres and offers basic shelter to those climbing the mountain. There are no facilities for cooking and no refreshments on offer. There is a small gas burner available to heat water, but with only one burner and lots of climbers, a hot drink is just a distant dream.
It's essential to book in advance.
Reservations:
Company offices
C/ San Francisco, 5-4º
38001 – Santa Cruz de Tenerife
Tel. 922 010 440 ; Fax. 922 287 837
E-mail: [email protected]
Fee per adult: 12.00 euros per night, max stay permissible is one night.
Permits:
To climb to the summit of Mount Teide you have to apply in person to:
National Park Office
C/ Emilio Calzadilla, nº 5 – 4th floor
Santa Cruz de Tenerife
Tel. 922 290 129 – 922 290 183 ; Fax: 922 244 788
E-mail: [email protected]
Office hours: from 9 a.m. to 2 p.m., from Monday to Friday (take a photocopy of your identity card or passport).
However, if you stay the night at the Refuge, and provided you climb before sunrise and return past the cable car station before 9am, you do not need a permit. You'll need a good torch, preferably one on a head band to leave you hands free.