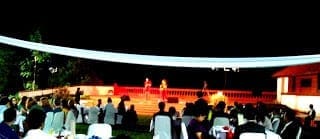 Camera, check. Passes, check. Even as we entered the lawns of Valley View hotel, we were in for a surprise as the red and blue colors of the French greeted us. It was "Soiree Francaise" , the French Food Festival and French concert, and we were all excited!
Lo and behold 'Soiree Francaise'!
just us and the moon.(though the light in the pic is a focus light)
The mood was set, as people from many a nationality convened to experience a wonderful French evening. The true essence of France was recreated here, in Manipal, with a tantalizing four course menu, accompanied by French artists Marine Futin, Pierrick Rossi & Anatole.
getting ready to gorge on the french delicacies
The food just got better with each course, with dessert being an amazing dark chocolate mousse, which left us wanting for more. The music was a feast to the ears, with the artistes playing a mixture of French and English songs. 'Cherry Tree' was an instant hit amongst the gathering.
An exotic blend wine, dine and music truly made it a night to remember.