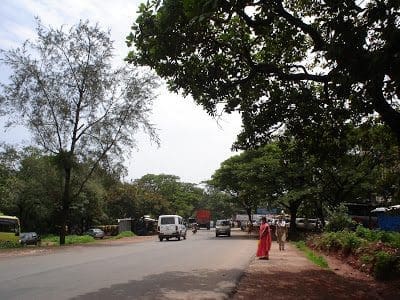 Brahmavar is a small town located in Udupi district of Karnataka state of India. Brahmavar is on National Highway No. 17, about 72 km north of Mangalore. The nearest Airport is at Bajpe, Mangalore. The nearest Railway Stations are Udupi in the south (12 km) and Kundapura in the north (24 km), on NH 17.
It has been mentioned as Brahmaputr, Brahmavuar, and Brahmara in the inscription, which means a Brahmin settlement. It is an ancient cultural center of the region adjacent to Barkur, which was the capital town; Brahmavar must have been a prosperous city.
There are three main temples in Brahmavar (1) the Mahalinga temple, (2) the Gopinatha temple, and (3) the Janardhana shrine in the Agrahara.
The Mahalinga temple was believed to be constructed in the 9th century AD. The wall of the temple is built on laterite stones. There is an image of Gaja-Gowri, which has been kept in navaranga, which perhaps belongs to the Hoysala period. It holds Ankusha and Pasha in the upper hand, Padma (lotus) in the right lower, and the left lower hand in the abhaya pose. Handadi was the settlement of the Hande family. The Gopinatha temple is mentioned in an inscription as the third temple; the image of the presiding deity is of Hoysala workmanship.
Mahesh Hospital Brahmavar is a 50 bedded specialty hospital where I worked as a duty doctor for a few months last year.