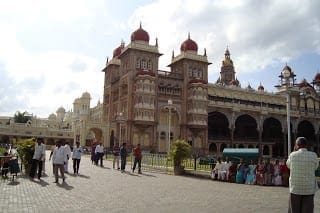 Pleasant weather and beautiful view points define Mysore which is around 7 hrs far from manipal and lesser than that from Bangalore. Under the title of 'conference on clinical trials', we managed to steal 2 days of official leaves from our (so called) busy schedule. I mean conference was of course there, but just for one day. All but me started in a private vehicle an after noon a day before. Because of some social commitment I decided to take a night bus and joined them the next day morning.One of my colleague Dr Fahad was our navigator as he had studied his under graduate in Mysore. He executed his job quite beautifully which left us wondering what he had done during his MBBS undergraduate life 🙂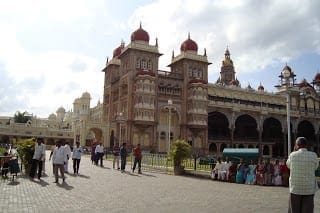 On the day after the conference, we went 1st to the famous Mysore palace to observe its beauty in fairly good daylight. Actually it looks more beautiful with lighting at night but with time restriction we had to rapidly finish palace trip. A transient yet heavy rain meanwhile, helped a shopkeeper increase his Mysore speciality business. Few of us bought some expensive sandalwood soaps. The main attraction of the shop was Mysore silk saris of course, but they were too costly to be a part of our shopping. Good ones cost around 15,000 and more!! The snap above shows just a part of the palace both horizontally and depth wise.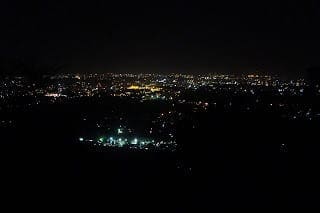 The next shop was musical fountain and vrindavan garden which was pretty flower some. However the concept of music co ordinated fountain is fairly common by now. The next point – Chamundi Hill – was a reluctant agreement from few members of the troop because of whole day's exhaustion but in the end everyone liked the view of almost half of the city, including bright yellow Mysore palace right in the centre of the snap above. The breeze there was also pleasantly cool and there is a village on the top of the hill, the entry to which is closed by late evening.
However, the most memorable part of the trip was due next morning. In spite of being totally tired of the previous day, we were forced to wake up early to reach a place called gopalswamy betta at the right time. The perfect time to reach there according to our navigator was 7 in the morning but we reached there by 8. The place is around 80 km from Mysore city.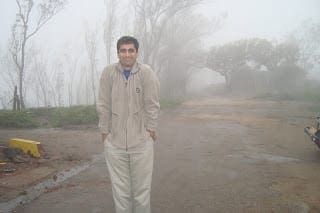 But even at 8 it was adorably cool and cloudy and as everything shrinks in cold I also constricted myself to try and conserve the body heat. The touch of breeze to the skin was so pleasant that we didn't want to move at all.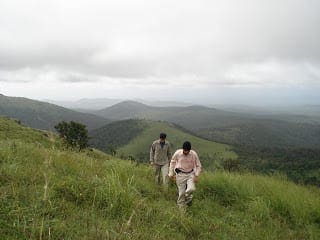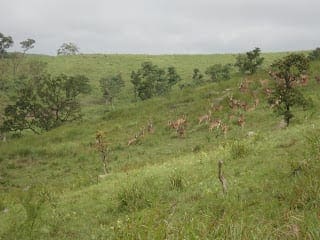 Just a km of trekking ahead, you will find classic scenic natural beauty, deer-troops and ele-groups. If anyone is making plan of Mysore early morning visit to this place is strongly recommended.