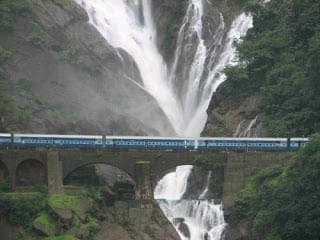 DudhSagar Waterfalls – An Image for your Memoirs
Satish has already posted about his trip to Dudhsagar Falls previously. This is merely a revisit to these awesome falls.
A visit to the Dudhsagar Waterfalls on the borders of Karnataka and Goa provides a breathtaking view of the verdant greenery of the Western Ghats. The Dudhsagar falls are a 4 tiered waterfall system on the Mandovi river. The water falls literally like a Sea of Milk (hence the name Dudh -Milk in hindi and Sagar – Ocean in Hindi).

The best time to view these falls in all their glory is the rainy season, and though the trip can be treacherous during this season (July to October), the view is worth every bit. During the rest of the year, the water fall turns into a small trickle and visitors may not appreciate the true beauty. As mentioned earlier this is a four tiered waterfall with a total height of 310 meters (1017 feet). Dudhsagar is the fifth highest waterfall in India and ranks 227th in the world.
The picturesque beauty all around has made the Dudhsagar falls a popular picnic site. The waterfall has created a couple of pools nearby that lure the tourists for a bath and frolicking in the waters. The Dudhsagar Waterfall is also known as a trekking destination and one can reach the falls by traversing serpentine mountain trails.
How to reach: Take a Train to Madgaon from Udupi and then to Kulem Railway Station. The waterfall is accessible by train and rough road. It is 10 kilometers from Kulem Railway Station (Sanguem taluka, South Goa district). The Falls are about 60 Kms from Ponda. When I used to stay in Belgaum, we used to get on to any train (goods or otherwise) which was heading into Goa. Usually the Train engineers and pilots are very helpful and charge a nominal fee, in addition to a valid ticket to make an unscheduled stop for you :). Just put up your best face!!