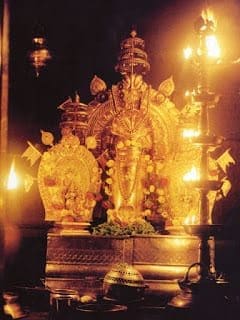 This holy place is perhaps is one of the most revered and best known temples town in Karnataka. Located in the westerns Ghats and on the banks of Goddess River Nethravathi, it is about 95 kms away from the University town of Manipal and 70 kms from Mangalore.
This holy place is the abode of Shree Manjunatha Swamy (Another name for Lord Shiva)and houses a
Lingam
of Gold. A study of the principle of unity in diversity, this temple is administered by the Jain community and peculiarly, the nitya pooja (daily rituals) are conducted by Vaishnavas (followers of Vishnu). The hospitality provided at this temple can be enjoyed by all people without any distinction of caste, creed or class. On an average per day around 10 thousand to 15 thousand pilgrims visit here every day (larger crowds are seen on Mondays).
There are many lodges in Dharmasthala like Vaishali, Nethravathi, Gangotri, Saketha, Gayatri etc. all of them being rivers of India. On Shivaratri day, it is almost impossible to estimate the crowd that collects at this temple and the 500 room guest house with all modern facilities is booked much before.
As per Hindu tradition, Anna daana (giving away of food) and Vidya daana (imparting of education) are the two big Daanas.
One can satisfy one person at a time by Anna Daana . One can serve food until the person says enough for now. As mentioned earlier this temple serves food for pilgrims free of cost. A mechanized and clean kitchen provides free food for all the pilgrims. Food is served as early as 11 AM up to around 4 PM and again in the evening from 8 PM and ends around 11 PM every day. It is one of the impressive events taken places in this holy place. All people are served at one place without difference between rich and poor.
The Shree Dharmasthala Education trust is run by the temple committee and has several educational institutions, ranging from primary schools, gurukulas to teach Yoga and Sanskrit, professional courses like engineering, medicine and dental sciences in many places throughout Kranataka.
Manjusha Car Museum
Another attraction in Dharmasthala, albeit a small one is the Manjusha Car museum. Entry is nominally charged and there are about 50 very old cars there – some absolutely splendid having a touch of royalty in all of them.Apart from cars, there are various other items, two huge whale jaw bones, a Fordson Tractor with a crane (USA – 1915), a 'parachute-folding bike' that was used by skydivers, who used to jump from the planes, sitting on those bikes etc.
There is another museum, this one is on the history and houses various antiquities from the cultures and civilizations of the past. There was also a dagger called Jambia, a model of which was shown on Ripley's believe it or not. It looks like a common dagger. But after stabbing a person, a lever opens two more blades of the dagger (inside the person's stomach, cutting open his intestines). The dagger is rotated 1800, and then removed out from the stomach, only to ensure that the person is dead completely.