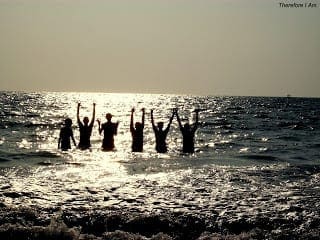 an awesome plunge
A twisting stretch of warm sand lay beneath a surprisingly clear sky. The hazy Sunday noon sun sent down a shimmer through the never ending waters. Grazed with the lustrous shine that they were, little were they to know that six eager boys were about to take a swift plunge into its welcoming depths. Even as the heart thumps seeing the incipient wave charging towards us with a roar of sorts, momentary bliss strikes, as the monster swallows, only to recede a second later.

Welcome to Kaup (pronounced a kaa-poo) beach, one of the favorite weekend getaways in Manipal. Situated at 15 km from the university town of Manipal, it is easily accessible by bus. With clean shores and an awesome stretch of sea, this beach is also known for its lighthouse, which has been in servitude since time immemorial.
The lighthouse of Kaup
The stupendous sunset
The view of the valleys- from atop the lighthouse
The view from atop the lighthouse is truly fabulous, one to die for. With one side looking over the western ghats, and at the other, the sun setting sensuously over the treble waters, one is sure to get carried away by the scenic beauty that Kaup has to offer. Come here, unwind, take a break, and let all the asperities of your everyday life, get washed away in its shores..