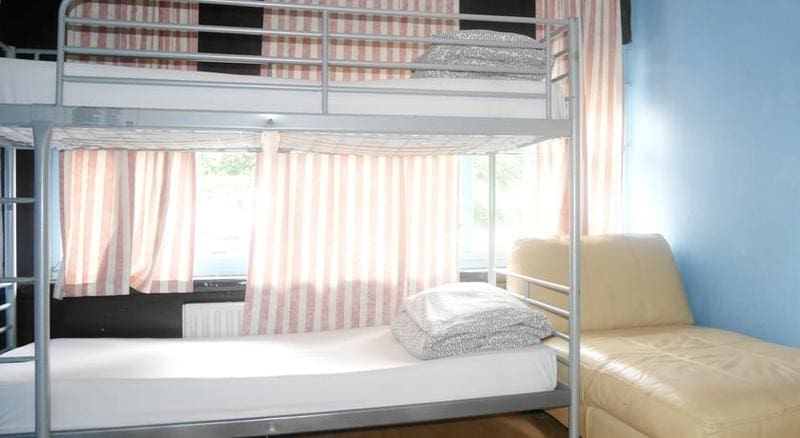 All hostels around the world tend to have many things in common. They all have dorm beds for a start – that's what makes them a hostel after all. They are all aimed at budget travellers, and they usually have a lot of common facilities that you wouldn't get in a hotel like self catering facilities, washing machines/dryers, and common rooms. However, this does not mean that if you stay in one hostel, that the next hostel you stay in will be the same, in fact there are a lot of things which can make staying in one hostel from the next very different! First off, your own budget may depend on the standard or quality of the hostel you can stay in. Then there are things like geography to consider. Where in the world you are staying can give a hostel an entirely different feel. You could be staying in a large multi storey city hostel in London, or just a hut on the beach in the Thailand. The size and local surrounding can create one entirely different hostel from the next. I therefore wanted to look closely at the main different types of hostels you can get. Knowing which kind may suit you best, may help you choose where and in what way you travel.
The Beach Hostel
For those of you travelling places like Australia, Thailand, Spain, Brazil, or any other countries known for their warm sunny weather and beautiful beaches, then a hostel by the beach is something that may have experienced before, or may be interested in if accommodation by the beach is what you after! Beach hostels are usually smaller than a typical city hostel. There are no multi storeys here! They tend to be very laid back places to stay, and hang out, as every beach type place is. You'll find most days you're walking about in your shorts and flip flops all day, and that making friends is generally very easy here, as the smaller the hostel the more you get to know all the other hostel residents. Even then however, some beach hostels will differ from one another. In some places you may find your in something more like a private hut on the beach, somewhere peaceful and tranquil. In other places you may find there is a huge party feel to the hostel, with much of the hostel atmosphere being focused around parties on the beach. Maybe you're somewhere you can literally walk out of the hostel and right onto the beach, or just somewhere in a beach town… One thing is for sure, living in a beach hostel usually means one thing, if you hook up with any of your beach hostel buddies, expect to find a never ending supply of sand that never seems to disappear no matter how many times you shower!
The City Hostel
Particularly if you are travelling somewhere like Europe, where there are many large, populated, cities within close distance to one another, you may find yourself staying in many city hostels while you hop from Paris, Madrid, Berlin, and all those other famous European destinations. The same goes for big cities like Sydney, New York, Bangkok, or anywhere else with a bustling metropolis or large catchment of people around the world. City hostels have many advantages. They are usually situated close to all the amenities (you're in a city after all), most of them are close to all the nightlife, and they usually (although not always) are on a larger scale to the hostels you may find out by the beach or in the countryside or National Parks as there are many multi-storey buildings to choose from in big cities when building a hostel, and as you are somewhere with many main transport links – there are usually a lot of visitors going in and out, thus seeking the demand for a larger hostel to accommodate for that. You'll find a lot of party hostels in the city. It's only natural given they have such close proximity to night life. If you go a little farther out the city centre in most places, you'll usually find some smaller, cheaper, and less party orientated hostels if that's more what you're after. Depending on whether the country you are in is popular with working holiday backpackers, and what the price is for a flat share in the local area, you may also find that the atmosphere can change form city hostel to city hostel in each country. Some city hostels may have a lot of long termers, working for a few months in the area as part of their working holiday visa's. Other city hostels, in places where work or working visa's may be harder to find, will be full of more short term backpackers, there for a long weekend or at most a week or two. This can change the atmosphere dramatically, because although usually all are up for a party most days of the week, you'll find in the "long-term" type hostels more groups will form, and you'll have time to form strong bonds with the people you are staying with. The short term hostels it tends to have less of this environment, and you may find mid-week the place is almost empty, but that every weekend it's fully booked.
 The Country Hostel
Sometimes you may find hostels out in the countryside, particularly near to famous or popular National Parks that receive a lot of visitors. These type of hostels tend to be much more quiet, and are best for those type of people who just want a good sleep and an early start to get out and discover the local scenery around them. In my own personal experiences of these types of hostels, you don't tend to find people who stay more than a few days, as there are usually just there to see the countryside for a few days, and then move on because there isn't really much else in these type of places other than the National Park.
The Themed Hostel
You get a lot of these in places where there is big competition for hostels, I guess because they want their hostel to stand out as different to others in the same street, city, or area. I've stayed in a quite a few themed hostels in my past travels. I've stayed in hostels themed around train stations (where I slept in a converted train carriage), I've stayed in ones themed around bamboo and Chinese artefact's, I've stayed in hostels themed around tribal or out door living where I slept in a converted tee pee. Each time has been pretty cool to stay in hostels like these, but I don't know if I would say it's worth paying extra for. At the end of the day all you need is somewhere clean and cheap to stay in, with the basic facilities to wash and cook for yourself.
The Crap Hostel
Every body's stayed in one of these at some point, that has been travelling for any amount of time. Sometimes when you are planning on visiting a new place, and you need to book somewhere prior to arriving, you occasionally find that the description you were given is not at all like what you end up with. Whether it's bed bugs, dirty showers, rude staff, or something else. The key thing to avoid ending up in any of these types of hostels is not to book your accommodation for more than a couple days until you arrive, at which point you can extend your stay if you are happy with where you are. That way, if you walk in and the place is just not livable then all you've lost is your deposit which is usually just a number of pennies (and if the place is that bad you can usually ask for a refund of your deposit anyway off of the hostel booking websites). Occasionally you may have to book your entire stay in advance, for instance during xmas/new year in Sydney everywhere gets booked up months in advance so you'll need to book your entire stay over that period to avoid ending up with no accommodation. In these instances, ask friends for recommendations, or use your social networks like Twitter to find people who may have stayed in places before that can recommend a place. Alternatively, just go by the reviews, although in my own personal experience, reviews on most websites are never usually 100% accurate.
– Regardless of what type of hostel you stay in or choose, it's always good to try a selection (other than the crappy kind or course!) You'll never know what kind suits you best unless you try them first, and you may even get a few surprises. There are more types of hostels than I have listed here, but these cover the main kinds that you will probably come across on most backpacking adventures.