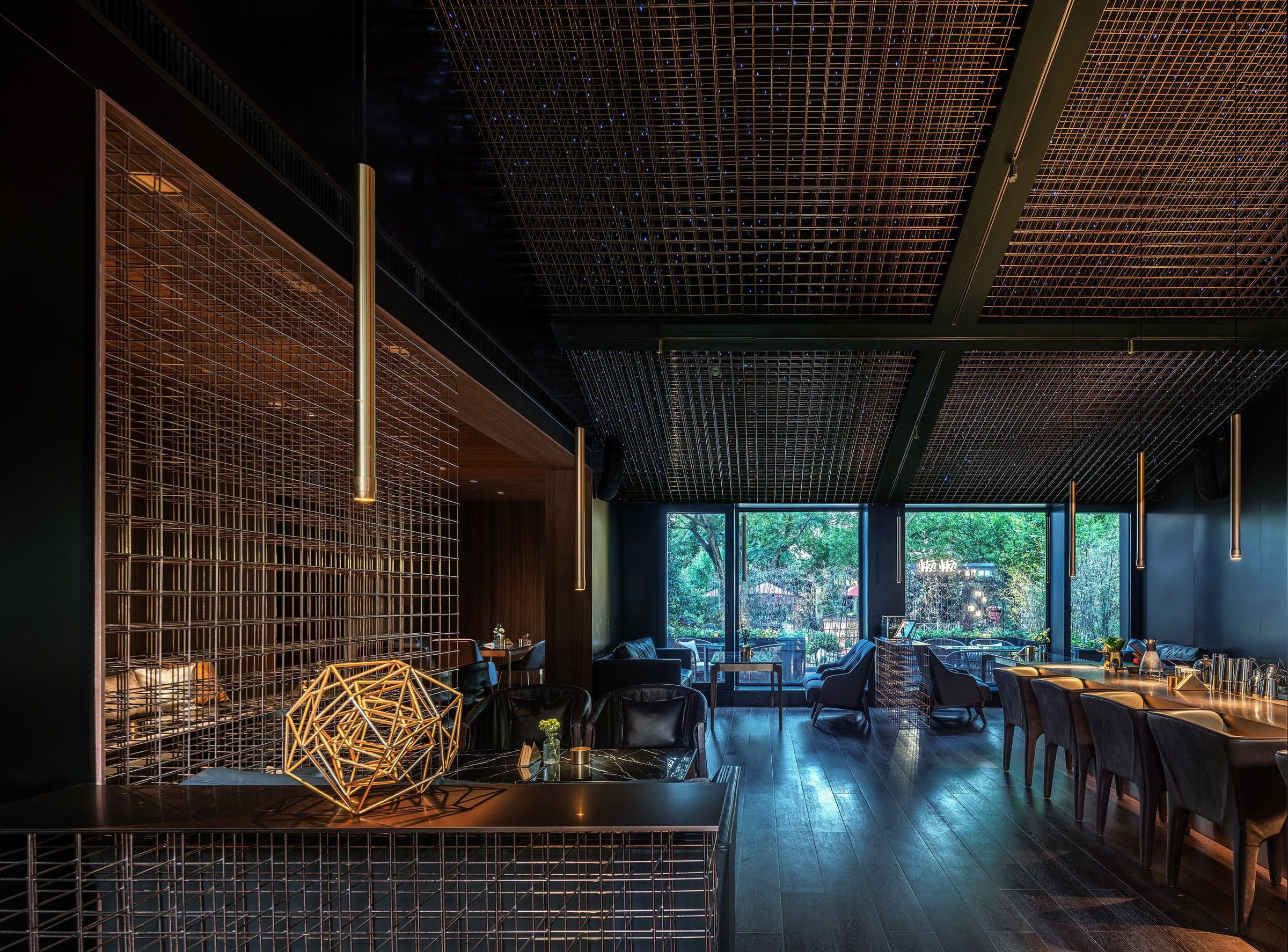 Restaurants can often have backdated décor. Even if the food is great, the ambiance of the space plays an important role. You must revamp your space-time and again to keep up with the vibe of the generation and your restaurant. In this writing, we have mentioned a number of interior decoration ideas which will help you revamp the interiors of your restaurant.
Create a positive first impression
What do the top restaurants in the world have in common, from New York City to Sydney to Spain? From the moment you step in through the door, they set the tone for a memorable dining experience. That's why the best restaurant interior design incorporates the entrance through snappy signage, a dramatic door, or an immaculate host station.
Sometimes, the first impression is created even before the customer steps in. Your website might be inviting or put them off! Popmenu gives restaurants the power of digital hospitality through an all-in-one marketing tool for attracting and engaging guests. You can checkout Popmenu reviews to see if this is for you!
Bring the outside indoors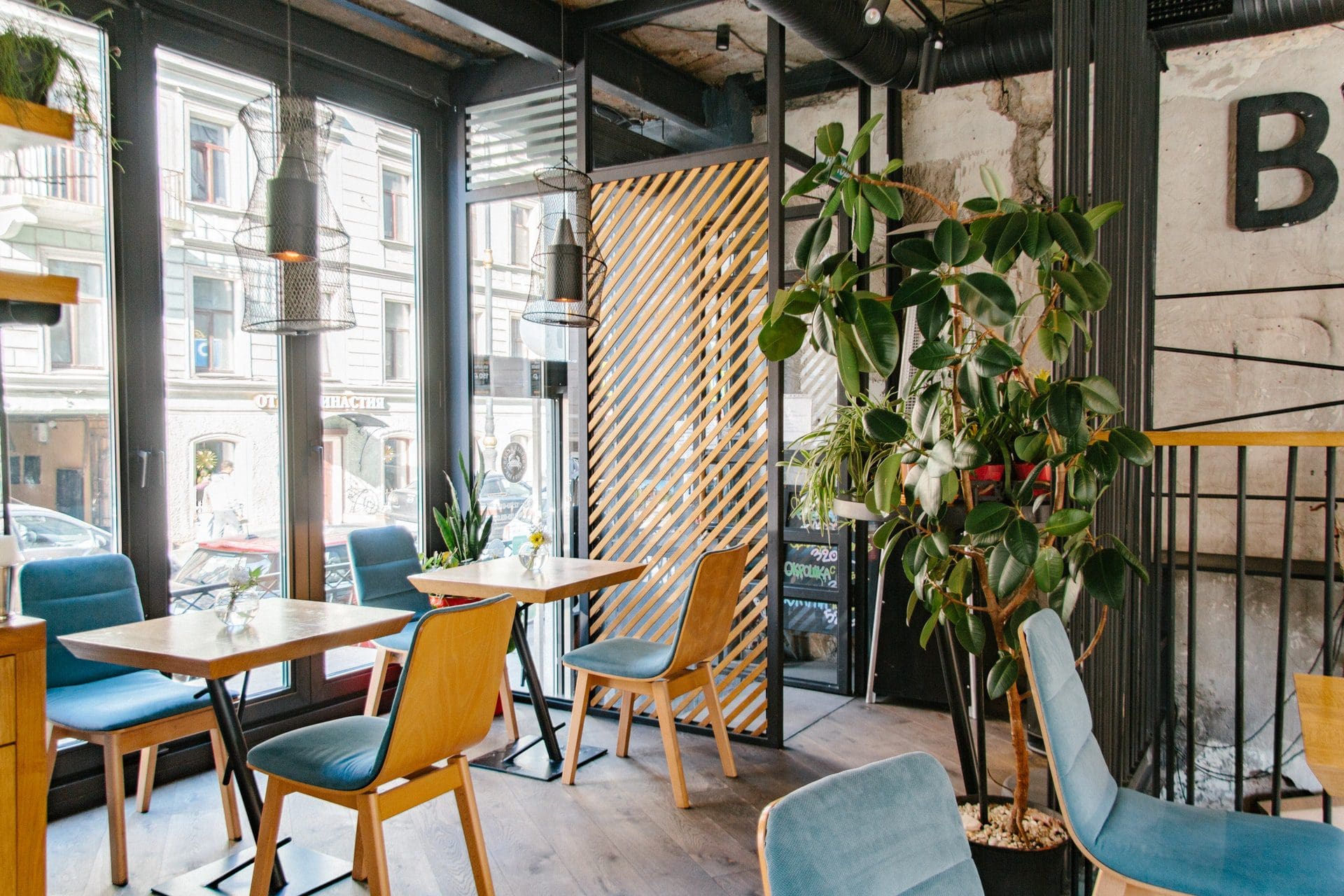 Plants and flowers are a fantastic way of keeping your dining room looking fresh. If you like, you may change them out every week (and if your budget allows). Vertical gardens and living walls have also become popular style elements. Rows of lush herbs and greens not only look lovely, but they can also help to improve air quality.
Showcase the work of local artists
Exhibit the work of local or lesser-known artists at your bistro or coffee shop to turn it into a part-time gallery. It will improve the dining experience while also benefiting your community.
Make your own lighting scheme
Incorporating flickering sconces, graceful pendants, or unique chandeliers into uninspiring lighting fixtures is a great way to define a place, create a specific mood, or create an ambiance. This type of project is also DIY friendly, as long as you have the proper construction wiring in place. Make sure your lighting enables stunning food photography so that your guests may share their experiences on social media.
Provide a variety of seating alternatives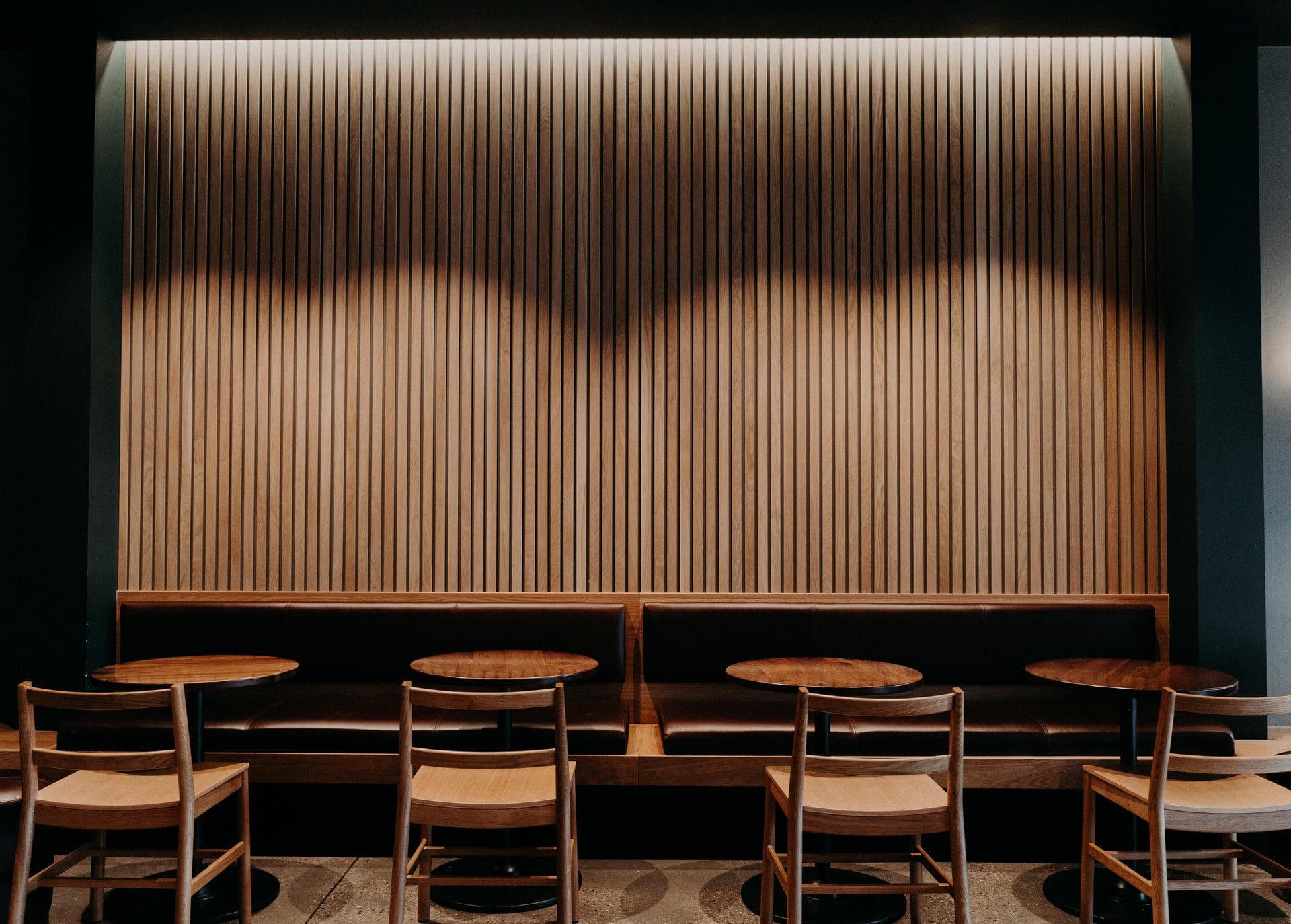 Consider alternatives to booths and stools. Changing up the seats could be an important factor for a low-budget restaurant's design. Look for art decor chairs in flea markets or vintage stores, or try out an intentionally aesthetic blend. You could also create custom restaurant chairs that will add a personal touch to the space.
Create a statement wall for the space
What would a sophisticated restaurant be without a bold statement wall? Because you can focus your work (and money) on a single small space, it's one of our favorite restaurant design ideas on a budget. You can keep the rest of your interiors clean and simple if you make an impact with over-the-top wallpaper or an elaborate mural.
Make it a community experience
Everyone will be anxious to reunite once we're no longer contaminated with COVID. As a result, plan your cafe's layout to incorporate large tables where people can gather in groups. Oh, and don't forget to mention entertaining, interactive elements like quiz cards and board games on the shelves.
Make the most of your surroundings
Allow the unique history of your city or town to influence your interior architecture. Turn salvaged church seats into banquettes, try and use an old school desk as a hostess stand, make prints of vintage maps, or search flea markets for hometown souvenirs and treasures as small restaurant decor design ideas.
Improve the beauty of your bar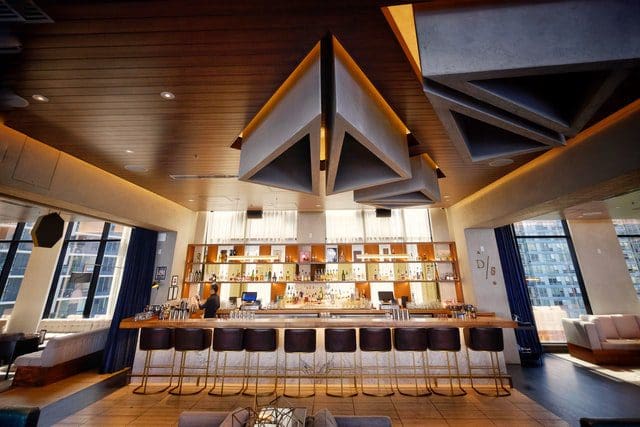 Since the bar is often a focal point in a restaurant (not to mention a place where visitors may cool their heels while waiting for tables), you should arrange it accordingly. Invest in a customized countertop or use colour to illuminate the bar's façade. Consider stylish seating, vibrant lighting, intriguing signs, or lush plants if you want to borrow from our other restaurant décor ideas.
Everyone should start chalking
A can of chalkboard paint is necessary for a trendy restaurant décor! Create a spot for customers to express their inner artist, or use your DIY chalkboard to create a daily menu. It's particularly useful when it comes to implementing retail design into a business plan. Your blackboard can showcase the pricing and names of products you will be selling, such as hand-stitched totes, house-made sauces, or locally roasted coffee.
Concentrate on a single theme
It's wonderful to have ideas, but you don't want to let your sense of style go amok. Instead, focus on a single restaurant interior design concept to streamline your restaurant decor ideas. Use faded wood, ironwork, and painted pots to create a rustic wood look for an Italian restaurant. For a French restaurant, use warm brasserie elements like tiled flooring, poster-covered walls, and wooden chairs. If you're running a fine dining restaurant, keep stuff tasteful and monochromatic, with elegant lines and understated finishes.
Mirrors are your best friend
It's all about incorporating décor ideas that enhance your area in the field of business interior design. Mirrors both reflect light (making a room appear brighter) and pull focus, creating the impression of a much larger space in a small space.
Take into consideration your table setting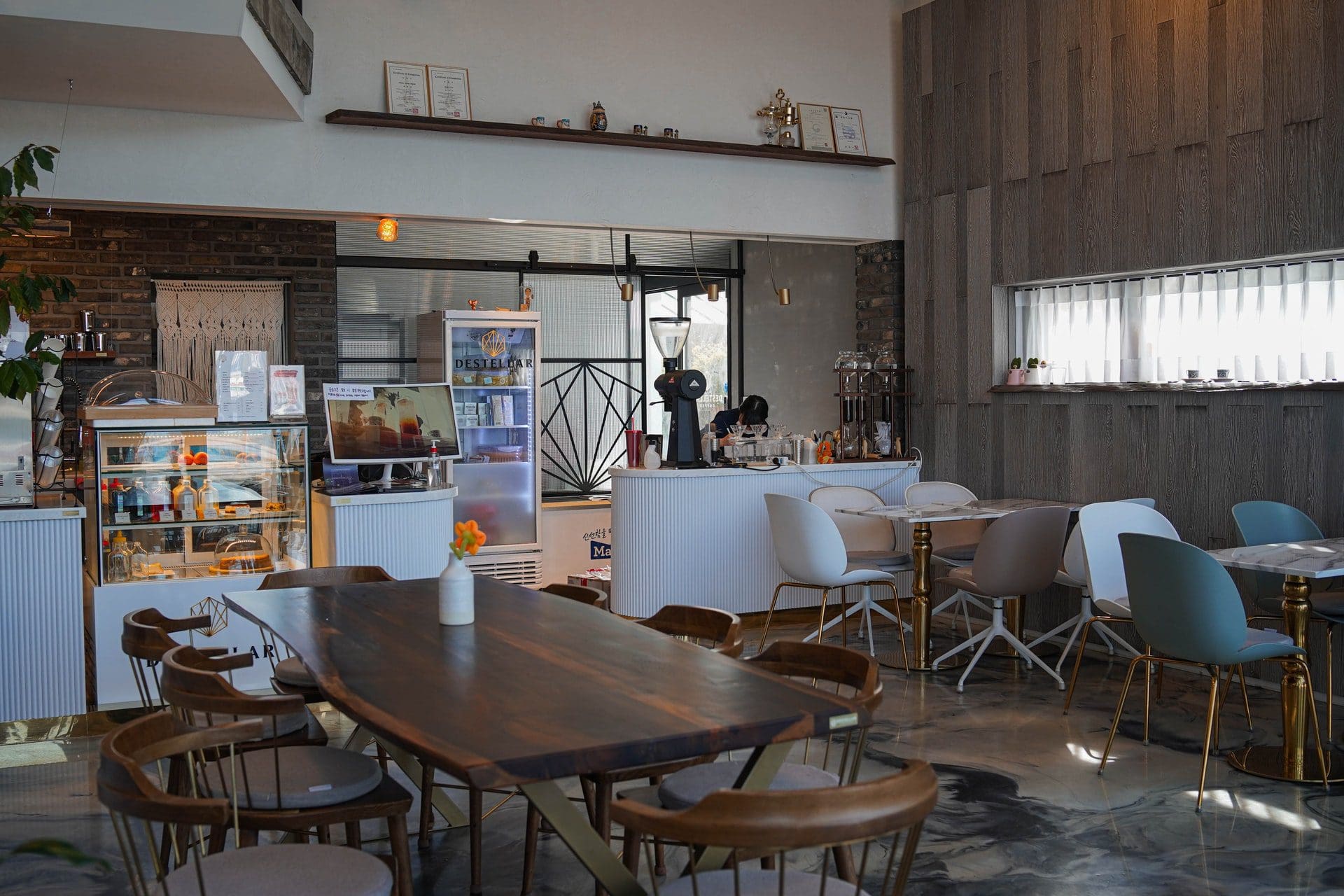 Who says tablecloths, forks, and napkins can't be used for the decorations? You'll have genuine boasting rights when it comes to a small, budget, small restaurant and café design ideas, from making a second jar with branches to choosing a bright hue for your plates to putting tools in antique tins. You'll also create stunning backdrops for your guests' Instagram photos.
Make a mental note of your ceiling
Why not include ceilings in your floor plan if your new restaurant is in a small space? Painting your ceiling the same color as your walls can make your room appear much larger. You could also use peel-and-stick tile to cover the full surface. No one really needs to know that your pressed tin ceiling isn't real!
Minimalist shelving adds a touch of class
Minimalist shelves are a straightforward way to add purpose and style to your dining room's modern interior. To get the look you desire, try different configurations and shapes. This budget-friendly project not only transforms your vibe in an instant, but it's also entirely DIY because installation is easy.
Conclusion
Restaurants are a great place to meet one's family, friends, and colleagues. You must make sure that your restaurant has a vibe that people enjoy and like coming to. The ideas discussed above will help you create such a space.