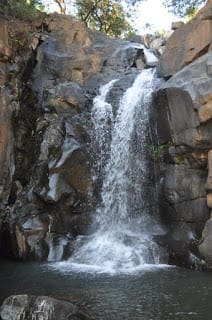 Hidden among the Kudremukh Range of the western ghats is Kanyal Falls. This small waterfall (if it can be called so) is around 15Kms from Hosmar, a small village on the Belthangady-Karkala Road.
Not many drivers are ready to take you, the terrain is such that only a Tempo Trax or Cruiser may make it to Kanyal. A better way is to leave your vehicle at end of the tar road (or till such place where your vehicles can go) and then walk till the falls.
The area now falls under the Kudremukh Forest Reserve. I was also told that earlier one could trek through Kuringal and Alakapuri (both villages near Hosmar-Karkala) and reach Kudremukh.
There's no power in Kanyal village I am told. The lone house near the falls uses solar lighting. Its just dense forest all the way. The sunlight may not pierce through the dense tropical forest of this place even in noon. There is no way you can reach the place in rainy season. Around 15 families at Kanyal take all the groceries before the start of rainy season. Well, you just need to visit it to see it and experience the place.
If you love adventure, its a place to visit. May be a hard trek would do everyone a round of good.Ironically Kanyal does not have electricity yet and yet your mobile (Airtel) will work.
Please be informed that Naxals are active in this area (though we didn't meet them during our visit).
Article originally posted by Gopinath Prabhu