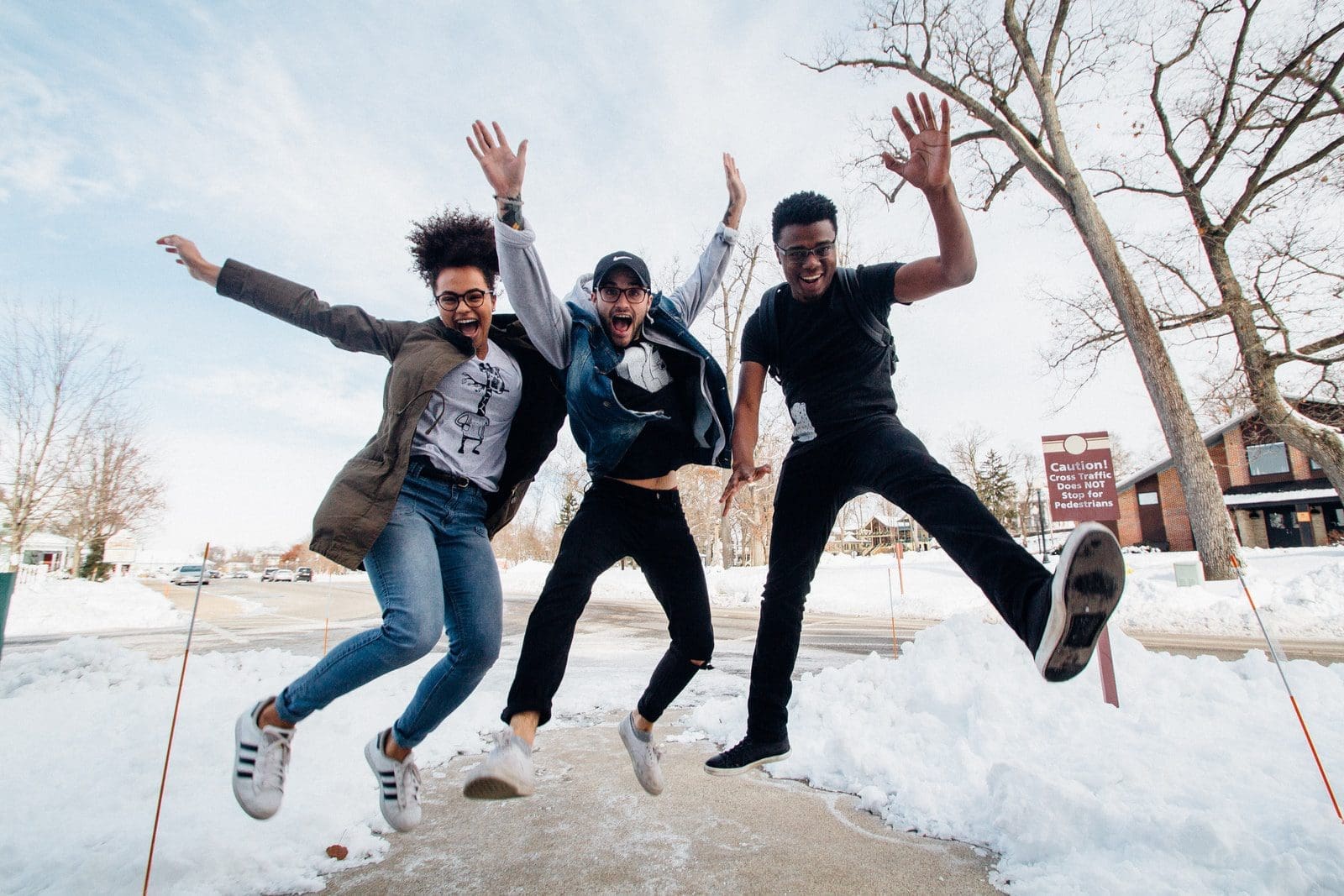 College life is arguably one of the most crucial periods for any individual. It is during this stage that new things are learned, and careers are shaped. You come into contact with new people, new opportunities arise, and your social horizon expands. The college is so eventful and happening that you will find it an enjoyable and excellent learning experience.
Fresh from high school, you mature fast once you are enrolled in a college. You will get many benefits and opportunities while at college. But it also depends on individuals how they make maximum use of these available benefits. Students who have preplanned their careers have an edge over others as they take minimum time to adjust to the new atmosphere and academic culture. Plan while still at high school on what program you want to take up, on the career opportunities the program offers, and so on. Then, once at college, you can discuss with your peers and take advice from your teachers and college counselors.
In today's business world, getting a college degree is a career necessity. Though high school graduates may get jobs of their likings, their earnings are twice less than college graduates. College graduation will also qualify you for many other jobs that are not available to high school graduates. Moreover, advancement in career also gets easier as some job promotions require a college degree. So decide on your future course as early as possible and take up a program that suits your skillset.
Find out what are all the programs that the college offers. You can also opt for education online if you don't want to enroll in a regular conventional course. Distance education through a college online or an online university is fast emerging as an alternative to traditional education. If you have planned to work part-time and study simultaneously, an online education degree is a suitable choice for you. An online degree is as effective as an average college degree. Perhaps you can earn a few extra bucks and a degree online at one time. So make the maximum out of this scheme.
While at college, apart from attending classroom lectures, you can also develop your communication, tolerance, reasoning, reflection, and analysis skills. These skills will come in handy in the future once you are into a job. Mix up with people, join clubs and communities and try to form a social network. This will bring your way a set of new ideas and thoughts. You will learn things unique to you and will also help to solve conflicts and crises. Further, it will help you understand other people's viewpoints and learn how to disagree sensibly.
During your college years, take part in as many extra-curricular activities as possible. This will aid your all-round development and look great on your resume once you are out of college. Who knows, you will find a particular game interesting, and if you are doing well in it, you may represent your college and even develop it as your profession. So explore the opportunities and put to the test your talents and skills. The outcome may even surprise you.
How to take advantage of globalization for your learning?
Most students are familiar with the use of platforms and networks that, in most cases, help us to enhance our academic performance. Of course, these apps and programs are essential. But did you know that there are other ways to take advantage of globalization to further your education?
Let me explain some of the resources – which your college may have – so that you can continue using technology in favor of your professional training:
Look at agreements
Different institutions have arrangements with other universities abroad, which allows their students to enroll in student exchange programs. Although the current situation does not allow it, you can keep yourself abreast about the processes and locations you can apply later.
Virtual courses
Some workshops and education programs have migrated to virtual platforms while others are adapting. The truth is that there are several possibilities, from languages to creative writing or theater. But, again, it's a matter of looking for what you enjoy!
Free material
The current pandemic situation has caused universities to buy online platform licenses that allow students to take the courses as usual without difficulties. In addition, they have also purchased access to various course materials that can be accessed by their students. Take advantage of the free material to instruct yourself in a theoretical and practical way. You will appreciate it in the future!
Don't waste opportunities and set new academic goals! 
Going into a professional career is one of the best decisions you can make. Of course, before taking the step, you should worry about finding a college that provides optimum support for students.
Your training is one of the most valuable things you have in life. Therefore, you should only put it in the hands of an institution committed to its students' personal and professional development. If you are not sure how you can identify a quality college or university that provides help for students, do not worry! We will precisely talk about this in the rest of this article.
Here are 7 things that a college would have to do for you to consider an ideal place to train professionally.
7 Things Your College Should Do For You

1. Offer you quality study plans and methods
The heart of any academic institution is its curriculum. For that reason, there is no better way to help students than through a quality educational program.
The college should provide subjects and study objectives that provide you with in-depth training. These training methodologies should be adapted to the needs of the current job market and should consider current technological trends. If you find a college that has these features, you will become a highly qualified professional capable of competing for positions of great relevance.
In addition to the content of the educational plans, their validity is essential. Therefore, you should also try finding an institution with programs approved by the national regulatory body of the country. By studying at an accredited university, you can be sure that the professional degree you will work so hard to achieve will be widely recognized.
Training through a curriculum endorsed by the regulatory bodies will allow you to be a graduate accepted by professional associations, government agencies, and companies that can become your future employers. On the other hand, an aspect that you should also evaluate before choosing a college or university is its educational methods.
If a university offers different ways to attend its classes, such as face-to-face and online, it means that it cares about providing help to its students. Since online teaching is a modern way of training, which you may not know as much as the traditional ones, we will explain 5 advantages of online education.
I. It offers a wide array of opportunities

When reading about this study method, you asked yourself, "can you study engineering online or other attractive careers?", You will be happy to know that the answer is yes.
In fact, one of the characteristics of this educational trend is that it has a wide offer of degrees. For this reason, you will likely have the possibility to study for the career of your dreams online.
II. Provide quality training
Online bachelor's training is just as good as traditional. In this form of learning, you will also find educational programs endorsed by competent authorities and which include subjects adapted to the demands of today's professional world.
III. Helps to get familiar with technology
The mastery of technology is essential for all professions, and, fortunately, that skill will be developed thanks to online education. By studying for a degree through a digital platform, you will constantly interact with equipment and technological programs that you can also use when practicing your career.
IV. Saves money and time
One of the significant advantages of an online university is that it will not force you to commute to its campus daily. Thanks to that, you will save a lot of money and time during the course.
V. You can study from different places 
Although the idea is that you should have defined a place in your home to study daily, the online method will allow you to access classes from different places, which will be very helpful when an eventuality arises. You will even have the possibility to study during a trip. You will simply need a smartphone or laptop and access to the Internet.
2. Provide you with employability programs 
One of the great benefits of studying in a network of universities, that is, in an institution that has campuses in different regions of the country, is that you can count on support to increase your chances of finding a job. If you are interested in knowing what student aid is offered through an employability program, pay attention!
Next, we will talk about 5 of the benefits it provides.
I. Offers jobs for students
A good employability program will take care of finding work alternatives through campus recruitment programs for you. Therefore, you will not have to wait until you finish your degree to generate income through work.
Even one of the missions of a university network is to take advantage of the fact that it has a broad organizational structure to allocate its jobs to its students. To make this strategy more effective, some colleges have digital training programs focused on employability.
Thanks to this tool, students can find out which vacancies exist in a specific area, and, in addition, they have the possibility of following up on their applications.
II. Train for the world of work
In the employability offices, you will not only find the possibility of getting a job when still at university. In addition, you will get advice and training to increase your competitiveness in the world of work. For example, you will learn what the best practices and methodologies for developing a curriculum are.
The university could even provide you with a model of curriculum summary, such as the one endorsed by the local governing body. You will also receive valuable advice to help you stand out in job interviews, which is very important for anyone who aspires to excel in the workplace.
III. Engage students with job fairs
If you are a young person looking for guidance on the demands and trends of the current job market, job fairs are ideal for you. Luckily, if you study at a university with a strong employability program, you will get involved in these kinds of events.
In these fairs, in addition to finding potential employers, you will be nourished with valuable information for all workers, such as statistics and vacancies in a specific labor sector and the skills and abilities most demanded by companies.
As these are events that bring together both students and graduates, they are also a good opportunity for you to build your professional contacts network.
IV.

Develop employability through learning
Essentially, employability is the ability of a human being to find and keep a job. To develop this quality, a good university will train you in this area through its study plan.
An institution concerned with providing help for students offers Oral and Written Communication and Management Skills in the axiological area of ​​their degrees. Thanks to these chairs, you will develop valuable skills for any employee, regardless of their profession and area of ​​expertise.
In addition, these types of subjects will help you have a managerial profile as a worker, which means that you will choose the best-paid jobs. In conclusion, a good employability program, in addition to making you a competitive employee, will make you a potential leader.
V. Offers content that serves as career guidance
Student blogs or web pages are a valuable platform for interaction between the student community and the university. However, a good employability program is characterized by knowing how to take advantage of it.
Through these platforms, colleges can offer content that serves as guidance for the world of work. For example, in this blog (10 Qualities of the Ideal Employee), you will find articles on skills, aptitudes, and qualities you should develop to make your profile an employee attractive.
On the other hand, you can interact with materials that will help you learn about the best job offers for university students. Even thanks to this content, you will know the job alternatives you will have after graduating from the career you choose.
In addition, the articles and ebooks of the blogs also touch on other topics oriented to personal and professional growth. In fact, we'll talk about that in the next section.
3. Boost your personal growth through valuable information
When it comes to helping students, we cannot leave out the content that drives personal growth.
Therefore, a university concerned about its students should take advantage of its blog to disseminate materials that positively impact them. Furthermore, even quality content should help young people outside the educational institution, who could eventually join it to understand the importance of training.
Many of the shared topics through the platforms are focused on orientation, primarily academic and vocational.
Thanks to these class materials, you will know how to identify which is the ideal career for you and which areas of specialization are adapted to your characteristics, preferences, and dreams. In addition, you will find articles and digital books that will serve as an accurate guide to a certain degree. They will talk to you about their study plan, peculiarities, and professional world, among other things.
Many of these contents will even give you the best study strategies and methods that you can apply in college to become a brilliant student throughout your student career. The blog of a university committed to providing help for its students will provide material useful for your daily life beyond the academic world.
For example, you can read texts that will teach you how to properly manage your monthly income if you get a job while you study. Without a doubt, this type of content, combined with a good study plan, will accelerate your professional and personal growth.
You know! If you are looking for an excellent university to pursue the degree of your dreams, you should look at the materials that the university offers on its blogs/website. If you notice that the topics are related to academic, professional, and personal development, you are approaching a quality institution.  
4. Encourage you to explore
Have you thought about studying Business Administration or another career related to the world of business? If your answer is "yes," indeed, you are one of those dreamy people with a penchant for entrepreneurship. While degrees like these are ideal for training before starting and running a company, it often takes added value for young people to fully develop their business talents.
For that reason, the institutions committed to providing assistance to students implement programs and projects focused on encouraging entrepreneurship within the university community and providing training in this area.
There are even universities that have online study platforms on entrepreneurship that add value to their educational offer. In this type of intensive study, you will be able to learn various things that will make you a potential entrepreneur, including:
Creation of ideas with a social vision.
Strategic vision, growth, and leadership.
Analysis of global environments.
Marketing and sales strategies.
For the entrepreneurship incentive program to be effective, universities use various strategies, such as holding competitions among aspiring entrepreneurs. In this type of competition, in addition to having fun, you will be able to present, before a jury of specialists, the business plan that you have always had in mind.
If you win, you will get monetary prizes and recognitions to propel you on your path as an entrepreneur. However, by simply participating, you will obtain an outstanding experience since you will receive advice on the business project of your dreams, and you will see how it is evaluated by experts in the field.
5. Offer Comprehensive Evaluation of Your Abilities

One of the first steps to growing personally is getting to know yourself better. That's why a university committed to providing student aid will be willing to take you a PDA exam.
A PDA, the acronym for Personal Development Analysis is a test that applies psychological principles to evaluate, in a profound way, the mind of a person. This kind of psychometric evaluation will allow you to identify particular behavioral, psychological, and emotional aspects, which will help you design a coherent life project with your essence.
That said, what are the 3 things that you can identify for yourself thanks to a PDA?
I. Vocation
Although it is much more in-depth than a traditional vocational test, a PDA is also one of those tests that will help you identify the areas you are really passionate about and suit your characteristics. During university life, this point is significant. By discovering your vocation, you will know the area of ​​specialization of your career in which you will perform to the best of your abilities.
This test will even help you identify those things in daily life that you really like to do and give you satisfaction, such as reading, sharing with your family, or simply going for a walk in the street to breathe fresh air.
II. Competences
Every human being has unique abilities that differentiate him from other individuals. If you want to succeed in work, college, and life in general, you must identify your main competencies.
Luckily, a PDA test will help you do it! By knowing your qualities, you will be able to take advantage of them during the race and, above all, when exercising them. An essential factor about a PDA is that it will help you detect those skills you acquired thanks to studies and other experiences.
In addition, it will allow you to know what your innate skills are, that is, those that belong to the nature of your being and were not learned. These qualities will accompany you throughout your life, and you can keep improving them through various forms of training.
III. Weaknesses
Just as you have innate and learned strengths, you also have weaknesses that characterize you. Thanks to a PDA, you will be able to detect which areas you are not so strong in and, therefore, you must work. Understanding your weaknesses very well and knowing their origin is precious since it will allow you to develop an effective personal and professional growth plan.
For example, you will be able to define what type of readings, reflections, and academic experiences you need to overcome your deficiencies or, at least, make them less evident.
As you can see, if you dream of being a competitive worker and a consistent and self-confident person, taking a PDA exam will be very helpful, so look for a university that supports you in this regard.
Good luck!
6. Get involved in extracurricular activities
Although it is exciting, the academic field is demanding and, therefore, it is expected that at certain times it causes you a bit of mental exhaustion. For this reason, universities must offer leisure activities that allow the student body to relax, share and renew energy.
One of the extracurricular alternatives that universities committed to providing aid for students is sports disciplines. Through them, you will develop the ability to work as a team, you will have fun and, in addition, you will get used to having a healthy lifestyle.
If you choose to study in a network of universities, the sports activities will be much more entertaining and exciting, as they will be national in scope. For example, if you sign up for your campus soccer team, you will be able to participate in tournaments that you will play against students from other campus locations.
Traveling around the country and meeting new people through a sporting discipline is an excellent experience for any university student. You can have it if you choose this kind of institution.
7. Give you the possibility of obtaining a scholarship
A university concerned with offering aid for students and youth, in general, must have a robust academic scholarship program. Through this type of support, the colleges give thousands of underprivileged young people an opportunity to learn.
For example, some universities have scholarships for entrepreneurial talent that reward young people with entrepreneurial skills. Thanks to this help, people with these talents can pursue careers directly related to the business world, such as Business Administration and Public Accounting.
Another type of scholarship is aimed at vulnerable social groups, such as immigrants or young people who are part of families with economic difficulties. If you consider that you have the characteristics and the necessary profile to opt for this valuable support, go ahead! But, first, sign up for a scholarship program.
To Conclude
These are 7 of the things that a university must offer you to consider it an ideal place to pursue the career of your dreams. When you find an institution that meets these characteristics, it is really concerned about providing help for students.  In addition, the University you choose must have a solid track record in training highly qualified professionals throughout the country.
Remember that, as we mentioned in the first lines of this text, your training is one of the most valuable things you have in life, so you should only leave it in the hands of a university committed to the well-being of its students.
Was this article helpful to you? If, after reading it, you have any questions or want to share your opinion with the rest of the community, do not hesitate to leave us a comment!