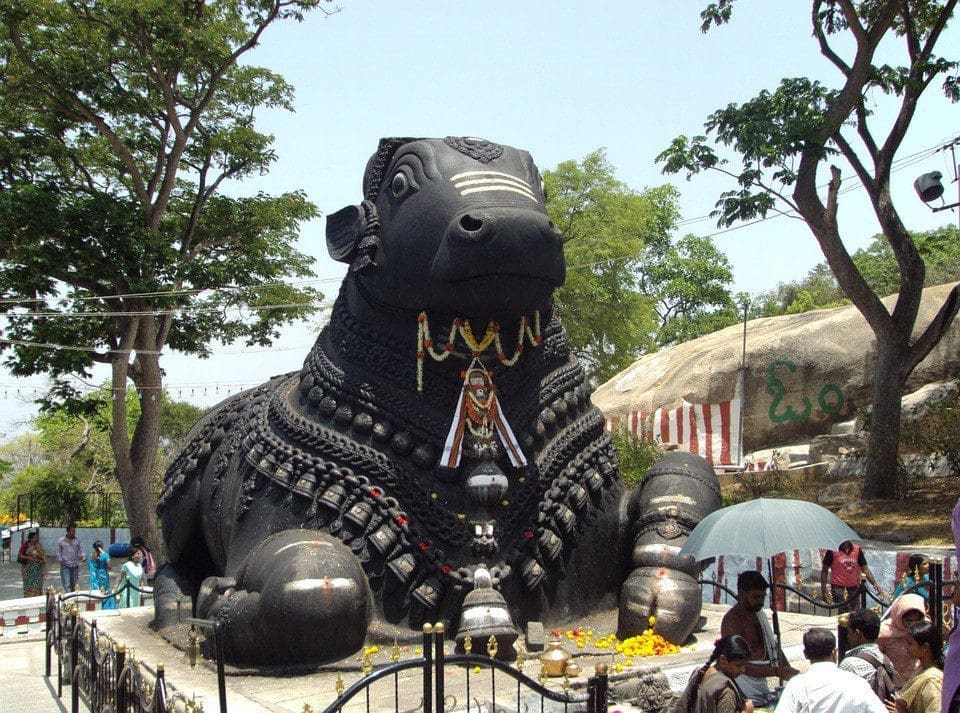 Everyone visits Mysore to see the Mysore Palace. But Mysore is much more than that! In this article, I list 10 other places within Mysore city limits that will make your trip to this beautiful part of Karnataka, memorable and fulfilling!
01. Krishnaraja Sagara Dam:
Located at a distance of 20 Kms northwest of Mysore, this dam was constructed across the Cauvery river for irrigation purposes to cover Mandya District and some parts of Mysore district. The dam was completed in 1932 and named after Krishnaraja Wodeyar IV. Earlier efforts at building a dam across the confluence by Tipu sultan had come to naught. The present dam is 2606 m long and constructed entirely in surkhi mortar stone. On the downstream of the dam is a beautiful garden. The Brindavan Gardens, with well-planned and well maintained lawns, innumerable pools and fountains, transforms into a fairy land at night, when the concealed lights near the flower beds and fountains are turned on and add a new dimension to the garden.
The best time to visit the gardens is around 4:30 pm to see the Dam and then move into the gardens in early evening. There are number of buses owned by KSRTC and private buses plying regularly from Mysore City Bus stand. Most Mysore hotels have packages to this beautiful place have packages to this beautiful place.
02. Chamundi Hills:
This is an important spot in Mysore, at about 15 kms from the City. The Chamundeswari temple on the top of the Chamundi Hills takes its name from the Goddess Chamundi, an aspect of the consort of Shiva, who defeated the demon Mahishasura and settled here.
The Chamundeswari temple was built in twelfth century in Dravidian Style. In 1827 Krishnaraja Wodeyar II renovated the Temple considerably and furnished it with a Tower (Vimana Gopura) over the sanctum sanctorum.
The Mahabaleswara temple at south of Chamundeswari temple was built in 950 AD during the reign of the Gangas. In the precincts of Mahabaleswara temple, is an inscription dating to 950 AD, according to which this sacred spot was known as Mobbela Thirtha, perhaps referring to Mahabala Thirtha. Donations to Mahabala thirtha by the famous Hoysala King Vishnuvardhana is recorded in an inscription in the same temple dating to 1128 AD.
It is ideal to visit this place very early in the morning to avoid the huge rush of tourists and pilgrims. The road may not be motorable after 10 am due to the rush of devotees. There are regular buses from Mysore City Bus stand.
03. Nandi statue:
Three quarters of the way up the Chamundi Hill is the monolithic statue of the Nandi Bull which according to legend was completed in one night. The work is attributed to Dodda Deva Raja, an extremely devout Wodeyar king who ascended the throne in 1659. A flight of one thousand steps leading to the top of the hill was also commissioned by him. There are regular buses from Mysore City Bus stand.
04. Lalitha Mahal Palace:
This is an imposing structure at the foot of Chamundi Hills. This served as the guesthouse for the royal family, is now a star hotel run by the Tourism Development Corporation. It was handed over to State Government in 1955. The hotel is being run on lease since 1973. It provides an opportunity to not only enjoy regal splendour but experience traditional Indian hospitality.
05. Lokranjan Mahal:
Built in 1942, first served as a school-house for Royal family and later became a guest house for distinguished visitors.
06. Cheluvamba Vilas Mansion:
Located at northwest of Paduvarahalli area. It now houses the Central Food technological Research Institute (CFTRI) having been sold to Central Government for a nominal price. Once it was the residence of the Princess Cheluvambammanni avaru, sister of Krishnaraja Wodeyar IV.
07. Jagan Mohan Palace:
The Jaganmohan palace, now serves as an art gallery. It was built over a period of years since 1861. Marriages, a coronation and even birthday and Dasara Durbars were held here till the new palace was completed in 1910.In the art gallery attached to the building, there is a great collection of paintings, armory, music instruments, and ivory articles. The paintings by Ravi Verma and Nicholas Roerich are of special interest.
08. Rajendra Vilas:
Located at top of Chamundi Hills. Built within the first decade of this century by Krishnaraja Wodeyar IV. This was another royal residence in this city of palaces. This is now converted as a Star Mysore Hotel.
09. Oriental Research Institute:
Located within the Campus of Mysore University housed in the Victoria Jubilee hall. This was built in the European style between 1887 and 1891 to commemorate the 50 years of Queen Victoria's reign. The Institute founded in 1891 was set up to preserve ancient manuscripts and to bring out the publications of rare and valuable works. Today there is a preserved collection of about 16000 manuscripts, over 20000 printed volumes and stone inscriptions from the Chola, Hoysala and Vijayanagar periods.
10. Dhanavantari Road:
Mysore is famous for its carved wooden articles, silk materials, incense sticks in various fragrances of rose, musk, jasmine, sandal wood etc.,
Mysore's crafts persons are famous for their woodwork – intricately carved pieces in teak wood, rosewood and sandalwood ranging from little boxes to mammoth elephants. They are worth a trip to a handicrafts shop even if one doesn't intend to buy anything.  Most of the showrooms are located at Dhanvanthari Road in heart of the city.
The other thing one should not miss is Silk saris renowned for their texture and quality. The Karnataka Silk Industries Corporation (KSIC) silk weaving factory which was started in 1932 produces three types of pure silk saris – the crêpe silk, soft silk and silk georgette. The zari (gold thread made of silver 33% and gold 67%) woven in traditional designs comes from Surat in Gujarat. Printed saris in gorgeous shades and prints can be converted into dresses and other garments of one's choice. One can also buy material by metre.
Local Transport
Tongas: This is horse driven carts. They are now mainly seen only in and around the Mysore palace area. However, some Tongas do help with transport across the city.
Auto rickshaws: This is the best mode of transport available for travelling within the City.
City Bus Services: KSRTC owned bus service which operates to all extensions in Mysore City. Bus Station is located near K.R.Circle in the heart of the city. Not recommended for the new visitors.
Taxis: Private owned cars, which can be hired through your Mysore Hotels reception counters or travelling agents.  Chauffeur driven ordinary and air-conditioned cars though expensive are a reasonable proposition if four or five people are sharing costs. Larger parties can travel in Vans and mini Buses.