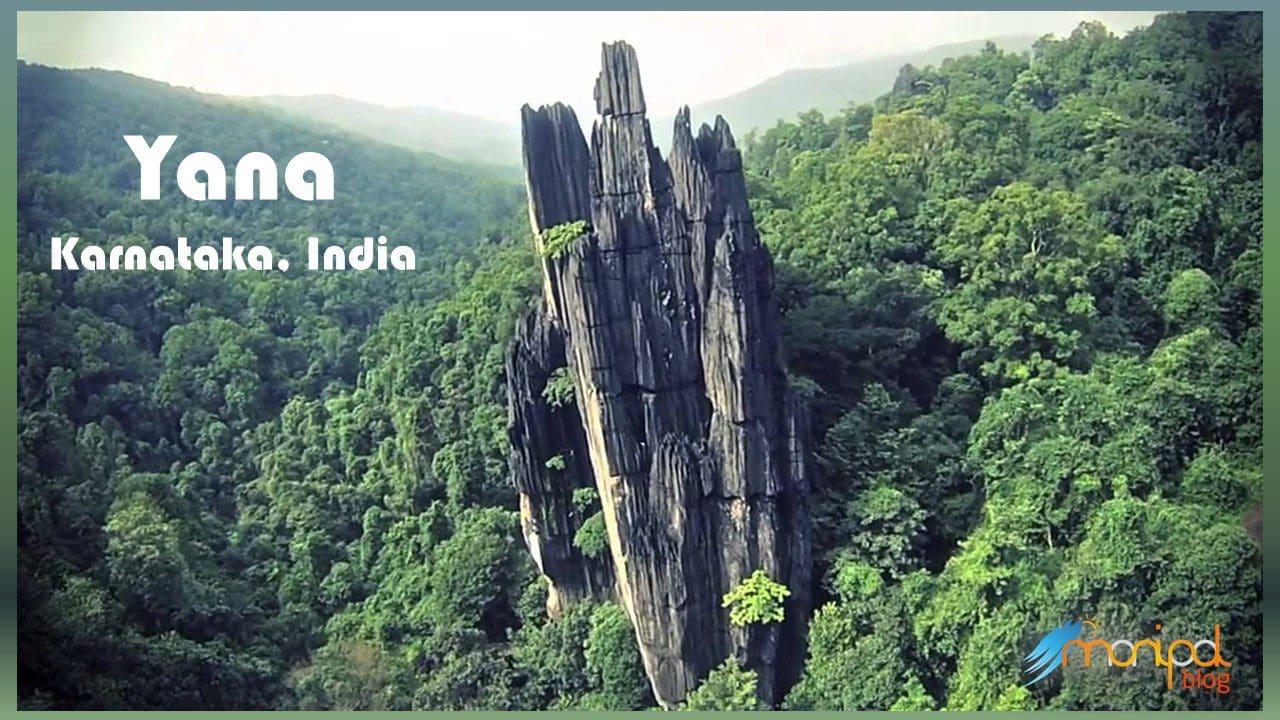 What is natural is always graceful. So true! We go one step further and add beautiful, towering, and strong to the list of superlatives. Yana, housed in the pristine Western Ghats, well deserves these one-word descriptions. Yana is a god-forsaken village in the evergreen rainforests of the Western Ghats. An attractive and alluring place for trekking and nature camps.
What is most fascinating and enchanting about Yana are the two solid black rocks locally called Bhairaveshwara Shikhara and Mohini Shikhara. These two enticing, beautiful, steep giant rocks rising into the skies do their best at 120 meters and 90 meters, respectively. Composed of black crystalline limestone and grey in color, geologically, they are about two thousand million years old.
Bhairaveshwara Shikahara itself covers an area of about half a km in radius. The surface of the rocks is rough due to constant exposure to air and water. A narrow path leads about halfway up the side of the enormous rock and to a cave which is about 3 meters in width, produced as a result of the soluble action of water for millions of years. Yana is at its best in the mornings and evenings when the play of light and shade creates a visual wonder.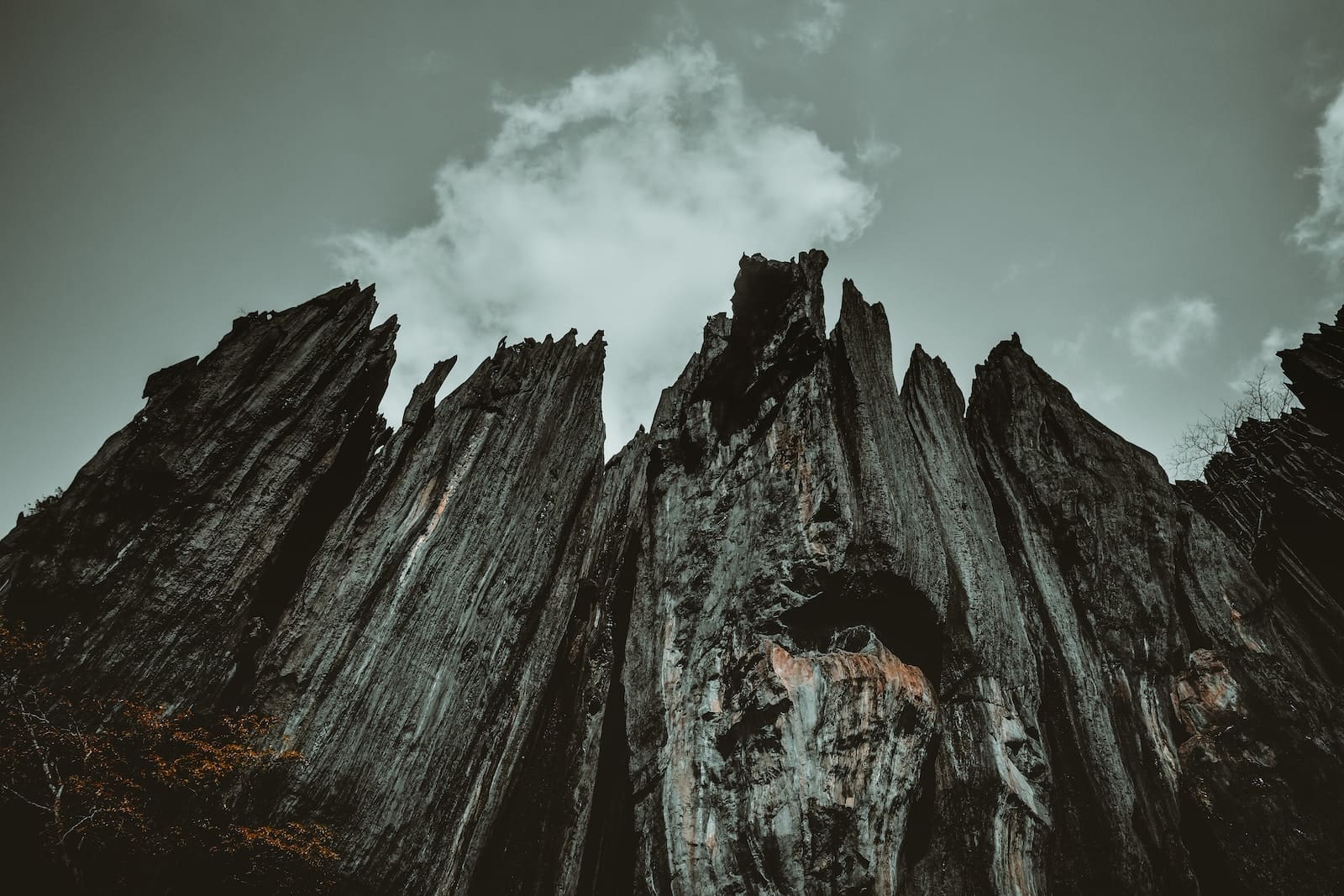 Mythical connections of Yana

Mythology seems pretty close to Yana. It finds a reference in Kaushika Ramayana, where Battaleshwara is said to have lived at Yana. Bhairaveshwara is also said to have made Yana his home at the request of Sahayadri Vadirajaswamy and, thus, the derivation of Yana Bhairava.
But the specific story goes thus. Bhasmasura, who had received the superpower from Shiva of reducing to ashes anything that he could touch, ventured to use this boon against Shiva himself. Shiva was forced to take shelter in these mountains. Vishnu, in the form of Mohini, finally reduced Bhasmasura and reduced him to ashes. The ash-like soil found all around the place is ascribed to this burning of Bhasmasura.
Even the Skandapurana has links with Yana, and the references move to the present times with Buchannan naming Yana in his works.
The present
Udbhava (come up by itself) idol of Bhairaveshwara, finds a place on Bhairaveshwara Shikhara. Water drips from the braid of the Bhairava idol, which is described as Gangobhava. Bronze icons of Ganga and Chandika are also near the Bhairaveshwara idol. Next to the sanctum sanctorum, a Shivalinga is placed, and no worship is offered. It is said that this Shivalinga was in the sanctum sanctorum along with Udhbhava Bhaireshwara, which was shifted to the present place many years ago. There is no documentary evidence as to who had installed this Shivalinga.
Through the middle of the rock flows a stream locally called Chandihole, and it joins the Aghanashini River at Uppinapatna. Bees have closely knitted hundreds of combs hanging from the rocks' high corners.
The annual festival in honor of the deity Bhairaveshwara is conducted during Shivarathri. Thousands of devotees gather during the annual festival (jathra). The number of devotees attending the jathra has increased in recent years.
After walking for about 200 meters along the foot track of thorny plants on the left side of Bhairaveshwara Shikahara and then towards the rock is a small cave-like hole that leads the way inside the rock. One can venture into this small opening by crawling. Inside there is a new world of rocks, and one can climb up to about half the distance to get a delightful view.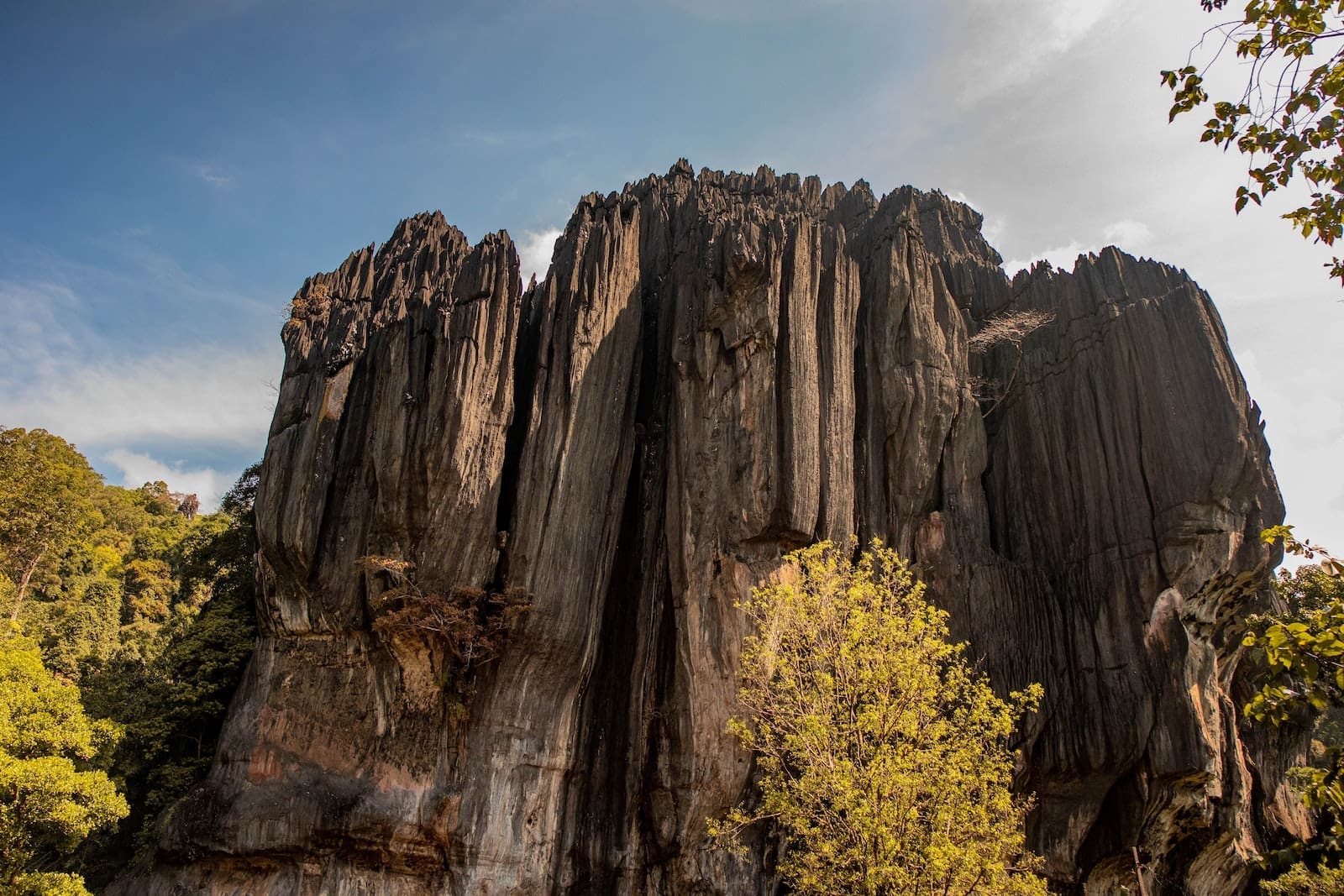 The virgin forests of Yana are the richest treasure house of flora and fauna. Rare species of birds like the great Indian Hornbill and Cyclone frogmouth are the native inhabitants of this area. This region is also a refuge for many wild animals, such as boars, leopards, tigers, rib-faced deer, bears, dholes, sambar, mouse deer, Malabar flying squirrel,s and King Cobras. The total reserve of the crystalline limestone of Bhairaveshwara Shikhara and Mohini Shikhara is estimated at 1.5 million tonnes.
How to Reach YANA

Yana is based in Kumta taluk of Uttara Kannada district of Karnataka. It is at a distance of 235 km from Mangalore and 145 km from Hubli. One can reach Yana via Hubli, Sirsi, Hegdekatta, Mathighatta Cross or Mangalore, Bhatkal, Kumta, Kathgal, and Harita. One has to take the Karnataka State Highway to reach here. Whichever route one takes, one has to walk 2 to 3 km as there is no motorable road. Walking this last 2-3 km through the middle of the rich evergreen forest itself is a thrilling experience.
The adventurous spirit will find much to fill his backpack of memories.