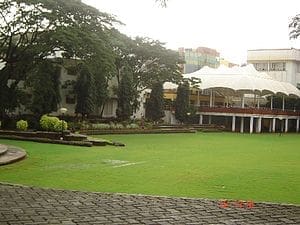 Image via WikipediaHello friends.
I'm sitting in the library building of Manipal University.I have posted its snaps some days before.
It is 6 floored building with a cybercafe on the 3rd where I m sitting.The 3rd floor is exclusively for post graduate students with tremendous collection of books-both old and new ones and Journals and articles.
The 6th floor is usually occupied by some workshops. I haven't been there yet. Today i went to MIT that is Manipal Institute of Technology with Dr.Vishaal. MIT, though a part of Manipal University, has an altogether different campus and a Big One.
Will post its snaps soon with detailed information about it.Friends your feed-back regarding improvement in this blog will be appreciated.
Bye for now. c ya soon.