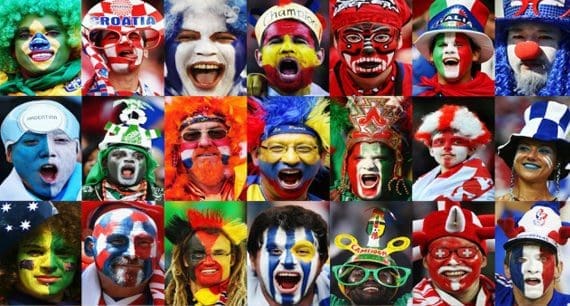 Oh yes, it's that time of the year (actually once in four years) where all football fans go la la la. It's the thrilling, magnificent and extravagant FIFA World Cup! While the host country, Brazil is bursting with excitement, there is no shortage of it in India.
Football fans all over India are celebrating this football season like any other major festival of India.
The markets are filled with Fifa jerseys representing different countries, gift shops are stocked up with football themed gift items like mugs, pouches, key chains and posters, even sweets are being made in bakeries with the flag of the participating countries on it.
Many pubs and restaurants in the cities are screening the matches live, so Fifa football fanatics can come together to cheer for their favourite team over chilled beer and awesome food.
Football fever has reached its heights in Kerala with flags and flex boards raised in many places in the state. road shows and motorcycle rallies are being held in support of their favourite teams and players.
It is idol worship time in Kolkata, not of Goddess Durga, but of the football stars. Sukumar Rudra Pal, an idol maker has made idols of Messi, Ronaldo and Neymar and others, all of them life-size, about five feet tall each.
Noted sand artist Sudarsan Pattnaik from Odisha has been busy creating sculptures, including a world cup trophy, a mini stadium with a football and on the opening match between Brazil and Croatia on the beach of Puri.
So how crazy are you about football? Send us your suggestions, articles and photographs to [email protected].