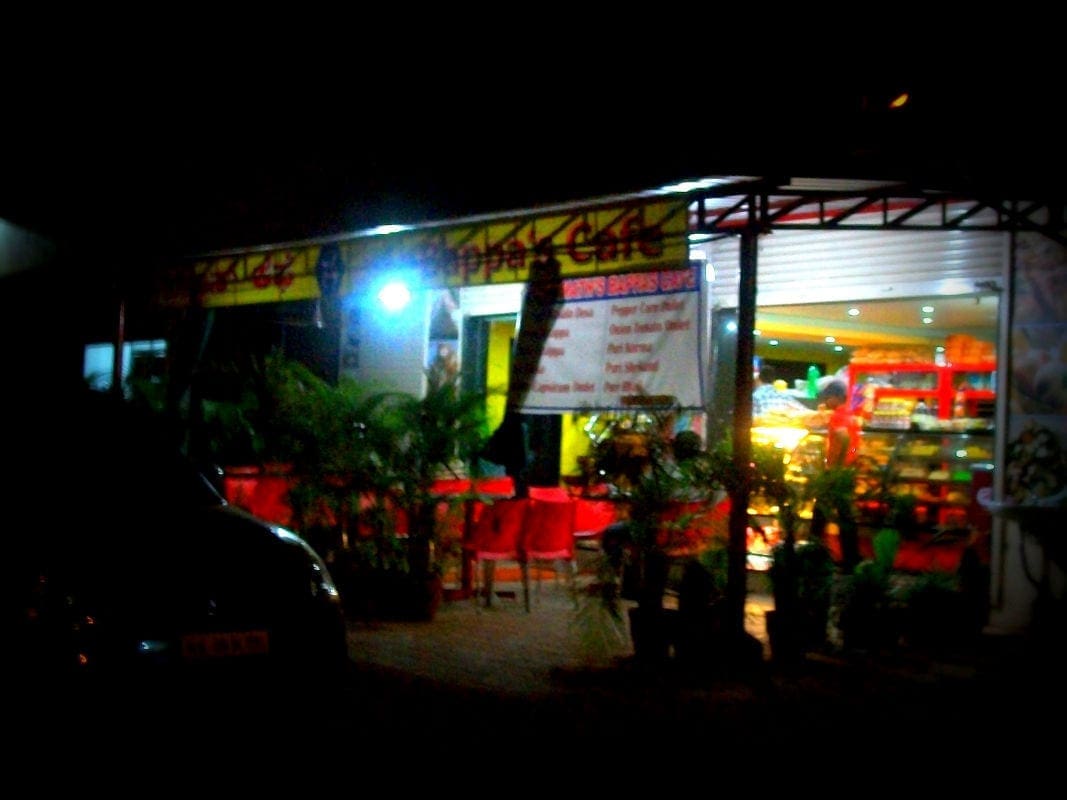 We in Manipal, have so many options for food, but after a while we still wish there was some place new. Similar was my feeling after i quit the Food Court of MIT. I had had enough. Not that the food was intolerable. (It was bad!) More than that, after a while it got boring. The only food you can have forever and not get bored is home food! I wonder what magic God put in a mother's hand!
Anyway, i tried out this little place called BAPPA'S CAFE which is near the Manipal Technologies Ltd. formerly Manipal Press Ltd. If it still doesn't ring any bells, it's along the MIC road. There are a few tables put out with green drapes screening the sunlight and lotso pots with plants at the boundaries, which somehow gives a homely feel to it.
Bappa's Cafe is a small, neat and clean place offering not just food, but a variety of drinks and ice creams. It has these yummy South-Indian snacks available in packets. Banana chips, groundnuts, chakkulis, all kinds of sweets. I totally loved the little jalebis they have for just Rs.2! It's a great place for breakfast, with prices that will be light on your wallet. A plate of each ranges from Rs.15 to Rs. 40. Puri Kurma, Rava Idli, sandwiches, uttapams etc. The Puri Shrikhand is a must try for those who have never had it before. They have it in Elaichi and Mango flavor. All kinds of Chats are available which i wouldn't call extremely yummy. But pretty decent. More than food, the menu goes on and on about a huge variety of drinks. An amazing place to hit this summer. They have Hangyo ice creams here too.
I wouldn't recommend this place for lunch or dinner. There's nothing on the menu that fits when you're starving. But just something you would like for breakfast and snacks. A definite try-it-out if you're tired having breakfast in your college canteen. The food is quite homely. I hope this post rings some bells in their account coz not many people know about this place. Opened recently! TRY-IT-OUT folks.
MB Rating – 3/5