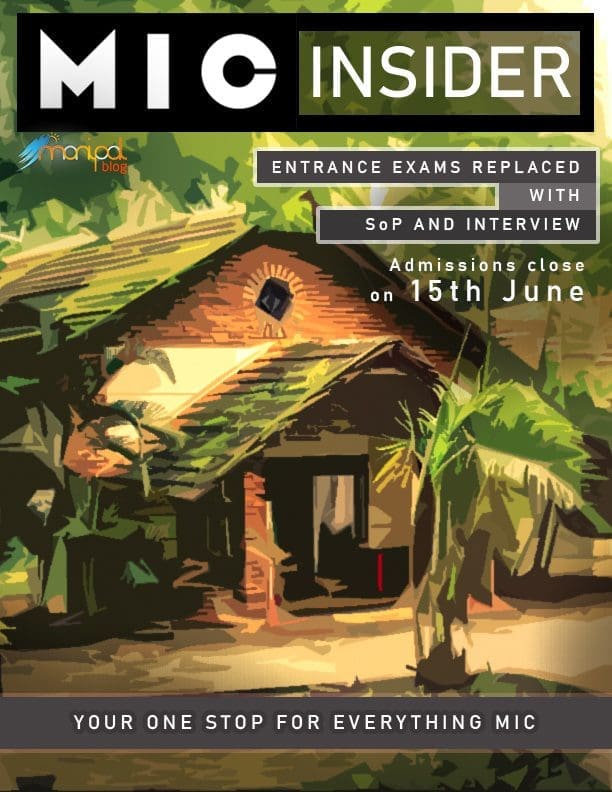 It's almost the new academic year for the millions of students around the country and abroad as they will embark on a new chapter of their lives, be it stepping in college life from school life or going from an Undergraduate course to a Postgraduate one. Despite the currently ongoing Covid-19 crisis, we all must understand the fact that life has to go on and at some point soon we will be back to our respective colleges or joining as freshers to help find where we stand in life and going a step closer from achieving our career goals.
Deciding on a college is not an easy job and it shouldn't be as well, after all it's one of the most important decisions you will take in your lifetime. Hopefully, this will help you remove a lot of doubts and answer the questions you have about Manipal Institute of Communication (MIC), previously known as Manipal School of Communication (SoC), completely made by students to keep the entire thing fair and unbiased.
The Questions have been formulated by Hrishit Roy (First year BA Media and Communication), Sakshi Goyal (First year MA Media and Communication), Abel Kurian (First year BA Media and Communication), and Diya Nayak (First year Media and Communication).
The 3 different categories for the FAQs are:-
Admission to Manipal Institute of Communication
Academics at Manipal Institute of Communication
The culture at Manipal Institute of Communication
Admission to Manipal Institute of Communication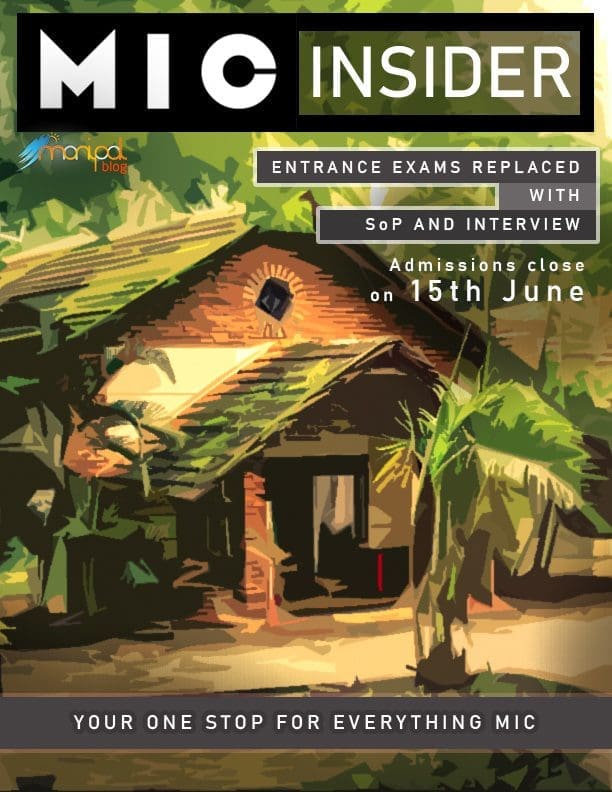 What are the different courses I can apply for at Manipal Institute of Communication?
You can check all the courses being offered at the Manipal Institute of Communication over here.
What is the minimum eligibility criteria for joining a course at Manipal Institute of Communication?
For the year 2020, you can get the eligibility criteria for joining undergraduate courses here and postgraduate courses here. (Section 23.01 and 23.02 for both cases)
What is the fee structure for the Manipal Institute of Communication?
You can find all the details about the fee structure here.
What is the application procedure for BA Media and Communication
For the year 2020, instead of the regular exam, a revised process is being followed, that will be based on the submission of 11th Marks sheet, a statement of purpose letter and a Personal Interview. You can find the entire process here (Section 23).
So do I not need to study anything for joining MIC since there is no Manipal Entrance Test (MET)
A. Even though the lack of MET is a temporary measure due to the Coronavirus Crisis, there will be a personal interview after submission of the Statement of Purpose letter. Questions on current affairs might be asked, so even though there is nothing to study per se, it is always recommended to be in touch with current affairs through Newspapers and other mediums. Questions to see the interest of the student in the course might be asked too.
What is the application procedure for the B.Sc Animation course?
The joining method for this course too has been revised due to the Coronavirus crisis. There will be a Home-Based Test along with the option to give your previous portfolio of work, followed by a personal interview. You can find the details here(Section 23).
What is the application procedure for MA Media and Communication and MA Film Art and Film Making?
The merit list of both these PG courses would be based on a Statement of Purpose letter which will be followed by a Personal interview. You can find the details here (Section 23).
Is animation there a specialization in master's course?
There is no specialization course in masters but the institute offers, B SC animation as different stream and interested students can apply for the same.
Is a postgraduate diploma course similar to Masters?
The post graduated diploma in corporate communication is one year course which comprises of subjects related to the corporate sector like, advertising and public relations, etc. Masters in media and communication gives a much wider scope as it comprises different options in the third semester for specialization in journalism, film studies, web designing, and also corporate communications. The diploma course is for one year
What are the available scholarships granted by the University?
A list of all the scholarships for 2020 can be found here
Can you switch bachelors' stream for masters?
Yes, one can switch streams but the applicant has to follow the admission procedure.
Why Masters in Film studies separate from Master in media and communication?
Master in Film studies is purely based on film making, and the second-year it is compulsory to do in France. Students of masters in media and communication can choose a specialization in third-semester and film studies is also an option available.
What hostels do students from MIC get?
Students from MIC gets the same hostels as that of MIT, for both boys and girls. The roommate selection depends on the students only, and usually, they get paired up with other students of the same course or from some other course but from the same institution. All the hostels for first years are entirely separate.
What is the hostel allotment procedure for students at MIC?
Usually, the hostel allotment order comes after the merit list is out. After the payment of college fee, the students get the opportunity of choosing the hostel rooms in the blocks automatically designated to them. Things might change a bit this year, and we don't have updates on the exact procedure as of now; we will update it here once we get to know for sure.
How does the mess system work for MIC students? 
The Mess system for MIC students is the same as any other Manipal Institute of Technology student, where after joining a hostel, they can join any mess of their choice by procuring the Hostel allotment order at the respective mess to sign up. Usually, choosing the mess closest to the hostel is preferred but since the quality of food differs around the messes, it is up to the student to select the place according to their own taste.
I need further clarifications about admissions, who can I contact?
For further clarification, you can contact [email protected] for Indian students and [email protected] for NRI/International students. You can also leave a comment below, and we can try to help you out to the best of our ability.
Academics at Manipal Institute of Communication

How is the faculty at Manipal? What are their qualifications?
As a student, I would personally say the faculty system in Manipal is undoubtedly amazing, with the professors being well versed in what they are teaching and are very easily approachable too. For the entire list of MIC faculty and their qualifications, you can get them here.
What are the subjects offered in the different courses at MIC?
The field of Mass Communication and Media is a diverse field, so every course goes it's own way in making the students learn about the different modules that are important in the respective fields, starting from Journalism to Public Relations. A rough idea of all subjects that are taught across the various courses of the Manipal Institute of Communication can be found here in the overview section of the selected course.
How does the Holiday system work in Manipal?
MIC Follows the calendar of MAHE. Both the semester always has events going on which the students organize and participate in, with the majority of them being in the even semesters. So the college usually doesn't dish out holidays for anything minor. A summer vacation extending for 2 months is usually there so the students can take up internships and learn hands-on about the field they are looking to work in. A month-long holiday from November end to the beginning of January after the end of the Odd semester. These might be subject to change citing the Coronavirus crisis that's currently ongoing.
What are the opportunities for student exchange in masters course?
There are various student exchange programs in different specialization courses and it is different every year. The students get to apply for the program, also there are scholarships provided some foreign universities. The minimum requirement for applying in exchange programs is subject to change every year, the faculty coordinator for exchange programs in the college will be updating the students about the same.
MIC has classes for how many days per week?
MIC has classes from Monday to Saturday, ie, 6 days per week, which is usually the same for all courses being taught.
What is the timetable like for MIC students
Classes start from 9 am in the morning, each class being for an hour. A 30-minute break is there from 10-10:30 am, after which the next break is from 12:30 pm to 2 pm. After that, classes may extend up to 6 pm in the evening with no official breaks in between, but all the teachers are considerate enough to give the students a few minutes off before going on with the classes.
The same schedule is not for every day since there are days which are half days. The main idea is to complete the scheduled period of hours per subject according to the credits in the subject. With a bit of good luck on your side, you might get to see your section get an entire Saturday off throughout the semester while the other section might have classes.
Since there are a lot of events going all the time at Manipal, do the students get enough time to pursue academics the way it should be?
Yes. For students at MIC, it is equally important to participate and organize events along with keeping up with the academics. MIC provides ample time to students for everything, starting from extracurricular activities, to having a thriving personal life and academics. As long as the student can divide their time well between the different activities they choose to take part in, there should not be an issue at all.
Are there issues like ragging present in the college that can get in the way of a student's mental health and academics?
A. There is absolutely no ragging in any way whatsoever at Manipal Institute of Communication. The seniors and juniors enjoy a thriving relation here without the need for any ragging. The university takes ragging very seriously, and incase any such incidents occur, students should immediately report to professors or their caretakers/warden so strict action can be taken against the perpetrators.
Is it compulsory to do a dissertation in Masters?
Yes, it is compulsory for master's students to do a dissertation, the topic for the same can be of student's choice. The dissertation process starts with the second-semester and finishes by the third-semester.
How is the library at MIC?
Manipal Institute of Communication Boasts of an excellent library with a massive collection of books, both academic and literary works. Like the entirety of the campus, the library is also Wi-Fi enabled and gives students the option to surf the web for getting work done in the computers present in the library.
What other facilities do MIC offer to its students?
Manipal Institute of Communication has a lot of things to help students understand the industry better, starting from its own community radio station, Sound Studio, TV studio, Editing Lab and Campus newspaper. You can find the details of the various facilities and infrastructure of MIC here.
Who are some alumni from MIC who are doing well in their respective fields now?
Vanita Pai – Author, Ramanath Bhat – Community Radio President AMARC, Ashwin Nag – Telegu Film Director, Michelle Patrao – Radio Times of Oman, Neeraj Agarwal – Executive VP of Yes Bank, Ruchika Sharma, IRS – Assistant Commissioner, Arjun Chakradhar – Assistant Director (Piku, Madras Cafe, Vicky Donor) are a few of the notable alumni from Manipal Institute of Communication.
How are the placements of are Manipal Institute of Communication?
MIC boasts of an excellent track record in terms of placement with a dedicated placement cell and placement coordinator being there in the college. A more in-depth look at the placements of Manipal and the demands of MIC passouts in the industry has been shown in the video below.
The Culture at Manipal Institute of Communication

Undoubtedly the best part of college is college life and Manipal Institute of Communication does a lot when it comes to the vibrant culture and life that MIC has to offer. Here are a few FAQs that students usually have about MIC's culture. Though this is not something that can be understood just by reading about it, this might help you dive right into things after you reach MIC (Subject to Coronavirus and social distancing norms).
You can check a few of my posts about my personal experience MIC here, here and here, to know about the Orientation process at MIC and a bit on the hostel life in Manipal.
What are the various activities that keep going on within Manipal?
Manipal is a student town and MAHE  itself comprises 20+ colleges, all of which have their own fests and events. Though some of the events are certainly bigger than others, along with a lot of events being hosted by the University, there is always something going on in Manipal.
What are the fests held by MIC?
MIC hosts Article 19, as the annual fest. It is the oldest media-based fest in India. It is usually held for a period of 3 days, which sees eminent media personalities coming to Manipal for the various events that are hosted during the fest. You can know more about Article 19 here.
Apart from A19, there is Proverb, which is the literary fest of the Manipal Institute of Communication that sees colleges from all around the country coming together to participate in debate competitions, along with many known personalities coming as judges.  These 2 are the official fests of the Manipal Institute of Communication.
So are these 2 the only things happening at MIC?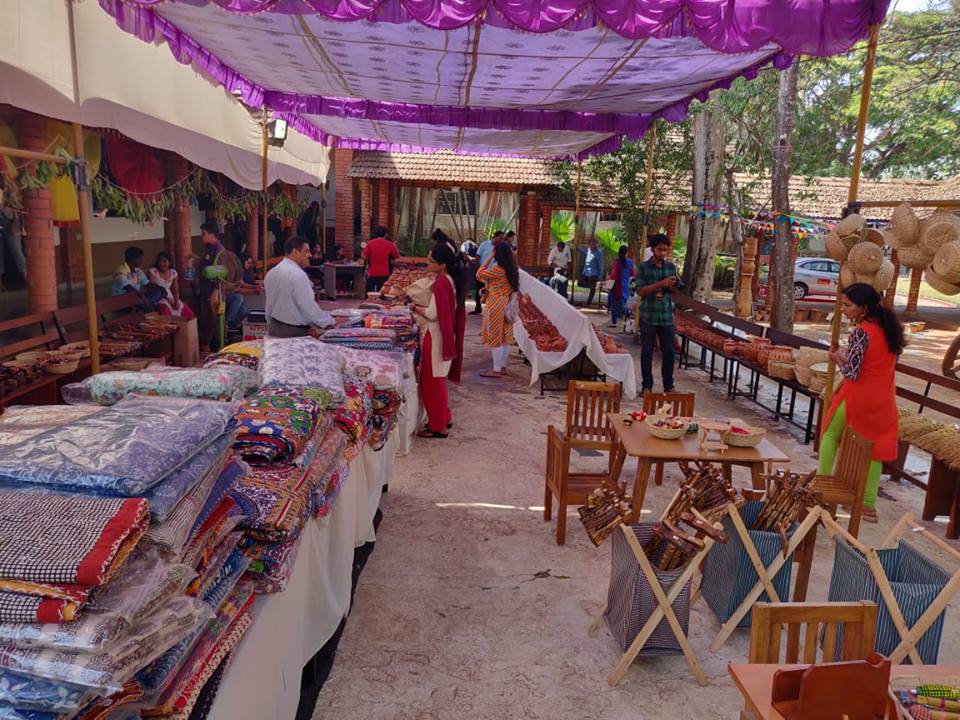 Absolutely not! Both these events are backed up by several pre-events that are equally fun. Since it's all organized by students and is overseen by a faculty coordinator, the students are free to take creativity in their own hands. Apart from that, Namma Angadi happens once every year with MIC as the hosts of the 3-day event. Oxygen is an in house talent show that's held once every 2 months or so inside Manipal Institute of Communication, exclusively for students of MIC, to showcase their many skills in the field of acting, singing, dancing, etc.
How is the campus of Manipal Institute of Communication?
MIC has a campus that all students can dream of having. Aesthetic and beautiful with all AC Classrooms, it's a perfect blend of old and new. There is a Common room situated right beside the canteen which is a common hangout place for the students of the college. There is a small ground commonly known as "MIC Greens" and the Quadrangle, a place that is painted based on a theme on the last day of Article 19 fest every year. Despite studying more than 2000 km away from my home in Kolkata, I personally never felt I was away from home while in Manipal, much thanks to the college environment.
Where are the students of Manipal Institute of Communicationmostly from? 
Students in the Manipal Institute of Communication come from across India and even from abroad in the NRI category! It's a huge mix of different cultures and everyone is really accepting of others here with no form of discrimination whatsoever. Feel free to make friends from everywhere and get to know about different cultures, that is something I personally love a lot about college.
What are the extracurricular activities that I can take part in while studying at MIC?
Clubs are a major part of Manipal. If you have any interest, no matter how bizarre it is, it is likely Manipal has a club for that. Even though a lot of clubs are based on MIT because of the significant number of students at MIT as compared to the Manipal Institute of Communication, all the clubs take in people from every campus at Manipal. Kalamanch is an example of an in house club of Manipal Institute of Communication, being a dramatics and theatre club of Manipal and is an absolute favorite of all the students of the university.
You will get to know the clubs only after you enter Manipal, and there will be a point where you get annoyed with all the club advertisements, so please brace yourself for that.
What are the places to eat around the Manipal Institute of Communication if I miss breakfast or don't want to go to the mess?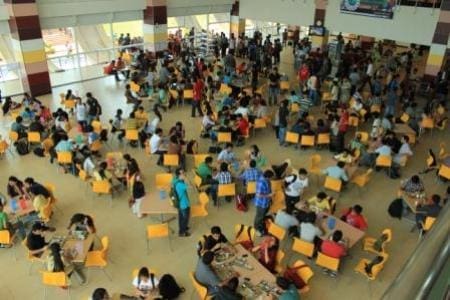 Glad "You," asked this! There will be multiple occasions where you will end up missing breakfast; in such cases, the canteen in MIC campus along with Anand Bhavan situated right next to campus are two of the main places to go for the students.
Anand Bhavan, a pure veg restaurant is famous for its vast selection of milkshakes, Aloo parathas, and dosas. At the same time, the MIC Canteen is renowned for its various different kinds of Maggi, with cheese Maggi being the most popular and "Bread Omelette" which is a personal favorite of mine since it reminds me of breakfasts mom used to make.
For the non-vegetarians, Shetty's lunch home, around 100m away from the college, is one of the best places to eat in Manipal and is extremely pocket friendly. You will discover a lot more places in and around MIC after a little exploration!