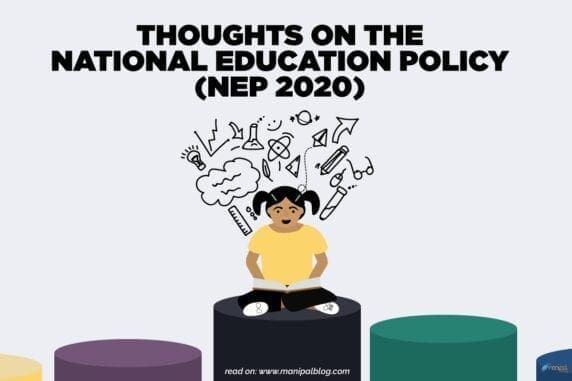 The National Education Policy 2020 will be replacing the National policy of Education 1986, modified in 1992. The previous education policy mainly focused on access to education and emphasized less on the quality of education. The new policy aims for a more flexible education system with 50% Gross Enrollment Ratio (GER) in higher education institutes and 100% GER in school education by 2030 and to bring two crore school dropout children back into the mainstream through the open schooling system.
The decline in GER is higher in certain groups and communities. The National Education Policy 2020 aims for the strengthening of the schemes targeted for such groups. It also plans to provide assistance to female and transgender students and other under-acknowledged groups in getting access to education. 
The current 10+2 school education system will be replaced by a new 5+3+3+4 curricular structure corresponding to ages –
3-8 (foundational stage- play and activity-based learning),

8-11 (preparatory stage – Interactive classroom learning),

11-14 (middle-stage – abstract concepts learning),

14-18 (secondary stage – four years of multidisciplinary study).
Most (85%) of the cumulative brain development occurs before the age of 6. Therefore, it is the need of the hour that children receive early childhood care and education. Presently, ECCE is not accessible to the majority of young underprivileged children. The new system will have 12 years of schooling from class 1 to 12th with three years of Anganwadi or pre-schooling.
The early childhood care and education consist of activities based learning. Anganwadis will be strengthened with better infrastructure, play equipment, and well-trained teachers.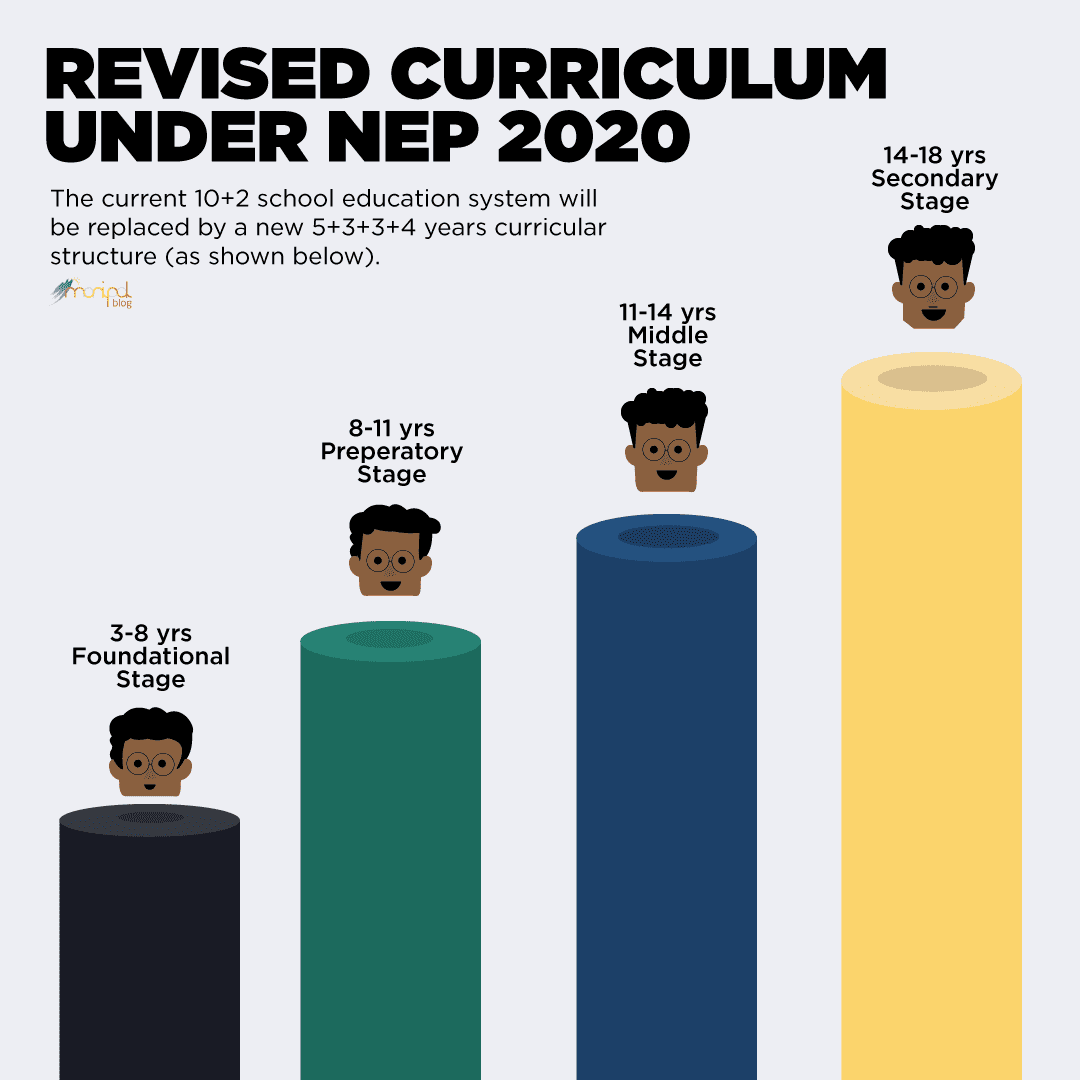 Other key aspects of the National Education Policy 2020 are listed below in detail.
Reforms in teacher's training and recruitment
Back in 2010-2011, I visited my friend's government primary school in my village. As far as I can recall, the teacher didn't even notice a new person sitting in her class. She continued knitting a sweater. There were no benches and the students had brought their own jute/plastic bags to sit. The class was over and another teacher came. She kept talking to some other teacher. None of the teachers taught anything.
The children seemed habituated to it. I inquired with my relatives as to why it was happening. They said  "there's a lot of corruption involved in teacher recruitments. A lot of these individuals bribe the officials to get recruited. Especially, the pre-primary ones, they barely know anything about the subjects. The kids are too young and naive to take a stand for themselves."
Contrary to this incident, last year, I went to a nearby government middle school to get my voter id documents checked by the school teacher. I was amazed to see a few students present in the school on a Sunday. The teacher was amiable. And I could feel the rapport he had with the students. There were proper benches, 1 board, 1 projector, and other important things. The students were confident while interacting with me. The experience was in no way similar to the other experiences I've had with government schools. 
While it'll be unfair to compare a rural area's school with another school present in a big city. I believe that it's high time that the teaching profession shouldn't be perceived as something which anyone with a little guidance can do. The selection procedure should be more rigorous. Even in private schools, the current pedagogy consists of teachers simply giving lectures, where students are expected to follow the textbooks.
The teacher eligibility tests will be strengthened, and NTA scores will be taken into consideration during recruitment. Special educators will be hired for divyang children. The minimum degree qualification required for teaching i.e the current B.ED course will be replaced by a 4 year integrated B.ED course that'll include practical training periods. Teachers will also be trained to become online content creators.
Anganwadi teachers will be trained as per the pedagogical framework developed by the NCERT. Every year, trained teachers will be required to complete a minimum of fifty hours of professional development training. The vacancies will be filled as soon as possible with special attention given to local and female teachers. A pupil-teacher ratio of under 30:1 will be maintained. Whereas, socio-economically disadvantaged places will aim for having a 25:1 pupil-teacher ratio. Excessive teacher transfers will be halted. The transfers will happen in very special circumstances e.g for promotions of outstanding teachers.
The medium of instruction in schools
The purpose of education is to promote the love of learning, free and critical thinking. Children must be encouraged to communicate and express themselves. It is possible that a child who struggles with a language initially becomes fluent in it later. But what's the use of forcing a medium of conversation which is foreign and uncomfortable, on young kids? This only makes it difficult for students to express themselves in class.
Young children learn and grasp trivial concepts quickly in their mother tongue. Therefore, the medium of instruction will be in mother tongue/ regional language while teaching until Grade 5, preferably till grade 8, in both public and private schools. Teachers will be encouraged to have a bilingual approach, for the students whose mother tongue may be different from the medium of instruction.
The states must implement the study of Hindi, English and another Indian language in Hindi speaking states, and Hindi, English, and the local regional language in non-Hindi speaking states. The National Education Policy 2020 assures that no language shall be imposed on any State. 
Reforms in the curriculum
There will be no rigid distinction between extracurricular, academic streams, vocational streams in schools. Vocational training and internships will start from as early as class sixth. Students will be given more flexibility in choosing subjects, especially in secondary school. Therefore, no hard separations between arts and sciences will be there. Extracurricular activities will get priority for the overall holistic development of the students. And on the curricular side, increased focus will be on foundational literacy – reading, writing, speaking, mathematical thinking, counting, arithmetic.
The learners will be allowed to choose their own paths according to their interests. The curriculum will be revised and revamped every 5-10 years to meet the needs of every learner. This is a very important step towards becoming a global education leader. Top ranking countries in education like Finland regularly revise their school curriculum. 
More emphasis on Foundational numeracy, Literacy and vocational education 
A very large population of the students can't even do basic math (addition and subtraction) and aren't able to read/ understand the basic text. It'll be looked after that every student attains foundational literacy and numeracy by grade three. The quality of education isn't judged on the level of numeracy and literacy alone. The National Education Policy 2020 focuses on whole child development and equity of education outcomes.
During the years 2012-2017, only 5% of the Indian workforce in the age group of 19-24 received vocational education. Which is alarmingly low compared to other countries such as the US(52%), Germany(75%), South Korea(96%). Vocational education will be integrated into mainstream education over the next decade in a phased manner. By 2025, at least 50% of the students graduating shall have exposure to vocational education.
Promoting Indian Literature
Languages are much more than just a medium of communication. A language is related to the customs, culture, teachings, and other inherited knowledge of the society, in which it's spoken. If a language dies, the culture associated with it is also lost. Therefore, protecting/promoting a language means promoting the culture associated with it too.
India's languages are among the richest, most expressive in the world. The National Education Policy 2020 says that the students will be taught various Indian languages and literature from an early age. They'll be taught which geographical location speaks what language. Sometime during class 6-8, every student will participate in a fun activity based on 'The languages of India'.
Sanskrit will be offered at all levels of school for students. Also, other Indian literature and classical languages like Tamil, Telugu, Kannada, Malayalam, Odia, Pali, Persian will be available in schools as options. Literature broadens our horizons. It opens the door to our imaginations, takes us to places we've never been before. It reflects the culture in which it's produced. It gives us the power of perspective to think freely and to understand the people who are different from us.
Students may have the option of learning two years of a classical Indian language and it's associated literature. In addition to this, foreign languages such as German, Korean, Japanese, Thai, French, Spanish, Russian will also be offered at the secondary level. 
Easy access to learning and adult education 
The National Education Policy 2020 plans to group multiple Anganwadi (in 5-10Km radius) and senior secondary schools to form a school complex. It will ensure an adequate number of teachers, adequate infrastructural and physical resources (library, sports equipment), and effective governance of schools.
Education is a lifelong journey. It shouldn't solely be reserved for young kids and teenagers. The National Education Policy 2020 states that an adult education framework will also be developed by a newly constituted body of the NCERT. The curriculum will include – 
Financial literacy

Foundational literacy

Vocational skills development

Basic education

Continuing education 
Multiple entries and exit options 
The undergraduate degree is going to have multiple entry and exit options. This particular policy works on the principle of anywhere learning, any time learning and any level learning. Students will receive a certificate for completing one year of the college course, a diploma for completing two, and a bachelor's degree for completing the entire course of 3 or 4 years.
Further, a National academic credit bank (NAC-bank) will digitally facilitate the transfer of credits. The bank will do credit accumulations, credit transfers and credit redemption. The credits can be accumulated, and be used at any point in time. This is a righteous step towards facilitating student mobility within inter and intra University system.
Multidisciplinary education and research universities –
Bharat should be promoted as a global study destination providing premium education for all. Ivy League institutes of India will be made to set up campuses in foreign countries. In the same way, top universities of other nations will be permitted to set up campuses in India. 
The systemic fragmentation of higher education shall be ended by transforming higher education Institutes into multidisciplinary universities. Each of these universities will aim to have 3000 or more students for the optimal use of infrastructure and resources. Mathematics, technology and science will be integrated with humanities and arts. IITs have already started venturing into non-engineering courses. The premier engineering colleges are also planning to roll out Bachelor of design courses in the next few years. National Research Foundation will be set up to facilitate, fund, recognise and promote a strong culture of research in higher education institutions.
Focus on Digital Education and knowledge economy

There's a significant need for everyone to have basic digital skill for the new age of automation. Alternative ways of education will soon be developed for times like this pandemic when classroom education is not feasible. All institutes will have the option of running open distance learning to enhance their offerings. The National Education Alliance for Technology (NEAT), an autonomous body will be created to enhance and promote e-learning.
Digital education will be ensured by developing two-way video and audio interfaces for conducting online classes.

A digital repository of the curriculum through virtual reality will be created.

Television, radio, mass media in multiple languages will be promoted to ensure the reach of digital content where digital infrastructure is lacking.

Virtual labs on existing-learning platforms will be created.
With the shift of the global workforce, and the adoption of AI, the demand for physical and manual skills is going to fall drastically by 2030. The decline in demand has been taking place from the past 15-20 years.
The change is already happening, and it'll only accelerate. Automation is replacing human jobs, simultaneously affecting the skills that organizations look for while hiring people. The demand for technological, social, and emotional skills is accelerating. As we build and shape our future workforce, we need to introduce the required skills for students in our education system. In a rapidly changing global economy, there's a need to prepare students to research and innovate. Any policy is as good as it's implementation.
The aim of the National Education Policy 2020 is to provide an education system that ensures the highest quality education for every student regardless of social and economic background. Successful implementation of the National Education Policy 2020 will require multiple initiatives by multiple bodies in a phased and systemic manner. With the joint monitoring and collaborative implementation between the center and states, the National Education Policy 2020 will be fully operational in the decade of 2030-2040.
About the Author: Ishita Jha is a second-year media and communications student at MIC, Manipal. She wants to pursue journalism as a career.