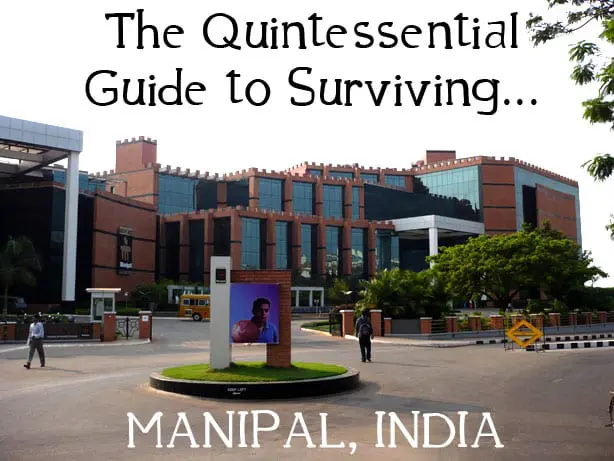 This is gonna be a long one:
Leaving your home city, the place you were born and bought up in for education, not knowing if you'll ever be able to come back permanently in the area that you have grown to love and know by heart can be a really tough thing, yet it's something that most students of Manipal have to face. Leaving the City of Joy for a place I've never been in to permanently reside for 3 years has been a pretty scary experience in my head.
Firstly since I don't have siblings, I've been the center of attraction to my parents, and in all the years of my life, I can't say that I have adequately outgrown the need of them though I do consider myself self-sufficient and independent in a lot of ways. For starters, the only thing I ever washed in my house has been my mouse pad, that too once every season. Even though I've been born up in a devout Hindu family, I've never cared much about religion, resulting in me eating anywhere in the house to the displeasure of my mother. I've basically lived in my shell all my life with my parents protecting me at every step though I have been really unaware of that until recently. So when the day of leaving the city finally dawned upon, it bought a lot of mixed feelings, of leaving the city I've spent my life in and the excitement of starting a new life in a place I've never been to 2200 km away.
Even though the journey of approx 36 hours by Train and Bus combined (Had 60kgs of Luggage amongst 3 of us, Air travel was not at all feasible) was extremely tiresome, the final 30 mins by bus on the outskirts of Udupi to Manipal really cheered me up. I really didn't know what to expect from the place though I had learned a lot about it on social media and seniors. The lush green scenery everywhere, the pretty yet posh shops were a completely new experience for me. Growing up in the urban jungle of North Kolkata, the heart and soul of the great city, seeing such beautiful scenery is simply something that doesn't happen unless you are on vacation.
The bus left us at the Manipal bus stop (only after getting down from the bus did I really realize how much my full body hurt due to the extremely bumpy Volvo ride). The Auto stand is right opposite to the Manipal Bus stand, around 30 seconds walk. We had to take 2 autos since we had so much luggage. I was pretty awestruck to see how polite the autowalas were, even at 7 in the morning. Coming from a place where Autowalas pretty much ruled the roads thanks to their unions and their will to harass customers at every opportunity, this was a significant change.
They charged us Rs 50 per auto for a trip to Oyo 7th Heaven, which I had pre-booked. Though the sky was gloomy, it was not raining there yet, which was a good sign for us. Thankfully the hotel was pretty great, and I was really relieved (Usually my dad and I get into an argument very quickly with dad saying that going physically and booking is best and me siding with the virtual prepaid reservations).
My board has been late to give the mark sheet and TC, so I didn't carry them with me, so we decided to meet up the admission department once as soon as possible to clarify on the issue (We already did via mail, but well dad wanted to physically go and meet). A short auto ride to the Edu building later we reached the admission department, where the people were charming and explained patiently that it won't be a problem as long as I don't forget to send them the documents after receiving them from the board. (This is not to highlight my situation but to shed light as to what happens in case you are missing some documents at the time of admission for peeps who will be coming in from next year). After that was clarified, we went to the Chief warden office in Academic Area 1 to get some info on the hostel (Block XVI). Here I am attaching a photo that was provided to me by the people there.
This helped me to get an outline of what to buy and all. We were told that we can move in 2 days before the day of our orientation, that is on the 13th of July. After that, as the final stop, we went to the Manipal Institute of Communication, where I am to study for the upcoming 3 years. The faculty member present was extraordinarily kind and helpful and reassured my parents that I will be well taken care of and told them not to worry about the documents and all but at the same time to not forget about them.
So that was all we did on the day we reached Manipal. It did rain pretty heavily that day, but it didn't dampen our mood, which got a lot lighter after the reassurance from the staff about my document issues. We had dinner at The Laughing Buddha, which is a sub-branch of the hotel we were in and it served us damn good authentic Chinese food in a very happening and crowded environment.
The next day and the day after till I moved into the hostel were pretty good, enjoying with my parents as much as possible with a visit to Malpe beach and just roaming around the campus a bit, buying the essentials, etc.
XVIth block is one of the newest blocks with the newly made Foodcourt 2 right in front, which is excellent in terms of hygiene and food quality and as of now for the 3 days I have been here, the taste has been great too. Won't go into details of the room and facilities of the hostel since it'll make this post unnecessarily big and I plan to cover that in a separate post.
Thankfully I got to know my roommate a month before the commencement of classes via Social media, and he has been great throughout. He joined a day after I did and from the moment he entered, the anxiety that I had of how my roommate will be (Had my own room in Kolkata, was extremely possessive about it and hardly let anyone else enter my zone, lol) passed away. Having a good roommate is an essential part of hostel life, and as of now, I can say that I got a great one.
Finally comes the day of Orientation, 15th of July 2019 (The day this is being written), a day I have been waiting for since I got selected for the course back in the first week of May. Could hardly sleep the last day, partly due to England vs. New Zealand World Cup Finals (Heck you ICC for the stupid boundary rule) and partly due to the anxiousness that comes with the first day of college. Though orientation is there for the parents and students alike, my parents had left already due to prior engagements, and I was to face the day alone. From waking up at 6 am to getting ready for the day with the documents and umbrella (The only constant partner you will need in Manipal), at 8 am, me, my roommate and another friend of mine I got to know well in advance went to have breakfast, which we finished by 8:40 and started the uphill climb to MIC. I am a pretty fat guy and the exercise I got while climbing uphill one time to MIC from Block XVI is pretty much equivalent to all the exercise I used to get in an entire week in my home, so I was utterly drenched and only had half my will remaining to live by the time I reached MIC.
So begins the whole process of Orientation, starting from being in line for your respective departments where you've to sign, then gain access to the assigned hall where you get a piece of document with your roll number and rank already filled up in it, where you've to fill in your details like Adhaar number, PAN number, etc. as well as your 10+2 marks and percentage. After submitting the document, we had to wait a bit before our name was called out and once it was, we had to go and give the documents that were mentioned in the emails sent before the helpful admission official who was there collecting the documents. I got my admission order with pending written in the places of the document names that I was missing, so thus the heavy load was finally off once and for all.
I've been to similar events before, but this has been the first one where everything was happening right on schedule. After the document submission, we had to go to the auditorium for the welcome speech by the Vice Chancellor and our Director as well as other faculty members. Once that was done, students had to submit their anti-ragging affidavit, their substance abuse form as well as the immunization form. Students who weren't registered to Manipal SLCM yet were told to stay back in the computer labs, but since I was done with it earlier, I left. We were given a makeshift snack box which was pretty good, and for the lunch break I decided to stay in Kamath Circle, the student Plaza instead of the long walk downhill to Food Court 2 and come uphill again for the remainder of the Orientation.
At 2:00, it was the Director's speech to the parents, but I went there anyway since my parents were not there accompanied by my roommate, his parents and my other friend (My current friend circle). After a speech that basically outlined the sketch of student mentality and the Dos and Dont's of a responsible parent, we met our mentors and class teachers. I personally couldn't find anyone apart from my mentor, so after a bit of interaction with him, I left for my walk downhill to my hostel, knowing that one of the most anticipated days of my life has just finished, marking the start of one of the most critical phases of my life.
PS- Apart from being my own point of view, I tried to give an outline of everything that happens so in the future if anyone is facing issues like me, they won't have to stay in the blue like I have been for a pretty long amount of time. Don't know how many SoC students will be reading this or anyone from Block XVI or Block XVII for that matter but would love it if you could drop a hi on social media or meet in real life as making friends is something I am not that great at and would love this to be a start.
(1 day of minor orientation related stuff remains like student-teacher interaction etc. but don't think it's going to be as significant as this one day has been so far).
I wish the very best to everyone who is embarking on their journey of education in various fields in this beautiful University which is going to be our home now.