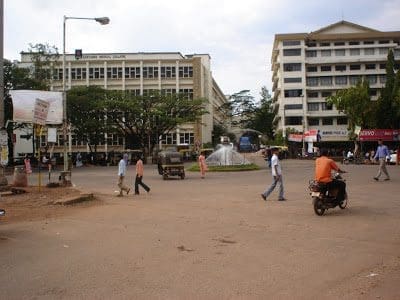 This is a small collection of snaps i took while moving around Manipal. It's not Manipal in to-to, just a few places I've been to.
The view from opposite Kasturba Medical College. In the foreground is the Tiger Circle. I wonder how it got that name? The building on the left is the Basic sciences building and that on the right houses the college office.
A close up of the previous picture. The Tiger circle with it's 24 hour fountain is a busy place. It stands bang in the middle of the main road of Manipal. the only main road?
This is one of the fountains at the entrance to the campus. Looks more beautiful than in the picture. The 'Hangyo Saiba' restaurant which is the favourite hang out for the students. Food here is excellent though a bit heavy on the pockets. 'Hangyo' in konkani means come here, and Saiba means hey man. so loosely translated it means Hey Man, come here. No wonder people flock to this eatery.Prabhav and Kushaal have softy's at Hangyo. The strawberry softy is our favourite. It beats all other flavours available hands down. We visited the Domino's outlet last sunday. We gorged ourselves on Pizza's
till we couldn't stuff in any more. The Pizza's were nice, but i make one recommendation. It's better to takeaway rather than stay at the outlet to eat. The ambiance is horrible and seating is cramped. Outside the eatery. It was a starless night and the monsoons were just about to start. Luckily it did not rain that night. One of the two 'DVD' movie houses in Manipal. I haven't visited the other. Movie galaxy seats around 50 at a time. The prints are not good and the only reason why people visit is because the nearest good theatres are present 2 hours away in Mangalore. Though movies arrive ahead of schedule, there are mostly pirated versions or downloaded from the Internet and of poor quality. This is what the ticket looks like. A torn piece of paper from a note book with rubber stamps bearing the theater name and hand written show timings. Wonder whther these guys pay any entertainment tax at all.
Tags: Manipal, movies, dominos, pizza