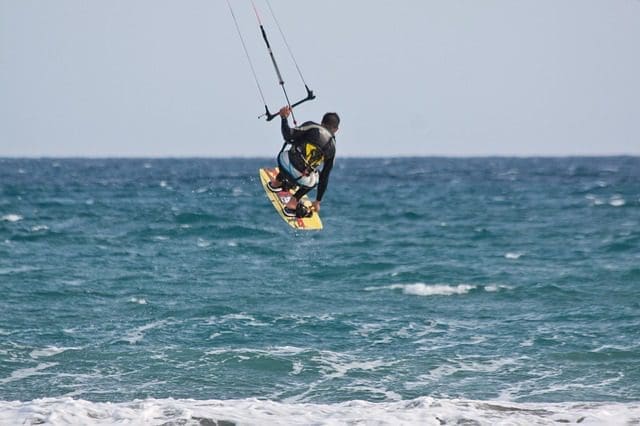 Not so long ago, a not-so-small, Oregon based sports company came up with a memorable marketing slogan: "Just do it". That its sales since 1995 have almost doubled to $9.5 billion a year would seem to indicate, that a lot of people are, in fact, doing it – sport, that is. Of the adrenaline-secreting varieties, Catalunya, blessed by mountains, Mediterranean and not a bad climate to boot, offers more than its fair share. For those whose cup of tea is more than simply sitting on the beach or a hill-top drinking the stuff, here's a taste of what's out there.
The Thrill of Rough River Sports
Since hosting the Olympic canoeing in 1992, the once-quaint town of Sort in the Noguera Pallaresa valley has found itself among the premier river running spots in Europe. The best is to be had during the snow melt between April and August when the place is full of he-men and she-women wearing fluorescent helmets and using high-tech equipment. White water rafting is said to be fantastic, at least as a first taste. These days a boat is superfluous for the real hormone junkies who, instead, don "amour" and use a flotation board similar to those used in Baywatch, and jump straight into the whirls and swirls. Those that survive "hidrospeed" swear by it. Those that don't … well, they don't.
There is also canoeing, kayaking, ponting (bungey jumping), and the latest fad, barranking, which is also known as cañoning.
This is a jack-of-all-trades affair that consists of heading down a mountain gully, walking, climbing, swimming, or whatever as the terrain dictates. Molt intens!
NEARBY WALKING AND TRAIL BIKING
The hills of Collserola that stretch along the back of Barcelona and extend from Tibidabo to Sant Cugat yield gorgeous views of the city. They are also criss-crossed with walking and biking trails. Best idea is to get hold of the pocket map, Serra de Collserola, (available from book and sport shops), a bottle of water (or Iron-Bru), and go exploring. For a first taste start from the Montbau metro station, head up through the Vall d'Hebron University campus, and follow the wide, zig-zagging track that continues up the hill. Ascent completed, you can follow the ridge along to Tibidabo or shimmy down the other side towards Sant Cugat. Routes are well-marked. Returning to Barcelona, the ferrocarril stops in Les Planes, La Floresta and San Cugat, for those who need it. The final carriage has space for bikes.
SCUBA DIVING
Just off-shore from the Costa Brava town of L'Estartit are the Illes Medes with their own coral nature reserve. There are many dive operations in L'Estarit.
TREKKING AND MOUNTAIN BIKING FURTHER AFIELD
Montserrat and Parc Montseny aside, the real steel stuff is in the Pyrenees. For those with a summer penchant for hiking up ski slopes or biking down them, the Ribes and (more westerly) Noguera Pallaresa valleys are two focal points. Núria and Parc Nacional d'Aïgues Tortes in these valleys respectively are popular destinations for hikers.
HORSE RIDING (HÍPICA)
Once again the hills of Collserola and Montseny provide that out-of-city experience, this time of the bestial kind. Hípica Cerdanyola Truyols of Sant Cugat (Tel: 93 580 55 66) offers half day hacks and full day's happy hacking including lunch. The yellow pages are a bit dry on information in this department, but a nice horsey woman in Decathlon, in I'Illa on Av. Diagonal knows everything there is to know about things with four legs. Rafting Llavorsí also offers excursions.
WINDSURFING AND SAILING
The bothersome beach wind that puts the "sand" into "sandwich" is better appreciated by sailors and windsurfers. Castelldefels, sporting cleaner water and a relaxed resort atmosphere, is a popular destination. The Club Nàutic (Tel: 93 665 26 46) located on the beach offers sailing and windsurfing courses.