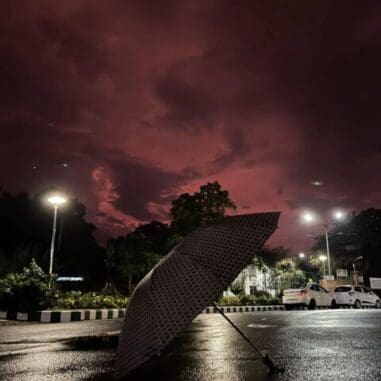 Well, like it or not, Manipal monsoon is here to stay. Once the rain comes in mid June or July, it will relentlessly bash you, making your day to day life tougher. The struggle of getting up for early morning class from the coziness of your cot keeps increasing day by day. The long walk to college from your hostel will undoubtedly keep getting tougher day by day. Your umbrella might get "exchanged" or if you are unlucky enough, it will turn upside down and get messed up beyond repair, making you question your life choice of coming to Manipal. Even a simple google search about rains in Manipal can bring up multiple articles from reputed news sources like Times of India.  But believe me, once the rain stops, you will be missing it like crazy! For students like me, who missed out on more than half of their Manipal life due to COVID-19 Pandemic, the rains were one of the things a lot of us missed a lot. So the sooner you accept that Manipal rains are going to be a part of your life for the most part of every year for as long as you are in Manipal, the smoother your life will be! However, against all odds, I will go on to say that even when the rain is on, not everything is bad!  Honestly, if anything, the rain makes a lot of things much better in Manipal. So here are the top things you can do when the rains pour upon you in Manipal!
#1 – Just go get wet in the rain!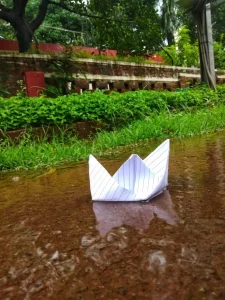 Cliche, right? NO. A life where you are too scared to get wet in the rain is a boring life. Keep your phone in the hostel, call up all your close friends and just get out while it's pouring. Look up at the sky while getting drenched and let your photographer friend take candids from a safe distance from the hostel entrance! Splash about in the pools of water or just make paper boats and relive childhood memories. These days aren't coming back, so you deserve the make the most of it. To top off the experience, take a hot shower in your room, followed with coffee and an informal chat session with your buddies about childhood memories related to rain. Certainly an experience you will not forget anytime!
#2 – Travel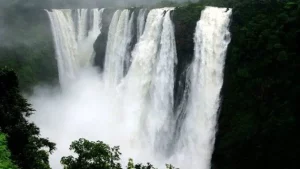 Personally the highest on my list! The rainy season is perhaps the best season to travel around. Summer might just be too hot and dry for the choice of most people. While it is raining like crazy in Manipal, places around Dakshin Kannada might not get such high rainfall, making this the ideal time to visit them!  There are so many amazing places in Karnataka that you can visit from Manipal and monsoon is often the most ideal time for visiting them. Even though you can visit these places in the summer as well, the lush greenery and the rush of the waterfalls will be missing. So, the next time you have a long weekend in Manipal and the rain is bothering you, just pack your bags and leave! Also if you are interested in biking or driving, the rains add a certain challenge factor to driving as well, so you can add that as another reason to travel during this time period. Traveling is always gonna be the best way to get your mind refreshed and might also contribute to your physical and mental fitness very positively, so make the best use of the season!
#3 – Finish all the unread books you brought.
Regardless of the factor if you are a digital book reader on Kindle or phone or you are someone who cant read without physical books, you are bound to have a large list of books that you wanted to read but apparently "couldn't" because you were always "busy". Now that you have disregarded the previous idea of travelling during the rain and have likely completed the rain dance with your friends, you should really consider picking up those books. As much as it sounds like heaven for introverted minds, books are a powerful tool that can reach out to everyone, regardless of their nature. So just get a cup of piping hot coffee, froth it up just for giggles and sit next to the hostel window or balcony comfortably, soaking up the long pending delight of wonderful books. While your soul soaks up the coffee and the smells of the rain. Can you think of a better combination? I guess not. Even if you do, it doesn't matter, just try it! Not only is it a great way to relax and give a boost to your mental health, you can find new topics to talk about with friends based on the books you are reading. So no matter what, it's an absolute win win situation here!
#4 – Just soak in the greenery and appreciate your life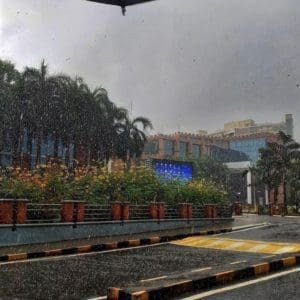 You are likely really far from home. Like me, you might have grown in an urban jungle where lush greenery was very limited to your yearly vacations. However, Manipal is just all green. Weather you are walking to college from hostel through temple run or are going for a walk at Manipal Lake or Endpoint, or are just walking from near the EDU building of MAHE, you are sure to be greeted by a lot of greenery. And all the greenery is certainly very soothing, especially during the monsoon as the colour of the leaves turns to deep green from light baby green. It gives you hope that yeah, no matter how dry things get for a certain part of the year, there is always hope to get back mightier than ever. So just soak it in and enjoy every moment of the rainy season, because once it is gone, you will certainly miss it.
Apart from these, there are certainly a million more things you can do to make the most of life during the Manipal rains, such as sharing very intimate moments with your partner at Aashiq Lane, playing cricket or football near the hostel during the rain or something as simple as just sharing your umbrella with strangers who forgot their own and make new friendships. The possibilities are endless and no matter how many of such stuff you read, you will always find your own share of interesting things to do when you are in Manipal. So, stop feeling gloomy or scared about the fact that rains will dominate the major part of your Manipal life. Just ease into it and you are sure to have an amazing Manipal Experience!