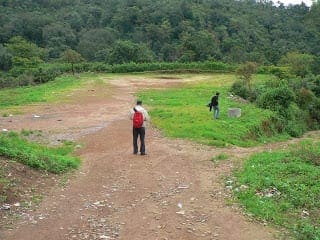 At the beginning of the walkway to Abbi falls there is one diversion leading to a private cottage (about which I came to know only after exploring it).Starving for an adventure since long, we just went into that deep and dark diversion just to where it leads.What we found was a beautiful cottage and one more mini diversion(even more deeper and darker!), branching from its compound wall leading to a small bridge over madikkeri river.Unused since long, it was covered by trees so thickly as to make you creep rather than walk, if want to go through.But the bridge-site looked good from distance and again why to keep that path aloft from our holy steps(!!), giving consideration to both the reasons , we started to penetrate it.Ultimately we couldn't reach the bridge but the leeches reached us!!
Leeches are creatures-rubbery in consistency- that sticks the skin and sucks the blood painlessly!!So quite obviously we couldn't appreciate there existence on our so called 'holy legs' till I saw one when I bent down to start creeping!Inexperienced me and my friend gone into real panicky and ran out of it.To add to my panic as well as my knowledge, I was told that leeches can climb a short distance!!I literally ran out of that horrible cottage, removed my footwear-checked-removed 2 leeches, raised my trouser till mid thigh-checked-removed one more from shin and than I was left with 2 tiny blood streaks!!And next one hour I spent in real apprehension about existence of anymore!!
Anyway after apprehension period was over, discussion was started about it.Leeches have been used in the medical history to remove infected blood from a particular part as they suck it painlessly.It has been used for deliberate bloodletting and a recent use is when some blood gets collected under the skin graft(details on
Our auto driver said that they don't hurt much as after they are full with blood, they will fall by themselves.In panicky, quite understandably, I couldn't snap them but next time if I happen to see them I will get many.Removal methods are burning them or pouring salt water.
A diversion can be appreciated on the right side of the snap that leads to leeches.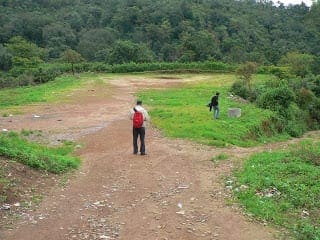 Standing like a tiger before starting the exploration.Of course I don't have any click of how I was when I returned from that diversion!!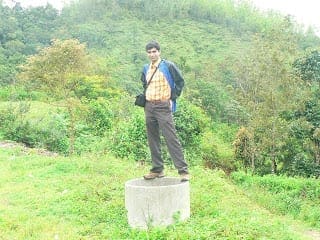 The beautiful walkway which attracted us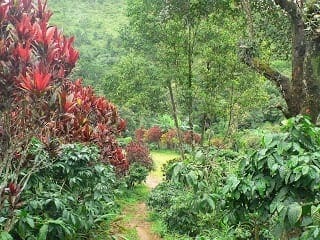 The place where we were attacked by them.As pretty obvious from our face and body language we are not aware of their impending attack