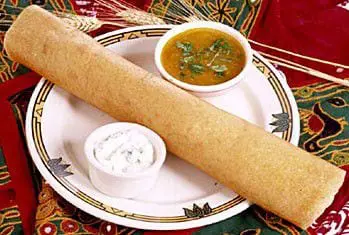 The famous south Indian Dosa has its origin in Udupi, which has now made it to the list of '10 Foods to try before you die', complied by the Huffington Post.
Recipe for Masala Dosa
Prep Time: 10 hours
Cook Time: 5 minutes
Total Time: 10 hours, 5 minutes
Ingredients:
3 cups rice
1 cup skinless split urad dal (skinless black gram)
3/4 tsp fenugreek seeds
Salt to taste
Vegetable/ canola/ sunflower cooking oil
Method:
1. Soak Urad dal and rice in water separately for about 3-4 hrs.
2. Grind Urad dal in a grinder for about 20 min using water. The batter should be very finely ground and smooth.
3. Make a similar batter of rice, add Sufficient water so that the batter is not thick. Blend both batters with about 2 tbsp salt.
4. Let the batter ferment for about 5-6hrs.
5. Heat the flat pan, smear it with oil, pour 1 ladle full of batter and spread evenly in a circular motion to cover the entire pan. Cover with a lid.
6. Flip the Dosa using a spatula and pour oil on the side. Roast till crisp and serve hot with Coconut Chutney and Potato Palya wrapped within.
Recipe for Potato Palya
Ingredients:
4 nos – Potato, medium sized
1 to 2 – Onion, medium sized long thinly sliced
12 nos – Small green chilies, not to be chopped. Just split them at the center
1/4 tsp – Turmeric
Salt to taste
1/4 tsp – Mustard
1 tsp – Urad dal (black gram)
1 1/4 tsp – Chana dal (yellow split peas)
10 nos – Curry leaves
4-5 strands – Coriander leaves or Cilantro
1 tbsp – Ghee
2 tbsp – Oil
Method:
1. Cut the potatoes each into 2 pieces with the skin intact and cook them in a cooker until one whistle. Then peel the skin of the potato and smash or squeeze them coarsely by hand and set aside.
2. Heat oil in a khadhai or a pan and add mustard. When the mustard starts popping or bursting add urad dal and chana dal. Keep stirring for a minute and then add onion, curry leaves, green chilies and turmeric. Saute for around 10 minutes. Add the mashed potato, coriander leaves, ghee, add salt and mix well. Now take the pan of the heat.