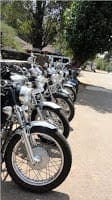 Geared up for the Ride!!
Koppa is a town roughly 125 kms from Manipal ……the road to Koppa passes either through Karkala -Shringeri-Koppa or via Manipal-Parkala-Agumbe-Koppa. Both routes are equally scenic and choice is subjective.
2 days back I got a chance to visit this beautiful place on a bike ride by United Riders (Udupi) which is a Club of Royal Enfield Bikers. As soon as I heard about the place I couldn't refrain myself and we hit it off on some serious machines.
After reaching Koppa, we first visited the castle of KUVEMPU who is said to be the greatest Kannada poet of all time and only one among 6 Indian poets to be given the prestigious `JNANPITH award`. His house is named KAVIMANE (literally Home of the Poet).
Kavimane is the ancestral house of Kuvempu. Kavimane means House of the poet in the Kannada language. Nestled in the midst of green forests of Malnad, the house presents a scintillating view..

From Kavimane, only about a km away is the so called INSPIRATION POINT OR KAVISHAILA. Kavishaila is a rock monument made of megalithic rocks and dedicated to Kuvempu. It is on the top of a small hill in Kuppali. Arranged in a circular fashion, the rocks have been placed to resemble the Stonehenge in England. its called inspiration point as at this place KUVEMPU got inspired for writing many of his prominent works….

We also got a chance to see en-route, the DEVAN tea, coffee and bamboo estates which reminded me of my trip to darjeeling not so long back… They weere beautiful and even a tea processing unit is being set up which can be pleasing for wanna-see-how-tea- is-made enthusiasts……..
On our return , when we were 45 kms away from Manipal, we took a dip in SITA NADI to refresh ourselves….. at this time of the year its safe for ablutions , in monsoon its virtually impossible to swim in the river and river rafting etc is possible due to enormous water flow
All in all, it was a great trip….. if you are a biking enthusiast you`ll enjoy even more……
Take care and have fun