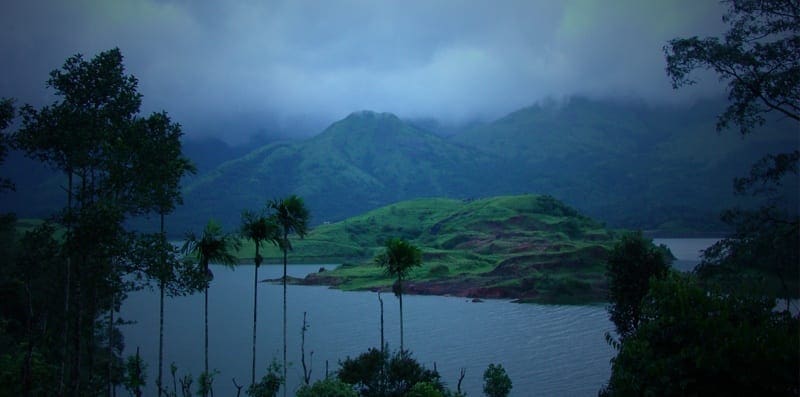 "Come on with the rain

I've a smile on my face

I walk down the lane

With a happy refrain

Just singin', Singin' in the rain" – Gene Kelly, Singin' in the Rain
How many of you have traveled just to see the rain?
I have. Not once, but many, many times. Not just because I love the rain, it's because my dad happens to be a big fan of it too.
So this is what he does. Sometimes, out of the blue, he announces that we're off to Wayanad over the weekend. And when the weekend arrives, he dumps all of us into the car and sets off to say hello to the rain.
But wait a second – Where is Wayanad anyway?
Wayanad is a district located in north-east Kerala, in and around the Western Ghats. It's almost a six-hour drive from Mangalore. The best time to visit Wayanad is from June to September. Why? Because that's when it rains! Wayanad receives the maximum rainfall in Kerala, and hence is one of the hot-spots for monsoon tourism in the state.
Enter Wayanad, and you'll be amazed at the amount of green you'll see. You rub your eyes and look again, but the green persists. Nope, you're not dreaming –  Wayanad is that beautiful. It helps that the place is very rich in biodiversity – it's a nature lover's paradise! People sell local produce (very fresh), spices, tea leaves and coffee powder by the roadside. Handicraft shops selling interesting artifacts also try to lure visitors. But be warned – cover yourself well before setting foot on the land. There are some nasty bloodsuckers waiting in the grass, which cling to your toe just to taste your blood.
Once you reach Wayanad, don't fret about finding a place to stay. As you enter the district, many hoarding boards advertising resorts, hotels and home-stays will greet you. Your problem will be having to choose just one from the many options available!
There are many places to see and things to do in Wayanad. But it wouldn't be fair if I put all the good things into one post. So stay tuned to the Travel Column to get to know more on Wayanad (and other places)!
Don't forget to send in your travel stories to [email protected] or [email protected]! 🙂