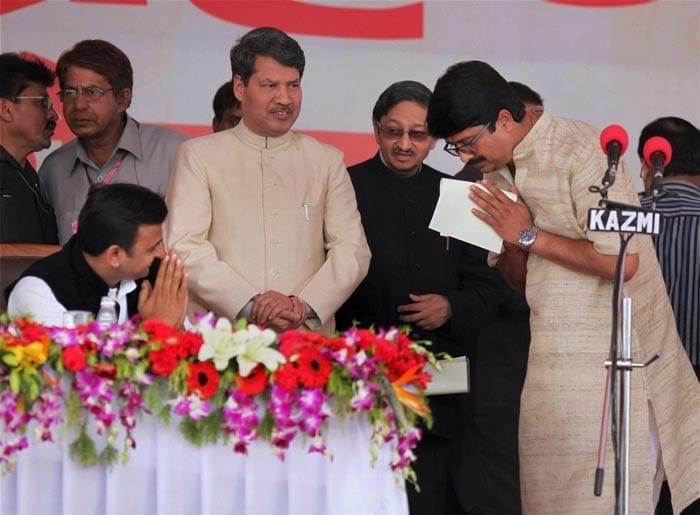 Uttar Pradesh is the largest state in terms of population, the 2nd largest state in terms of size, second largest economy in the country, largest producer of vegetables and the cultural hub of India. But above all, it can be termed as the political center of the nation. The central government is formed at New Delhi but its fate is usually decided in Uttar Pradesh. Often regarded as politically and demographically complicated province, the state has seen a change of guard this year.
Of  the fourteen political parties vying for power, four major parties were Bahujan Samajwadi Party (BSP), Bharatiya Janata Party (BJP), Indian National Congress (INC) and Samajwadi Party (SP). Fought on the agenda of development and corruption allegations against the incumbent Mayawati's government, Uttar Pradesh assembly election 2012 gave clear mandate to Samajwadi Party.
With all the parties riding on an anti-incumbency wave against the BSP's mis-governance, the SP was able to gather the greatest support (224 seats). It was the scion of  the Yadav dynasty; Akhilesh Yadav who scripted SP's dramatic resurgence.
On 15th March, young Akhilesh became the chief minister of Uttar Pradesh. The new CM promised a new brand of politics and stated that law and order will be government's top priority. Of course, this was a transition of generational leadership, but he failed to leave behind his father's political legacy.
Providing unemployment allowances, distributing laptops and tablets to students are major steps that he has taken within a week of power. However, soon after winning the elections, several Samajwadi Party's workers were seen brandishing guns in open at victory rallies on the road.  This was the first sign of the return of 'Goonda Raj' in this agricultural state of India.
Akhilesh has kept a large number of ministries with him, including the key Home and Finance ministries. He came to power with a promise to flush crime out of the state, but ironically, eleven out of forty-seven ministers inducted into his cabinet face serious criminal charges.
The most controversial of the appointments being the induction of the  controversial Independent MLA and muscle man Raghuraj Pratap Singh alias Raja Bhaiya in the state cabinet. He has been named as the Minister for Jails and Prisons, despite the fact that he's spent 3 years in the said Jails of Uttar Pradesh on charges of a multi crore scam under his watch as the Food and Civil Supplies minister in the 2005 Mulayam Singh Yadav Cabinet. A five time MLA, mafia turned politician Raja Bhaiya has a minimum of eight criminal cases pending against him including murder of a police official, attempt to murder, kidnapping and abduction.
Other ministers with criminal antecedents include Mehboob Ali (Minister of Silk and Textile) who has the most criminal cases lodged against him in the current cabinet, Manoj Kumar Paras (Silk and Textile Minister), Durga Prasad Yadav (Civil Defense Minister), Raja Ram Pandey (Udyog Minister), Arvind Singh (Rural Development Minister) and Om Prakash Singh (Land Developmet Minister). The charges against them range from theft, dacoity, misusing public property, illegal payment, criminal trespass, rioting extortion, robbery, land grabbing to kidnapping, attempt to murder and rape.
Akhilesh Yadav defended the inclusion of such tainted ministers with the old fallback phrase of the politicians: "criminal cases against them are politically motivated".
During the poll campaign, Akhilesh appealed to the voters to trust him once as he had a clean image and that he wanted to rid the  'Goonda Raj'  tag associated with Samajwadi Party's earlier rule in the state and made it clear that he would not compromise on a transparent governance, but it seems as though within a fortnight of his swearing in, the old maladies have returned.
Putting a question mark on the Akhilesh's promises, several other incidents in the recent past have indicated that his tenure as the Chief Minister is going to be tough. And if such misdeeds continue for a long, SP may not be able to keep up its new, clean and transformed face. It may be too early to comment on his leadership and he may need some more time to bring in  reforms  in a  state where political battles are still fought on the caste and community cards.
This Gangetic state has seen the rise and fall of various political empires and monarchs including the mighty Mughals.  Uttar Pradesh, where Lord Rama was born, had asked for "Ram Raj" and not "Goonda Raj". Only time can answer whether the promises made to the people of Uttar Pradesh will be kept or they were just the promises that are made before every election in the country.
| | |
| --- | --- |
| | This is a Guest Post by Aditya Ashok. Aditya is a First year student at Manipal Institute of Technology, Manipal, pursuing Information technology. (The post was edited by our Editorial Team). |