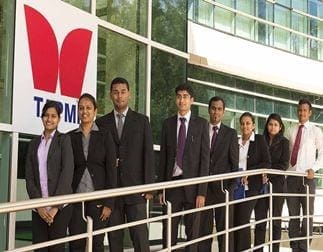 An academic institution plays a crucial role in taking one step closer to your dream career. The kind of faculty, infrastructure and curriculum offered directly impacts your learning experience. TAPMI in Manipal is one such institution that provides an excellent learning experience and opportunity to find international job placement. Let's take a look at the new MBA program (University of Dubai-TAPMI Program) by TAPMI that can provide you a platform to get excellent international placements and get global learning experience.
T A Pai Management Institute (TAPMI) is one of the top ranking management institutes in India. Known for its student-faculty interactions, placement record and curriculum, TAPMI is one of the most sought after business schools among aspiring MBAs. Presently, more than 3000 alumni of the prestigious institute hold managerial positions in global job market.
Why TAPMI?
Over the years, TAPMI has showed a continuous improvement in its academic system, curriculum, faculty resource and infrastructure. The B-school has received several awards since its inception. In October 2013, the institute was awarded for its best industry interface. Some other awards in 2013 include:
 ASSOCHAM National Education Excellence Award for the best B-School in the South region
 Gold Award for its presentation on AoL (Assurance of Learning)
 B-School Leadership award
At TAPMI, students can take the advantage of foreign collaborations like student exchange programs and gain a clear understanding of global issues.
Programs offered
TAPMI offers a wide range of management programs to help the aspiring candidates find a career in their area of interest. These programs include Post Graduate Diploma in Management program (PGDM), PGDM-Healthcare, Ph.D., and TAPMI – University of Dubai MBA Program.
TAPMI – University of Dubai MBA Program is a new program designed to create global professionals and business leaders.
TAPMI – UNIVERSITY OF DUBAI MBA PROGRAM
University of Dubai (UD) and TAPMI, Manipal, have successfully tied up to offer an 18 months MBA program to students in India. Students enrolling for this program will study a part of the course in Manipal and the rest in Dubai.
MBA Program of UD is accredited by the Scientific Research (MOHESR) and the Ministry of Higher Education in the UAE. On completion of the first year as per the expected standard, the eligible students are invited to the University of Dubai for their internship and second year course. These TAPMI students sign the mandatory code of conduct during their study course at the university. Students can earn the UD-MBA degree only on successful completion of the program.
The new program prepares students to face several managerial challenges such as organizational management and decision making. The UD MBA Program includes several objectives such as:
Prepare students to work in dynamic business organizational environment in the UAE and other international destinations.
Develop conceptual understanding to analyze, apply and adapt to unfamiliar circumstances in business scenario.
Offer business managers with effective leadership skills.
The UD-TAPMI program is available in four double majors- (1) Finance and Accounting, (2) Human Resource Management and Leadership, (3) International Business and Marketing, and (4) Logistics and Operations Management.
Eligibility Criteria Candidates willing to pursue the international program at TAPMI need to meet the eligibility criteria:
Must hold an aggregate marks of 60% in 10th, 10+2 and 10+2+3
Must have completed a four year graduate degree program in India or abroad (recognized by the University of Dubai)
Must have a valid TOEFL score of above 550 or IELTS score of 6
Apart from the above requirements, scores of CAT, XAT or GMAT can also be considered
How to Apply
The aspiring candidates can download UD-TAPMI application form and pay application fee of Rs 1500 to TAPMI either online or through a cheque payment. The shortlisted applications are reviewed by UD officials with TAPMI officials over Skype.
Selected students are required to pay Rs 4.50 lakhs as first year program fees. Their testimonials are sent to the University of Dubai for verification, which is done by the UAE Ministry of Higher Education.
The UD-TAPMI MBA program graduates can get excellent job placements in Dubai or UAE based companies where they can earn an attractive monthly salary package of AED 8000 to 10000.
So, if you are an aspiring MBA and looking for an MBA program that can give you an opportunity to study abroad, the new UD MBA program at TAPMI is the best option. It is a golden opportunity to learn from both the leading B-Schools- TAPMI and University of Dubai.
Swati Srivastava is an avid writer and blogger who loves to share her knowledge and ideas on a wide range of educational and career related topics. Currently she is working with one of the leading online education portals in India.