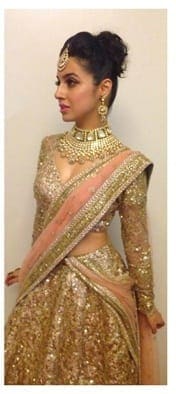 Sari is quintessential Indian traditional attire and it seems to be evergreen, never going out of fashion. However, in recent times thanks to Bollywood, the popularity of sarees has crossed all geographical boundaries. It has become popular with many foreigners. Hollywood divas such as Elizabeth Hurley, Angelina Jolie, Oprah Winfrey and celebrities like Victoria Beckham, Naomi Campbell, Selena Gomez, Madonna, Pamela Anderson, Cameron Diaz and many others have looked gorgeous in sarees. Indian fashion designers have won a lot of acclaim all over the world for their absolutely stunning creations.
Saree is a versatile attire and it can be dressed up or down according to the occasion. Sarees could be a wonderful gift for your beloved wife or girlfriend as it has timeless charm and elegance and can be just right for any woman's wardrobe. Sarees are a mark of dignity, distinction and sophistication. By gifting your beloved a saree, not only would you express your deep love for her, you would be conveying to her that you know exactly what her style is and what would enhance her personality. Here are a few tips so that you are able to make the right choice for your wife or girlfriend and show her how much you care for her happiness.
Also read: Oxblood Red is the NEW BLACK in Trend!
Some Valuable Saree Buying Tips
Always Choose the Right Color: This is a simple task as all you need to do is to be little observant. If you do not already know her favorite color, you need to do a little detective work. Simply peep into her wardrobe and find out which colors are predominant. Observe her closely prior to your purchase of the saree.
Find out which color suits her best. If you identify her favorite color or know the color that best complements her personality half the battle is won. However, you cannot go on giving her blue sarees if that happens to be her favorite color. Also, if you are buying her a rich silk or heavily embellished designer saree you need to be extra cautious. Women do not like wearing the same color for her rich traditional silks or expensive designer sarees.
Also Read: Why Indian Origin American Women are Going Gaga over Salwar Kameez
Pay Attention to the Fabrics: Go through her collection in her wardrobe and check out the fabrics she usually wears. Some women prefer wearing rich heavy brocades and silks, while others may have a soft corner for something delicate and flimsy. If your beloved is used to dressing up elegantly then you could opt for chiffons, crepes, nets and some Kalamkari prints in cotton or Venkatgiri cottons. If she is quite traditional but looks pretty distinguished and classy, you should buy her rich silks that have an opulent feel about them.
If she is glamorous and outgoing and has a passion for dressing up for parties and festive occasions, you should buy her exotic designer sarees. You could choose designer sarees in chiffons, crepes, nets or silks that are nicely embroidered or embellished with sequins, beads, stones, pearls, zari and lace or zardosi work. In this context, you must remember that now you may buy sarees online as you would find a huge selection of exotic designer sarees here.
Also Read: Being sensible while shopping online
Designs: The designs, prints or weaves must compliment her figure, style and personality. Remember few fashion basics. Huge floral prints are a disaster for a petite woman as they would be swallowing her up. Avoid a saree with horizontal stripes for a relatively broader woman. Women with delicate ultra-slim figures should wear delicate floral prints, while vertical stripes are just right for short plumpish women. Short women should avoid sarees with broad borders. Keep these tips in mind, while buying a gift for your dear wife or girlfriend.