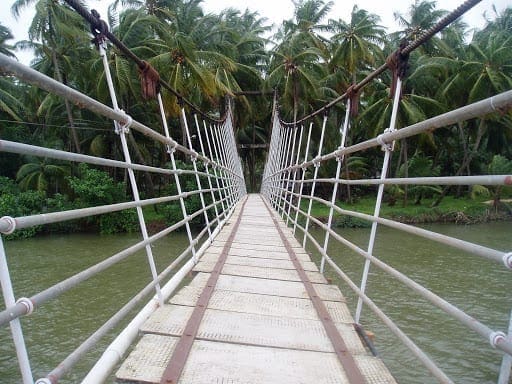 What do 90% of Manipal students whine about? Lethargy and boredom. Why is that? Because they lack the
knowledge of places that can be explored outside of Manipal, or they lack the motivation to step outside their "Common Manipal Routine" — a routine where days and even weeks can be lost and forgotten.


So what are the other 10% doing? Being PROACTIVE by breaking barriers, scaling over the walls, and venturing into the unknown. They take risks, where others do not dare. They expand their horizons and borders. There is adventure in all of us and the time to act on your primal instinct has finally arrived!
Quick Facts:

Local Destination: Deepak Common Suspension Bridge aka "The Hanging Bridge"
Duration: The time you spend there is really up to you. Driving time to and from the bridge is approximately 20-25 minutes each way.
Costs: Rs. 200 petrol for a motorcycle or scooter, Rs. 100 – 150 for a boat ride [varies with negotiation].
Directions:

1. Follow the Shambavi Empire road to the highway.
2. Take a right onto the highway and proceed straight for approximately 2.5 km.
3. Look for a BLUE State Bank on your left. This is your key to slow down.
4. The highway will then fork. Stay on the LEFT hand side, and proceed 200 meters down the road.
5. Take the 2nd left. Look for a bakery shop on your left hand side as a landmark.
6. Continue down this rod for another 2 km [approx.] till an open cricket field shows up on your right hand side. This is your key to slow down.
7. Immediately after the field there is a banner arch of some sort on your right. This arch covers the path you must follow.
8. Continue on the path, under the arch, for 1.5 km. After this there is no visible direction I can give you.
People are very friendly here and it is very easy to navigate to the Hanging Bridge from here on out.