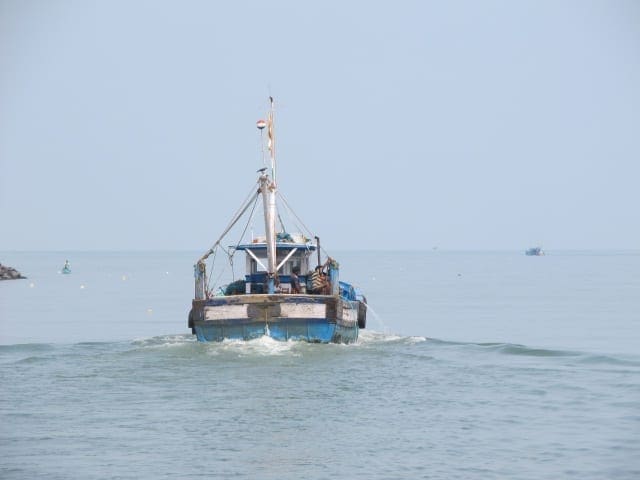 The plan was to go to Malpe … I wanted to go there since I have been in Manipal, but never found time. How the plan changed to St. Mary's Island, or why, I was clueless. But I'm glad it did, anyway. Away from the usual hustle of the student town, St. Mary's Island is the perfect day-off destination, for unwinding and easing those nerve cells after a tiring crusade of endless assignments or a whole week of attending classes. And so that is exactly where I spent my Sunday…on St. Mary's Isle.
So I set out at 8.00 in the morning with a group of four people to have breakfast in Tiger Circle (TC) on the way to the Manipal bus stand (which is advisable because you might get seriously hungry on the way). We boarded a bus to Udupi form TC. In about twenty minutes we were in Udupi City bus stand where we had to catch a connecting bus to Malpe bus stop. Malpe harbor is around 100 meters from this bus stop. It takes Rs.1 per person to enter the harbor. It's a 15-20 minute walk from the entrance of the harbor to the ferry (not a big walk when you are with friends and crack stupid jokes). Then we had to pay another Rs. 80 per head for to and fro commutation on the ferry. The wait for the ferry almost took 15 minutes (that were spent clicking away photos after photos). While waiting for the ferry, I happened to notice this huge building, the dock, in the water. It was dirty but very eye-catching. Finally the ferry arrived. I was surprised but definitely pleased at the decent organization of tourists (I expected a dhakka-mukkhi of some sort and was almost expecting someone to fall off).
Then we set on the Voyage to St. Mary's. The ferry ride was highly scenic, entertaining and amusing. Scenic because of the beautiful stretch of Malpe beach, with a sheet of white sand that seemed to sparkle in the sun, on one side and hills on the other side covered with plush green trees. Entertaining because I have always loved boat rides. Amusing because we thought a wave was a shark and some jokes about jumping into the water and pushing the boat forward when the boat stopped 5 meters away from the shore. We were asked to shift into another smaller boat (or rather a raft) that would take us to the shore. Again the organization was admirable. After reaching the shore, there is wading involved to get to the dry land (so avoid converse, sneakers or shoes of any sort, it's better to stick to nice old slippers or even bare feet). It was almost 11.00 in the morning but the sea water was pleasant and cold.
Soon after reaching the shore, the first things I notice are huge black rocks. Natural, beautiful and smooth black rocks (which I later came to know are crystallized basalt rocks that are only found in this island in whole of India). We walk a little further and settle in a comparatively less populated spot (which is very easy since there is not much population to begin with). Though I have told myself that I will only go knee-deep into the sea, one look at the sea breaks my resolve. It is a gorgeous sight, the blue-grey water turning into white foam as it crashes into rocks. The waves, gentle in the beginning, but getting fiercer as they come towards you. The shore with crystals and shells instead of sand…all of it is enough to knock your breath out. There is something about this island that calms you down, makes you feel quiet and content. Maybe it is the total absence of commercialism (The Island is utterly devoid of any kind of hotels, houses, shops, fences or anything other than its natural components) or maybe it is just the wide expanse of entrancing ocean before your eyes.
So we jumped into the sea, thrashed, flailed, swam, lazed, basked around for almost three hours… three happy hours. At three we realized we need to start back or we would be stranded on the island, (the last ferry from the island leaves at four), and experience 'And then there were none'. We came back to the pick-up area where a ferry was waiting and did the whole 'coming to the island' procedure again. That was the end of a perfect day-off, a perfect outing and a perfect Sunday.   
With the right weather, great set of people, loads of junk food, a sun screen with good SPF and a good camera…why, this could be one of your best outing experiences. It definitely was one of mine!