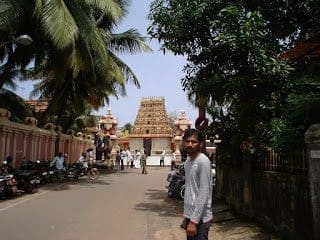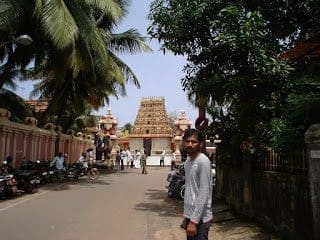 After the visit to the Kadri temple, Ashwin decided to take us to the Kudrolli temple. Sri Narayana Guru (A social reformer and a saint) constructed this temple in 1912. This temple is situated at Kudroli, which is about 3 Km away from the main city area of Hampankatta. The original temple structure was in Kerala style, which was replaced, by Chola style during recent renovation in 1991. The main deity of the temple is Lord Sri Gokarnanatha (another form of Lord Shiva).
The main deity of this temple is Shiva – the Shiva Linga is carved out of Amruthasile meaning 'marble' brought by Shri Narayana Guru from a place called Gokarna where he got it under water.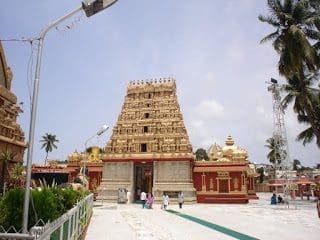 The new gopuram is 60 feet in height and very beautiful.
During Navarathri the shobhayathra of the navadurgas is celebrated with great pomp and grandeur. Access to this temple is very easy. It's located at about 3 kms from Hampanakatte, the center of Mangalore city. Although many city buses stop near the temple, the quickest mode of transportation is by auto rickshaws or taxis.