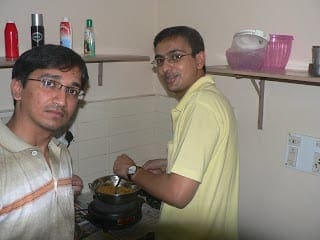 Probably the most common home made sweet in Gujarat is 'sukhdi' and there is a reason why its so.The most simple recipe, less time consuming, nutritious and of course awesome taste.And for the same reason, we, technosavvy guys, decided to give a try in our new house.Ya, by d way we 4 gujjus have moved out of hostel into a private flat for want of comfort cum luxury and typical Gujarati food-for which we have hired a cook.Well, the home we've moved into, was given unfurnished!!And therefore, the kitchen has been turned into a clothing cupboard(!!), left one corner, where the hot plate was show cased ; just to remember that its a kitchen!
Initial few days in our mansion(!! I felt it that way in a first shot as we had moved from small cozy 2seater room of hostel to a comfortable 2bedroom flat.), went dry with busy all-having
little interest in households.The scenario changed when I returned from my inter medical chess tournament held in pondicherry.Enthusiastic me, was motivated by my mom with a very simple and fast recipe of a sweet dish.Coincidently all four of us were at home and the plan of sukhdi got unanimous support from a group of gujjusweet-starved people.
The one below is quite unusual.You won't see Jwalit doing that quite often.(The one on right and who believes that he has got musician's fingers- made to perform successful angioplasties.He is posted in cardiology these days) And the second guy with a 'monalisa' smile, actually is apprehensive and eagerly waiting for the final product of our experiment.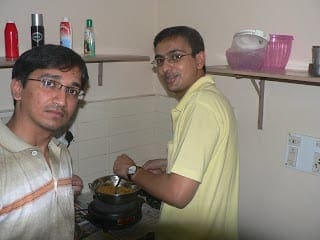 Ok fine. Everyone has contributed equally in a tedious task of cooking!!Noteworthy here are some deos in the background.As I said , kitchen is serving a cupboard purpose.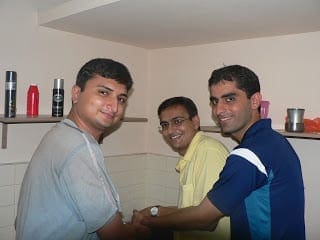 The cooking pan after emptying the sukhdi. The burnt bottam, believe me, is an achievement considering its severity.Usually the vessel suffers much more burn trauma than this at least in the first shot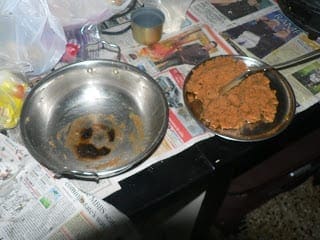 Again an unusual catch.Punished to wash the vessels for not contributing actively to any other procedure.To conclude, cooking is a great fun-of course once in a while!