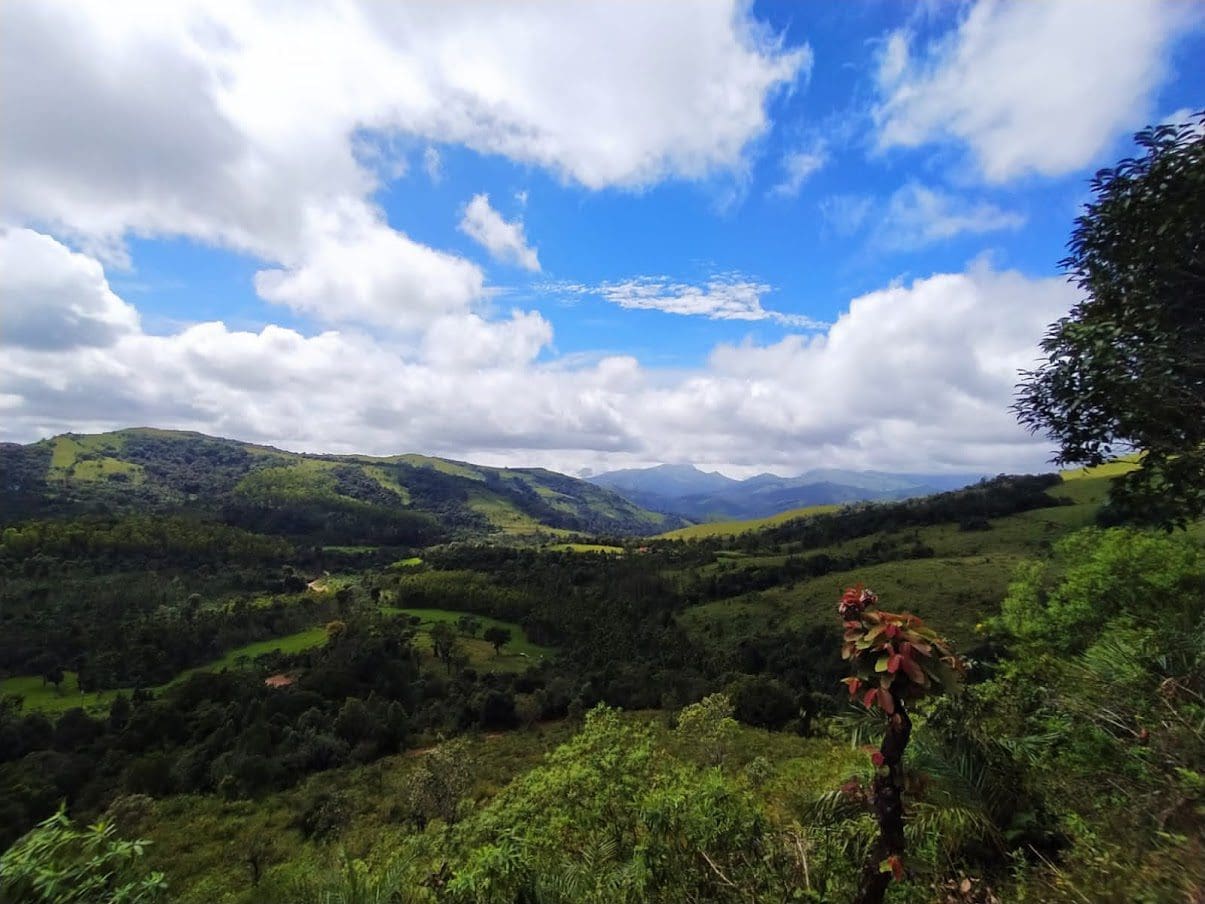 You are back from another hectic Saturday from your respective college in Manipal. You check Instagram and curse under your breath as you see you old schoolmates who are now residing in different parts of the country going on beautiful trips. You cant help but feel bad about classes on Saturdays, because of which you are not able to make amazing weekend plans like your friends. So, what to do instead? Give in to peer pressure and go to the long pending DeeTee trip? Well, Manipal as a place has got your wanderlust covered, only if you know where to go!
Out of the many places where one can go from Manipal and have a grand time, away from the hustle and bustle of the town and the surprise class tests and labs, in this article we will cover Kudremukh along with one of the most lucrative treks one can do in Karnataka, the Kytanmakki hills. Never heard of those places or not sure how you can reach there? Do not worry, this article has got you covered. What are you waiting for, lets go to one of the most picturesque locations in the country!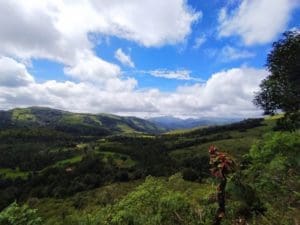 First things first, in order to enjoy the wonderful place, you have to reach there. There is a preconceived notion that most of these beautiful places can be reached only through personal vehicles, weather it be a two wheeler or a four wheeler. That is certainly wrong. Public transport can also be availed to travel at a much cheaper cost, albeit it does trade off being easy on your pocket with the comfort you get. While travelling on your scooty can be the most adventurous, travelling on a 4 wheeler (Props if it's a 4 wheel drive) is the most comfortable with more friends huddled together. Both these options give you the comfort of travelling and exploring on your own time and pace. Public transport through bus is the cheapest, but you will miss out on a few viewpoints and it can get crowded on the bus (Seat is guaranteed though, as you will be boarding from the first stop). Also, public transport means you have to be back within a limited time as buses dont ply all day on these hilly roads. Despite of the setbacks, travelling via Bus is it's own adventure and perhaps the best option you might have if you are travelling alone and are a bit short on cash (Should have just saved up instead of spending so much on Edge/DeeTee, huh?). Always carry water bottles and some food items that will help immediately refresh you in times of need.
No matter which mode of transport you are using, leaving at a time that's close to dawn (5 AM) would be the most perfect, with earlier being better if you want to see the sun peeking from under the clouds. To travel by bus, first you have to reach Tiger Circle and from there, you can hail any bus that's going to Karkala (Karkala itself is a beautiful place to visit, but more on that in some other article). From Karkala, there are buses plying every few hours towards Kudremukh. While the final destination of those buses is much further than Kudremukh, you need to opt to get down at Kalasa. From there, you can hire a 4 wheel drive to go to Katyanmakki Hills or take another bus to Kudremukh if you want to do the famous Kudremukh trek. You can read more about the Kudremukh trek here. For the many places on the same stretch leading upto Sringeri, you can refer to this article. While the bus does take you through the beautiful forest stretch of Kudremukh without any hassle between the two checkpoints, the biggest drawback here is the inability to stop the bus and take in the beautiful views the stretch offers at some places. This is one of the prime factors where having a personal vehicle wins by a big margin.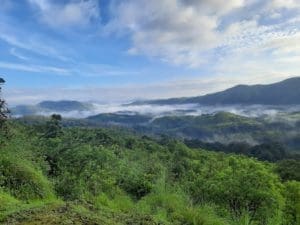 Since other points about the beauty of Kudremukh, the Kudremukh trek and enjoying the Kudremukh stretch has already been covered, we will now focus on one of the best yet underrated treks this amazing state has to offer – Katyanmakki Hills. Located around 15 kms from Kalasa, this place is best travelled through a four wheel drive. This stretch can be covered with any other vehicle too, including two wheelers, however the experience can be a bit too painful (Speaking from personal experience). The horrible road is an experience in itself, offering some prime "off roading" opportunities. The entry fee for the trek is Rs 20 per person. While 4 wheel drives are supposed to drive you close to the top, which can enable a few non trekking enthusiasts to finish the last small stretch of the trek by themselves, you can also keep your vehicle at the entrance of the trekking point, then complete the entire 2.5 km stretch on foot. A 4 wheel drive can easily be obtained from Kalasa and a drive to almost the top of the trekking point will cost around Rs 2000. Official pre booked tours might cost more, you can check them out here. However in some extreme situations, even 4 wheel drives might find the broken terrain impossible to climb (Another sad thing I am telling from personal experiences).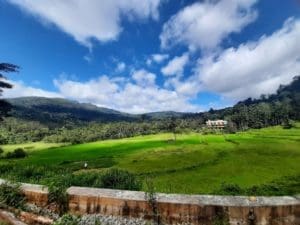 While the full trek can be easy to intermediate for the experienced trekkers, newbies or people doing this just for the sake of it might get breathless by the time they complete the trek and it is a common phenomenon to give up in the middle due to the nature of this trek that spans small streams, extremely broken down roads and multiple steep slopes. However, if you are lucky enough, you might enjoy the company of wonderful, four legged guides who usually accompanies you to the end of the trek. If you do get them, don't forget to feed them as payment for being the cutest guide-dogs you could ask for! As they say, harder the trek, more beautiful will the view from top be. And these hills absolutely doesn't disappoint in that aspect, with the view from the top being so beautiful that it will take your breath away even more despite of you being breathless by completing the trek.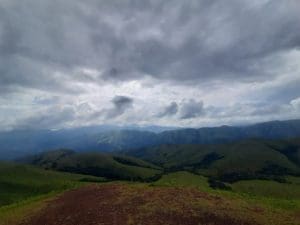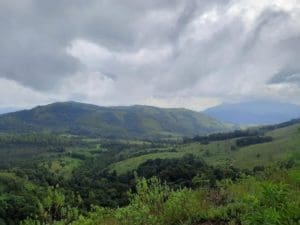 You can just chill here at the top for a while, enjoying the amazing breeze and have some food. Here you might be a little unlucky if you are travelling by bus, because usually the last bus from Kalasa heading towards Manipal is at around 3pm. With the journey time of roughly 4-5 hours, you might not get enough time in hand to visit other places around Kudremukh on the same day if you don't wish to violate the holy Manipal hostel perm time. However, coming by a personal vehicle gives you enough freedom to spend as much time you like at the top (Though it's not advisable to stay beyond 4 pm as the way back home would be tougher). After the much more fun downhill walk back to the entrance, you can head back home however you wish to do so. Regardless of the mode of transport, you will be returning home with a treasure trove of wonderful memories, head filled with picturesque views and enough photos for Instagram that will make your friends ask you where you went and how you went there. And at that time, you may redirect them to this article!
Happy Travelling!