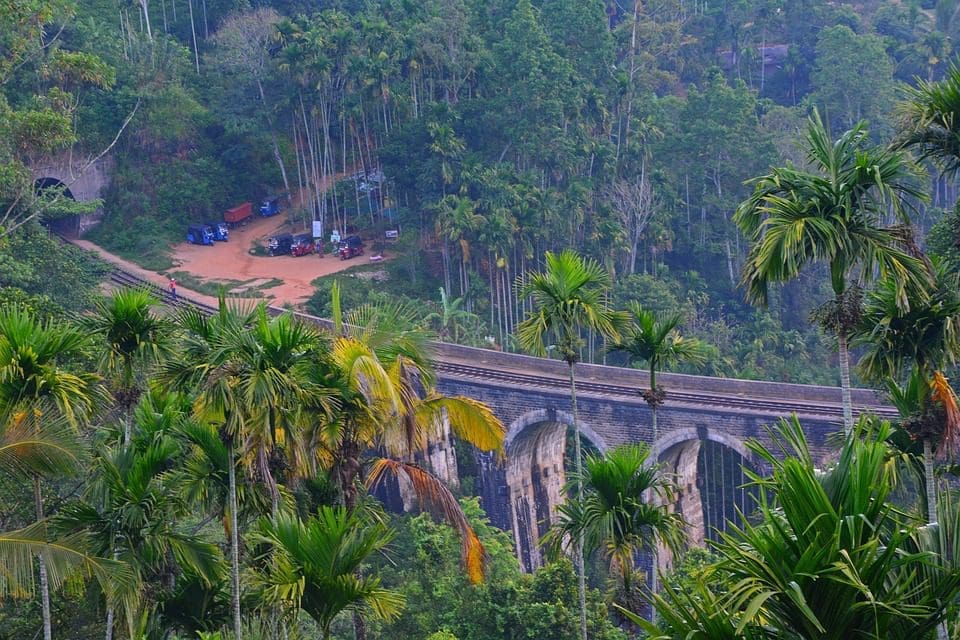 The spellbinding scenery and unexplored niches of Sri Lanka have made a popular travel destination. It is an island nation enthusing its visitors with bulk of mesmerizing sightseeing locations. There aren't only beaches, but temples, markets, and scenic religious and historical sites that marvel at the ethnic culture of the country. However, due to time-bounded itineraries, it becomes difficult to explore the entire country that would otherwise require weeks of exploration.
Thus, to make your journey more an all-encompassing phenomenal experience, here is a list of the top 10 tourist destinations that every travel enthusiast must visit:
Nine Arch Bridge, Sri Lanka
Nine Arch Bridge is an archaic bridge built during the railway expansion of the region, and thus, the materials used to construct it are stone, cement, and brick rather than the modern-day steel. Situated in the dainty hamlet – Ella, visitors watch the trains go by en route the Damodara Loop.
Unawatuna Beach, Sri Lanka
The white sand beach of Unawatuna is fluent, with plenty of glimmering and colorful fish ashore. The panoramic coral reefs underwater have made it a popular scuba diving destination. The beach is flanked with shacks and sun loungers that await your arrival with their comforting aura.
Udawalawe National Park, Sri Lanka
For all the nature fanatics and wildlife lovers out there, Sri Lanka has an abundance of exotic species of flora and fauna to be explored. There is a safari that takes you around the park to observe and click pictures of water buffalo, peacocks, crocodiles, monkeys, and various other animals.
Ravana Falls, Sri Lanka
Sri Lanka is interspersed with gushing waterfalls amid lush green landscapes, and Ravana Falls is one of them. It is en route Ella Town with monkeys inhabiting the roadside trees. They are very notorious and would snatch any food item or sunglasses they see in your hand, so be careful.
Dambulla Cave Temple, Sri Lanka
Sri Lanka is a haven for exploring the Buddhist lifestyle, and Dambulla Cave Temple is one such site. The temple dates back to 1000 BC and has 80 caves within their periphery decorated with Buddhist statues.
Gal Viharaya, Sri Lanka
The ancient city of Polonnaruwa lies another Buddhist site called Gal Viharaya. The surroundings are well-crafted with intricately designed Budhha statues dating back to the 12th century. It is known to be constructed by the then King Parakrambahu the first. One side of the statues is inscribed with the code of conduct that is honored by all the Buddhist monks residing in the area.
Mirissa, Sri Lanka
Mirissa is another epistolary beach site with tall palm trees and flanked with shacks and modern restaurants serving Sri Lankan cuisine. Parrot Rock, located a little afar, is a site that offers a magnificent view of the shoreline.
Arugam Bay, Sri Lanka
If you are a surfing fanatic, then do not forget to visit Arugam Bay. The waves on these beaches are rushed and rapid, so it is advisable for amateur surfers to surf under the guidance of an intermediate or advanced surfer.
Temple of the Tooth, Sri Lanka
Temple of the Tooth is yet another sacred destination that has one of Buddha's teeth. Mythology has it that this tooth was smuggled to Sri Lanka from Buddha's deathbed. There have been many futile attempts to steal or destroy this tooth, which adds on to the supernatural element of Buddhism.
Adam's Peak, Sri Lanka
Adam's Peak resides atop a summit in Sri Lanka, with footprints preserved within its periphery. These footprints are said to belong to Buddha for Buddhists, Lord Shiva for Hindus and for Christians, they are said to belong to Adam.