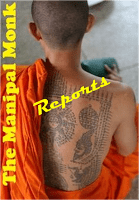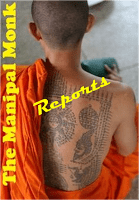 Last Thursday, there was a strange occurrence at our neighbourhood post-office. All the letters sent from here reached their destination OPEN! When The Monk spoke to the police about the strange incident and what could have caused it, they all sounded pretty baffled. They said "we have nooo Glue".
In the latest piece of NEW news sniffed out by The Manipal Monk, we have learnt that SRK offered to buy a 35% stake in the Manipal University empire. With all the crazy expensive centrally air conditioned hostels and gyms coming up he feels this is a venture that could be a highly profitable one, especially so after he was faced with the debacle of his cricket venture failing.
Reliable sources of the Manipal Monk indicate that SRK wants to help the university become more glamorous and take on the newcomers from the North a.k.a. the Lovely Professional University and the Amity University! He intends to do this by distributing free tickets to his upcoming Sci-Fi, superhero movie Ra-One to all Manipal Students and a special shirtless performance at every convocation from this year.
While these are obviously tactics to ensure that atleast a few people go and watch his movies, what has really gone down well with the student community of Manipal is his proposal to have Cheerleaders outside the examination halls to motivate the students.
The First family of MU also endorsed the view that cheerleaders could actually be a great idea. The Manipal Monk was made to understand in a private interview with the family that, cheerleaders in the starched golden-red saris from Kochi (Kochi-Tuskers) could stand outside each hall with a plate, a diya and some prasad and hum the same music they play in the Rajdhani at 6 in the morning. ( it goes like toing toing t-t-t-ooooiiiiiiinnnnnnnnnng toing toying annnnooooyyying…read it out i think you'll agree ).
"This would put all the students in the Zone, as regards to writing the examination" said the First family of Manipal spokesperson.
The selection process of the cheerleader/models actually commenced secretly 4-5 months back as an undercover operation carried out by the owners of Blue Waters and Enigma under the code name "PROJECT LADIES NIGHT". Girls were carefully observed by certain spies, dressed trendily and deployed to observe, select and subsequently approach…code named…creepy fellas in blues on ladies night !
There has been very little real progress on the selections, the reason being, it is difficult to imagine what these girls would look like if they kept their clothes on.
Needless to say the Manipal Monk was never amongst creepy fellas, he obtained this information through meditation and omni presence.
Signed
The Manipal Monk
(The "facts" in this article are all made up (but you already knew that, didn't you?)