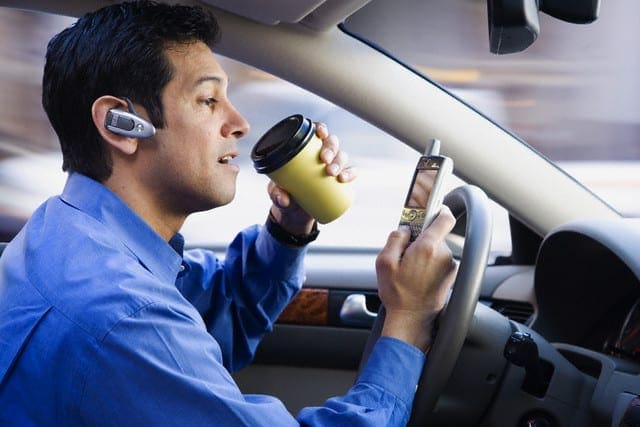 Learning to drive is one of the best achievements in life; however, it comes with a great amount of responsibility. During the time in which you're revising for the theory side of your driving test while getting hands-on experience for the practical side, you learn a range of maneuvers and procedures to help keep you and other road users as safe as possible.
Whether you're a driver or not, we're all aware that the use of a hand-held device while driving is illegal; as time spent looking at a mobile means a period that your eyes aren't focused on the road ahead, potentially resulting in severe consequences. As well as the use of mobile phones, drivers are also advised not to eat, drink, or smoke while behind the wheel, as again, these actions can reduce how focused you are while driving.
Why it's important to stay focused whilst driving
As we become more confident drivers, some people start to take risks while driving, like quickly checking a mobile phone, for example. Even if your eyes are taken off the road ahead for a matter of seconds, the potential consequences can be catastrophic. Whether it's a collision that involves you or even worse, other road users or pedestrians; all drivers must remain focused and aware of what's around them. This will hopefully prevent injury to the driver, other people, and damage to the vehicle.
To raise awareness around this subject, Kwik Fit have created a #DrivenToDistraction game which will test how good your reaction skills are while driving. The game requires you to answer a serious of multiple-choice questions on a mobile phone whilst the vehicle is moving. During this time a "STOP" sign will appear, requiring you to click the mouse as fast as possible. Your reaction time will then be calculated to see how focused you would be if it were a real-life situation.
How to minimize the risks of becoming distracted
There are several factors which all drivers should take into consideration when it comes to staying focused whilst driving. Below are a few to bear in mind:
Use a hands-free device where necessary – When it comes to mobile phones and driving, it's best to put them out of reach where you can't be tempted to answer calls or check for messages. If you need to use your mobile, then it has to be connected to a hands-free device. Although using a hands-free device can be a distraction, your hands are still on the steering wheel, and your eyes are on the road, meaning it's the safest way to speak on the phone.
Take regular breaks during long drives – Driving for long periods can often lead to tiredness which in turn, can reduce your concentration levels. If you have a long journey ahead, then make sure you schedule in regular breaks. Whether it's for a 10-minute break to have something to eat or longer to have a power nap and recharge before heading off on the next part of your journey; it's essential to take regular breaks.
It's key to stay focused at all times whilst driving, to maintain safe roads for both you and other road users. There are several ways in which you can avoid being distracted, and you must take this into consideration before setting off in your car.