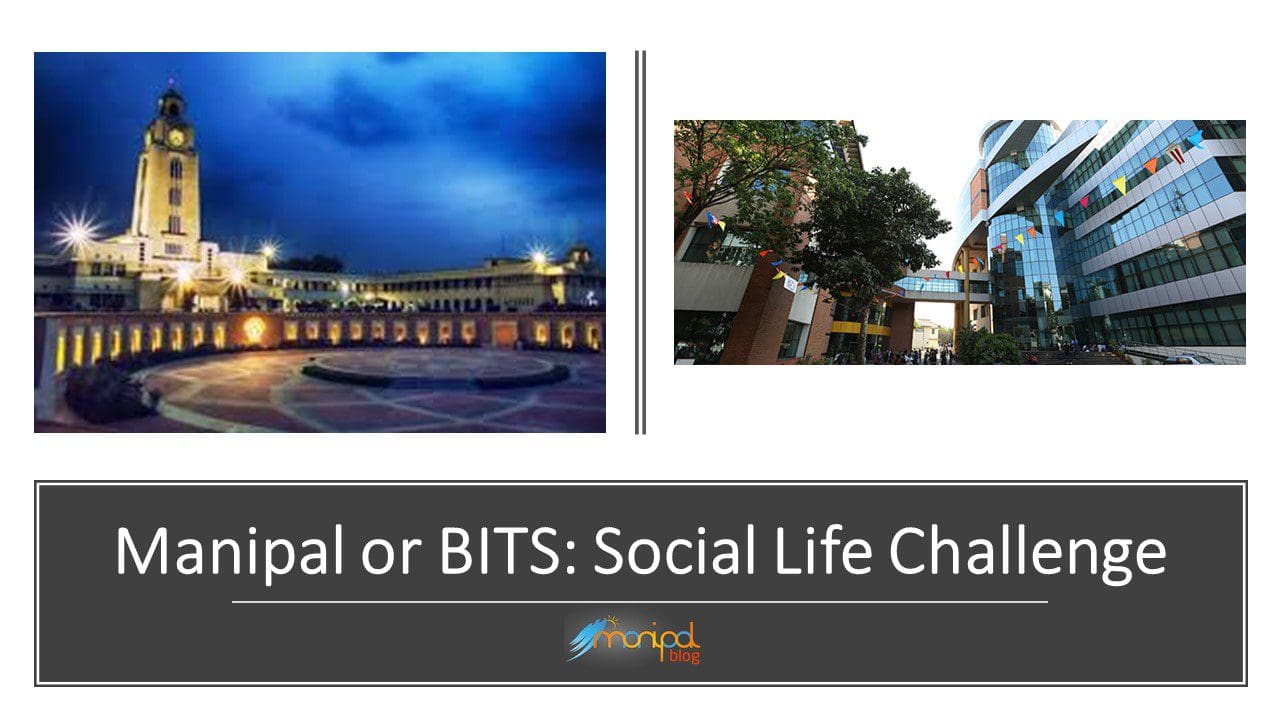 Manipal or BITS, both are remarkable institutes. Well decorated and popular around the country. While they offer impeccable educational quality and exceptional leisure, social life is also important. It is one of the aspects that help in the personality development of the student and prepares them for the future. Without social life, humans would end up functioning like robots. To add a zest of life in one's lifestyle, Socializing is an important aspect, and we will discuss which one has a better social life.
It depends on your definition
First and foremost, the decision will fall on you. What kind of a social person are you? Yes, there are indeed different types of social people. Some socialize quietly through their hobbies, and others do it through sports. There are those who prefer cafes and hangout spots, and others who like wild parties. It all comes down to your ideal choice. So first of all, determine what you like.
Party Culture – Manipal or BITS?

BITS is situated at Goa, and it is a hub for parties, beaches, and everything exotic. Certainly, while many students desire to go Goa on a trip, you are living in the heart of it. What more could you ask for? However, Manipal has weekly events from comedy nights to party nights. There is a custom of the class party each semester, and there are many cultural fests to be held. Of course, BITS have their fests, and you will get plenty of occasions to party. But there is a fixed routine for Manipal, and you can plan your social life and balance it with education life, so it does not mess with your professional life of future, or performance.
For relationship purpose
Relationships and college love lives; dating is all a vital part that comprises social life. There is no point in hiding this fact. In BITS, there is a drastic decrease in the number of girls, and there are around ten boys for one girl. The competition is fierce, and it can also get brutal if you pick the wrong girl, who already has a guy. It is due to the exotic image of Goa and Indian parents still not allowing their girls to pursue courses in a place like Goa.
Contrary to BITS, Manipal has a decent ratio of girls and boys. It is possible due to its location and other amenities. As stated, there are several fests, and routines bound to happen. So you will also have plenty of chances to meet girls from other streams.
In Short, Goa may be better for hook-up purposes if you get to visit the beaches. But, Manipal is perfect for seeking actual flourishing relationships.
City Life and Hangout Spots
BITS is located in a small city in Pilani. To enjoy, you have to travel a distance and go to other places. Hence, there is always travel expense, and you will need to invest extra hours in going somewhere. In Manipal, considering its location, there are plenty of hangout spots, and simple modern city culture is followed. So you wouldn't have problems finding nearby hangout spots and making them your hub.
Some Key differences: Manipal or BITS
Curfew hours in BITS start after 10 PM, while for Manipal, it starts after 11 PM or 11:30 PM in some cases. Extra hours are a perk.
BITS have breath analyzers. If you get drunk, there are severe punishments regarding it. However, in Manipal, you are free to make life choices and will only get punished if you misconduct or misbehave after getting drunk, that is more logical, right?
BITS only requires 20% attendance, while Manipal still requires 75% attendance with 100% in labs.
In the end, it comes down to you and your preference for the kind of like you picture for college at Manipal or BITS. Manipal does seem to have a better balance of education, extracurricular, clubs, and overall a fantastic social life compared to the wild nature of BITS and only partying to offer, that too, with consequences.