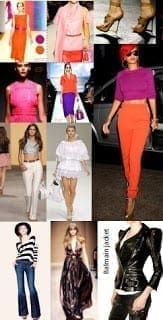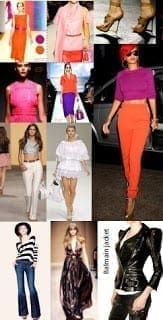 Spring has always been about a change from winter's dullness into rebirth and renewal. So, it's time to add some col-ours back into your wardrobe,Holi-style!
Think of bright colours: pink, purple, green, blue, orange and yellow!
This year's must have colour has to be honeysuckle pink. Yes, honeysuckle (a bright, almost reddish hue) is the new black . Spotted on the runways of Jil Sanders, Valentino and DKNY, how can one not flaunt this sweet yet playful colour? Be brave and pair it with other brights like orange, pastel yellow and aqua (a cue from Ri-hanna) or use it to add on some bold contrast to neutral tones like white, khaki, etc. Here are some other colours to watch out for: orange, blue, earth tones, yellow, and yes, white.
Let's go on to other Spring 2011 Key Looks and Must-Haves. Trends come and go, but over the years, we've seen countless revivals of vintage clothing. This season, we're looking at the 70's. Defines: bohemian and sophistication. So don't be afraid to sneak into the attic and dig out billowing sleeves chiffon blouses, high-waisted flares or wide-leg pants, highly sheen disco-inspired fab-rics and long slinky low neck-lines dresses for nighttime glamour. Since we can't rock all these at work/college, why not try high sheen leggings or tight fitting churidars to go with your kurta? Make sure you pair it with a plain earthy toned top because you wouldn't want to look like disco-ball on the run!
Enough of the 70's, do look out for other trends like biker's jacket (checkout Balmain, I personally think the Balmain's biker jacket is one of the wardrobe essentials that'd go with your red sole Christian Louboutin), punk (studs, safety pins and heavy boots), ladylike 50's and 60's dresses, nautical stripes (not necessarily navy and white, though I have to say grey and white is my current favourite), lace (we've seen this since last year but I guess we just couldn't get enough of it, eh? Try a loose fit lace top/dress layer on top of a solid bodycon dress for a change) tail hems (skirts and dresses cut longer at the back), jumpsuits and playsuits (spring/summer favs) and last but not least, the crop top (a.k.a. the modern choli!)
As for makeup, check out M.A.C. Won-der Woman Spring Collection 2011. Like I've said, spring is all about the colours. Here are some of the season's looks:
1. Bold lips: Red, orange and hot pink.
2. Natural makeup: Minimal blush, a slick of mascara and flawless looking skin. Think neutral!
3. Bright eyes: Pastel colour eye-shadow, black colour liner on the upper lashes and coat your eyelashes with black mascara.
4. Smokey eyes: Now smudge those kohl lined-eyes. Add some mid-night blue eyeshadow for some jazz.
Well, I hope you get an insight of what spring looks like this year. Have fun playing with colours and remember.. Be bold, be beautiful and be yourself!
| | |
| --- | --- |
| | This is a Guest post by Yvonne Mak. She is a 3rd year student at the Kasturba Medical College, Mangalore! |