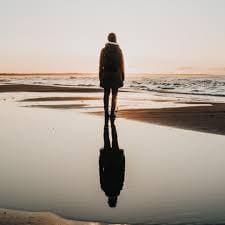 It's 3 am and the house is asleep.
Don't know why (or maybe I do)
I'm still awake, useless;
Thinking about how I screwed up then
When life had supposedly begun,
Knowing it's not mine to change.
It hurts to think my future could be this,
Again.
Uncertain,  I sit up and walk
Towards the mirror with the dim shine;
My face looks so new
Like a fresh sea wave, surging through tides.
I decide to untangle my hair,
Let it flow freely
My eyes gleam with a newer sparkle
Now I believe what they said about them being pretty!
And I do nothing but stare at this fresh face of mine, for as long as it's ok
It's the girl I can be until the night ends.
I try to look closer and find those blemishes
Those faults I spot so easily
When people are around.
Futile are my efforts; only this time, it actually makes me happy.
The small, thin face,
The shallow brows,
The dark circles,
The ugly skin,
They're still there, but so different: & I just don't see them.
Then it comes to me-
I guess I can stand here as long as I wish
It's my own reflection that's so great when I look at it, keeping those eyes at bay,
What it means to think I can live like this every day,
It's the love I should give, not them,
'Cause, it's the love I need, and them.
I see the girl I'd surely fall in love with,
I see the girl they talk about as a myth
When I finally see, damn, what a beauty I am!
About the Author: Naushin Nigar is a second-year student at Kasturba Medical College, MAHE.